Since our earliest days 100 years ago, providing support for the Armed Forces community has been at the heart of what we do, and we are proud to have provided the community with a century of support.
From the creation of a dedicated TB hospital and providing emergency aid payments and food parcels to families in the wake of the First World War. To helping veterans get back into employment, supporting serving and ex-serving personnel with life changing injuries following conflicts in Iraq and Afghanistan, supporting veterans living with dementia and helping families impacted by the Covid-19 pandemic. We've been there for 100 years and will continue to be there into the next 100.
Forming a TB Hospital
One of our earliest interventions saw us create a dedicated hospital and village to support ex-serving personnel suffering from tuberculosis after the First World War. Not long after the outbreak of the First World War in 1914 men began returning home with horrific and life-changing injuries and with the increasing return of sick and wounded soldiers, disease also became a huge problem as many men were also returning with diseases, including TB.
After seeing the community suffer, and wanting to help, the then named British Legion decided to create a dedicated hospital and village, based on the model of the Cambridgeshire Tuberculosis Colony - which was set up in 1916 to rehabilitate TB sufferers by providing treatment and offering them appropriate work and housing.
In 1925 the British Legion acquired Preston Hall near Maidstone in Kent - a large Victorian manor house surrounded by 200 acres of farmland – and a new hospital and village for ex-serving personnel and their families was created and by 1928 the hospital had expanded to support almost 500 people.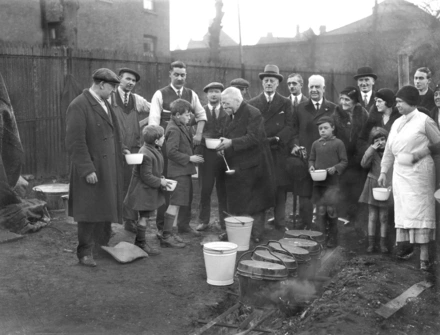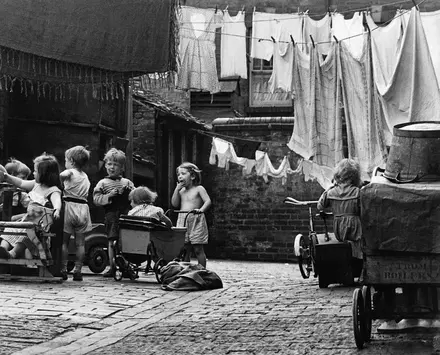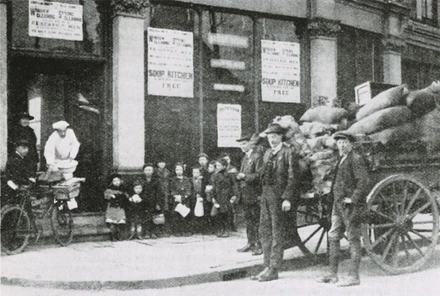 Providing emergency aid in the wake of the First World War
After our formation in 1921, the Great Depression in the wake of World War One saw 2 million people become unemployed - and one in three of them were ex-Servicemen. With many Armed Forces families destitute and forced into workhouses, a key mission for our branches was to feed their communities.
Men, women and children in deprived areas relied on the soup kitchens set up by the Women's Section and small emergency aid payments financed by branch funds, with some 250,000 cases of need recorded in 1923 alone. It is this emergency aid that our annual Poppy Appeal was established upon, and is a service we still offer to the Armed Forces community today.
Transitioning to civilian life
The first four years of our existence coincided with the economic impact from the First World War, followed by the Great Depression and was a time of mass unemployment and extreme poverty. In response to this we launched the British Legion Unity Relief Fund, making loans available for enterprising business start-ups and helping people find employment through approved employment schemes.
Today we continue to help people in the Armed Forces community transition to civilian life and build successful careers. From providing grants to help pay for training or equipment for a new job, paying for professional licences they might need for work, such as a Security Industry Authority (SIA) licence, to our work with a range of partners such as the Forces Employment Charity who help serving and ex-serving personnel and their families prepare for employment as they transition into civilian life.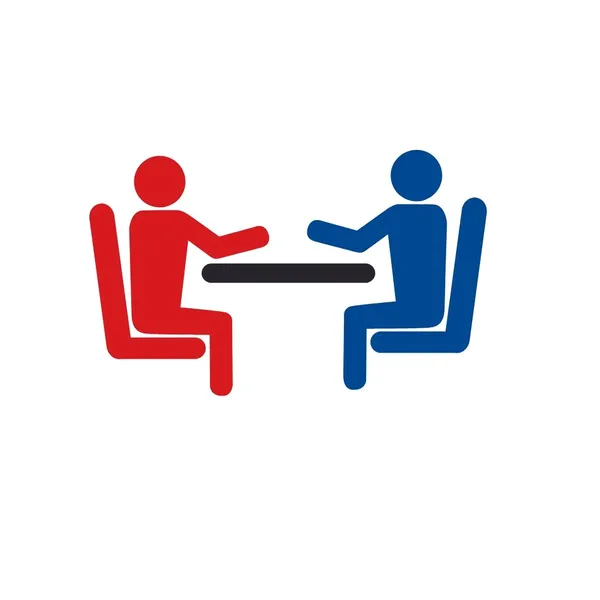 £11.7m
In 2020 we awarded 7,668 grants to members of the Armed Forces community, totaling £11.7 million.
Grants
Branch community support
Our networks of branches help us to provide welfare support at home and aboard and have been vital in helping us ensure the needs of the Armed Forces community have been met for the last 100 years.
In 2016 we launched our Branch Community Support initiative aimed at supporting the Armed Forces community in local areas by tapping into the invaluable resource of local branch members. The support offered is delivered by trained volunteers and is invaluable to those who need it.
The initiative allows members to work closely with our community on a local level. The support includes our Telephone Buddies scheme, which is designed for people living alone and struggling to get out and socialise, home and hospital visits to provide comradeship to those who are unable, for whatever reason, to meet others face to face or who have no visitors and bereavement support where branches can supply an RBL representation and sometimes a Standard Bearer at a funeral and ongoing support for bereaved families.
How members support local veterans
After suffering a stroke and having his house burgled, a member from a local branch stepped in to help Army veteran Terence Lake find a new home.
Branch Community Support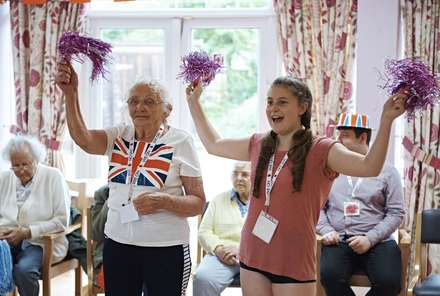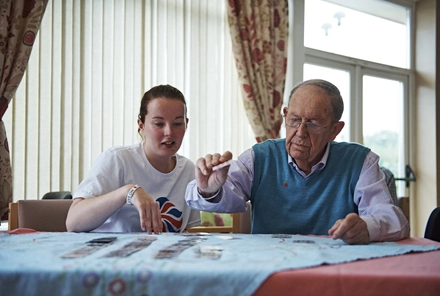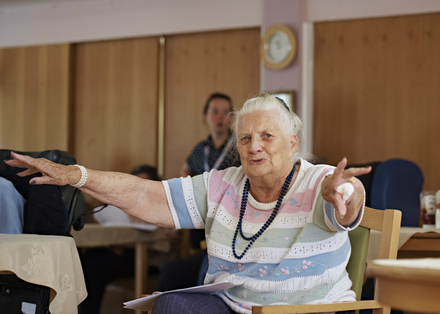 Supporting elderly veterans
Over the course of the last 100 years the needs of our community have changed and one of the biggest changes we have seen has been the increasing age of our community who are living longer and require support for more complex and challenging needs.
To support our elderly veterans, we have six care homes that cater for some 500 residents who receive professional nursing and dementia care. These homes, which are designed to be a home from home for residents, are a staffed by 750 personnel alongside a further 400 volunteers who help to keep them running. They provide specialist nursing, dementia and end-of-life care and are designed for veterans and their families who share a unique camaraderie and our residents often establish strong friendships and bond over their shared experiences.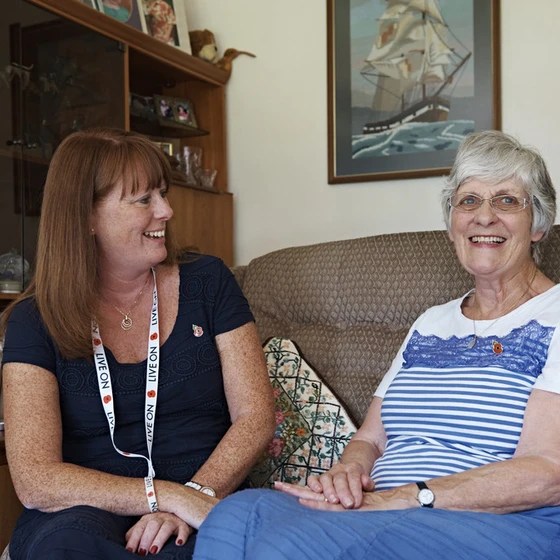 Specialist Dementia Care
We work with Dementia UK to provide Admiral Nurses – a specialist service helping the Armed Forces community and their families living with dementia.
Admiral Nurses
Supporting the Armed Forces community through recovery
From 2003 to 2014 the British military was engaged in back-to-back combat operations in Iraq and Afghanistan and over 600 personnel lost their lives and around 13,000 were injured. In all, 21,000 men and women were discharged from the services for medical reasons following the conflicts.
To support the wounded, injured and sick personnel the Battle Back Centre Lilleshall was established with the aim to help ensure the best possible recovery for the Armed Forces community, whether it's returning to duty or successfully transitioning to civilian life.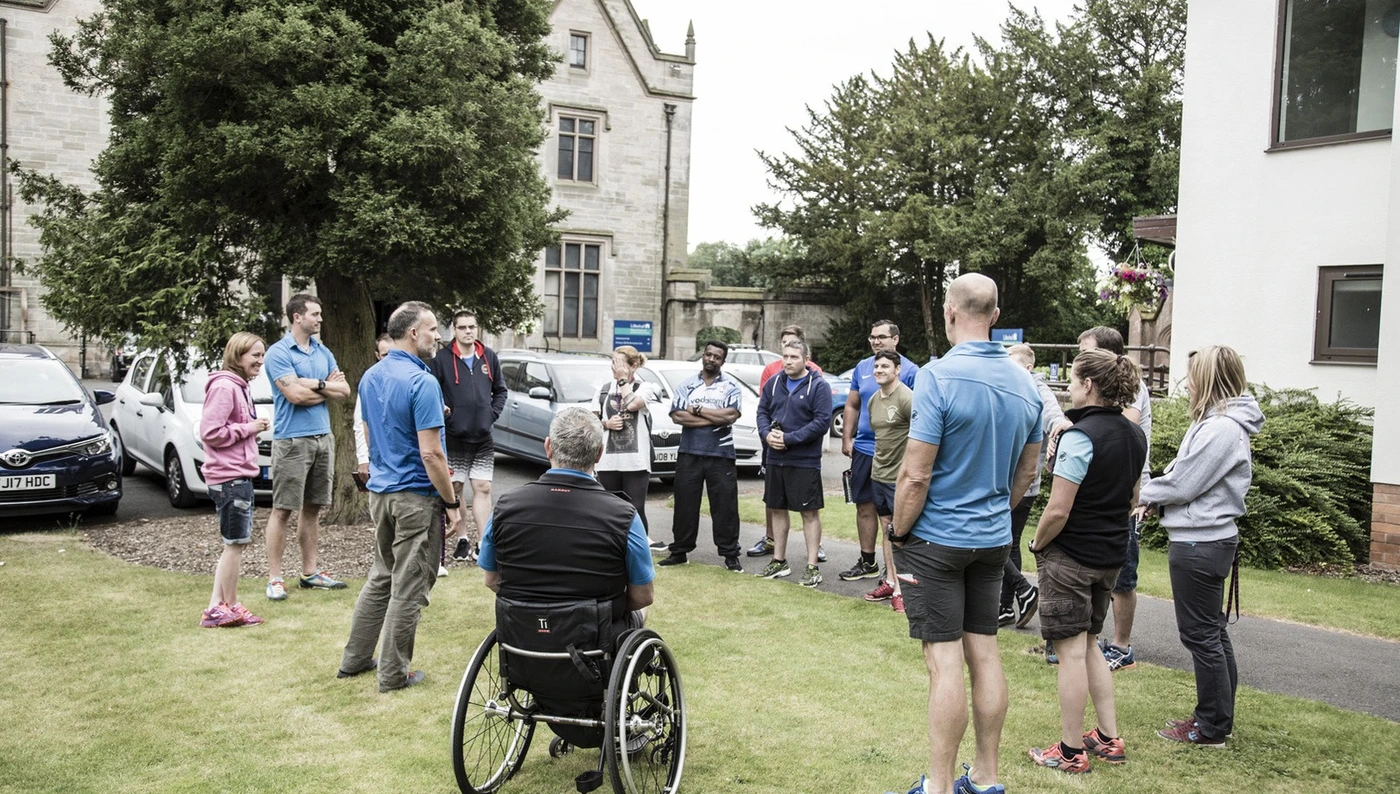 Centred around adaptive sport and adventurous training activities, such as wheelchair basketball, archery, mountain biking, climbing and caving, Battle Back helps build camaraderie as well as the chance to connect with others through shared experiences.
The programme is designed to help grow confidence and improve motivation as well as the ability to deal with stress. Delivered alongside expert coaching, it also helps to develop positive thinking – focusing on what someone can achieve instead of what they cannot and more recently we have expanded our service with the introduction of wellbeing courses for veterans.
The Defence Medical Rehabilitation Centre
We provided funds to build a Complex Trauma Gymwhere patients with complex injuries are able to focus on regaining mobility, fitness and independence.
RBL Complex Trauma Gym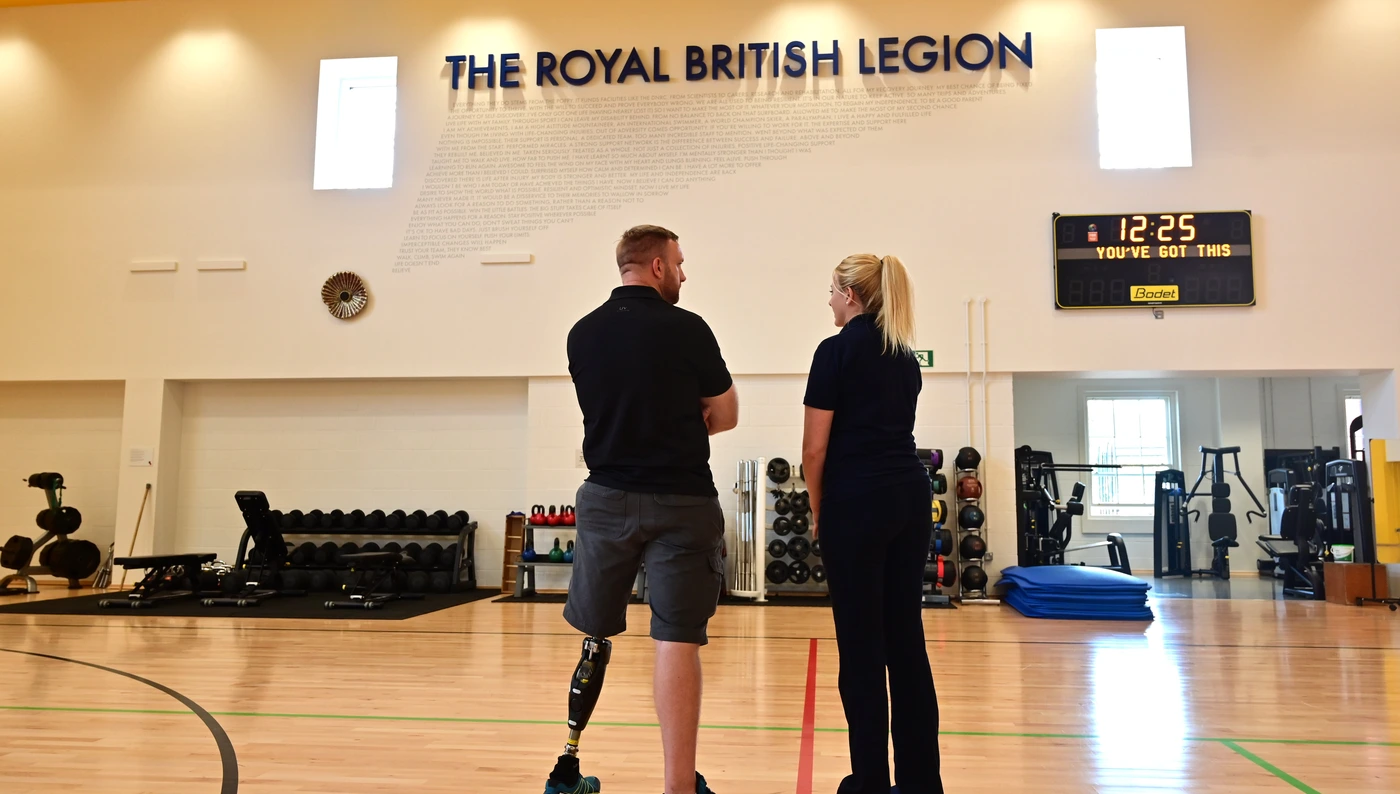 Recovery through art
While sport is a major driver for regaining confidence and focus for many serving and ex-serving personnel the arts can play a significant role in rehabilitation.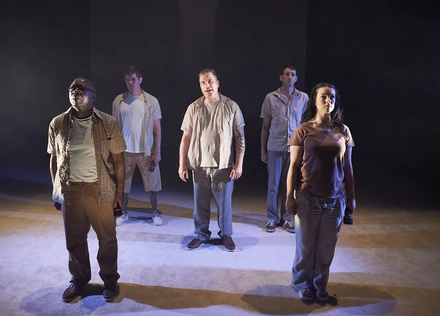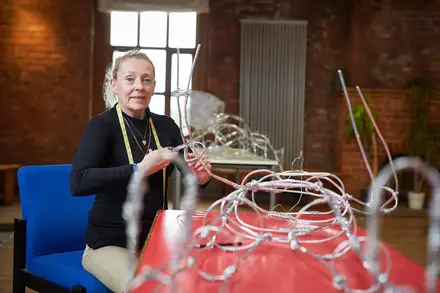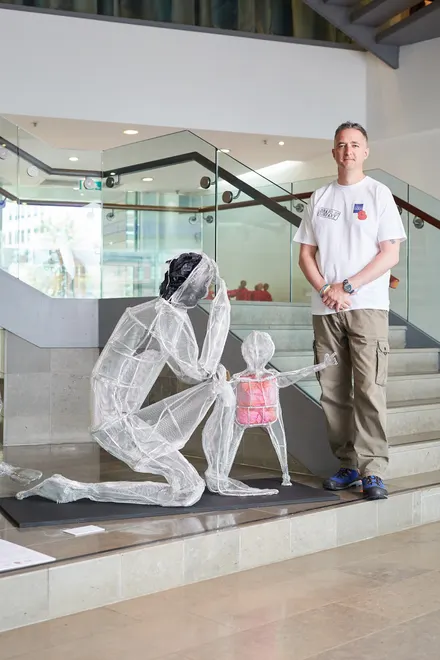 In partnership The Drive Project and the Ministry of Defence we established with Bravo 22 Company an award-winning recovery through the arts programme for the Armed Forces community.
The programme aims to give serving and ex-serving personnel new skills and experiences. It helps improve confidence, self-awareness, and motivation to support an individual's recovery and the transition into civilian life.
Initially Bravo 22 brought together 30 wounded, injured and sick ex-serving personnel to write, produce and perform their own play, The Two Worlds of Charlie F, written by Owen Sheers and directed by Stephen Rayne.
Projects now take place across the UK and are open to serving and ex-serving personnel, reservists, family members and wounded, injured or sick personnel (WIS). After the success of theatre projects, we have now expanded the programme to other art projects including sculpture, as well as online workshops in the light of the Covid-19 pandemic.
So far, Bravo 22 Company has worked with over 500 WIS, veterans and their families using the arts to support their recovery and the work has been seen by over 46,000 live audience members.
Supporting the Armed Forces community during Covid-19
Over the last year the welfare of our community has remained our priority as the impact of the Covid-19 virus touched us all. Recently, we have been supporting members of the Armed Forces community who never imagined they would need support. Calls for assistance for accessing food have increased dramatically, as more people need help to support themselves and their families.
To meet the increased demand we extended our Benefit, Debt and Money Advice Service which received three times as many debt referrals as benefits referrals caused by those struggling with debts due to Covid-19 and dealt with 2,283 cases last year.
Our Telephone Buddies scheme which offers companionship, support and a friendly ear to anyone who is feeling lonely or isolated has been especially vital throughout the Covid-19 pandemic. It has enabled people in our Armed Forces community who have felt increasingly isolated and alone to experience companionship and make new connections on a regular basis.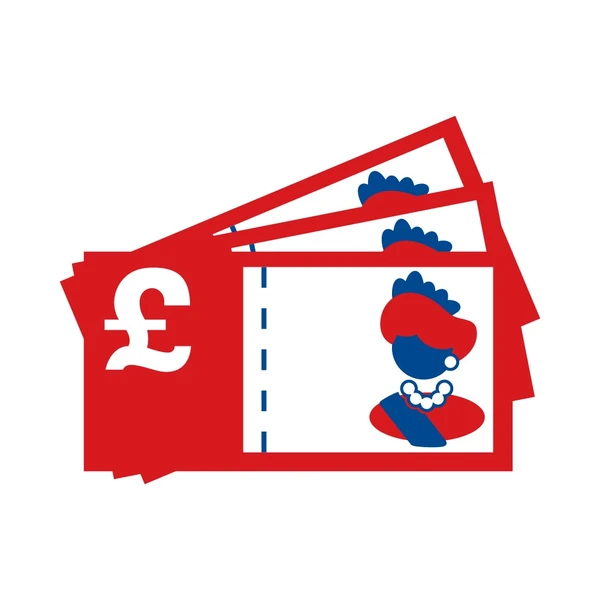 £578,299
In 2020 we provided £578,299 of financial assistance grants to assist those with priority debts such as rent and council tax arrears.
Supporting families with finance advice
Calls for assistance have increased over the past year, as more families need support, so we extended our service to meet the demand.
Benefit, Debt and Money Advice Service
Supporting the Armed Forces community into the next century
As we look to the future, we remain dedicated in our mission to ensure the welfare and adapting to the changing needs of our Armed Forces community is at the heart of everything that we do.
Building on a century of work we'll make sure that all who have served and sacrificed on our behalf receive the help and support they need when and where they need it to allow them to create better futures for themselves and their families.