The Scouts are proud to collaborate with The Royal British Legion with a new range of Remembrance 2021 products.
In 2018, the Scouts teamed up with The Royal British Legion to show support for the Armed Forces community and launched the first official collaborative range - that included a co-branded woggle, neckerchief, pin badge and woven badge. The collection was launched later in the year to coincide with the centenary of the end of First World War.
As Britain entered the First World War on 4 August 1914, Robert Baden-Powell – founder of the Scout Movement – volunteered Scouts to support the war effort. The skills learned through Scouting proved very useful in carrying out a variety of jobs, from working on farms to delivering messages, watching coastlines, fetching hospital supplies, and guarding railway lines.
Since the Scouts were founded in 1907, local Scout groups have taken part in various volunteering roles within their local communities to support RBL, including supporting the Poppy Appeal. This partnership sees many collaborative opportunities for the Scouts and the Royal British Legion to work together to raise vital funds and awareness for the Armed Forces community.
During our special centenary year, the Scouts and The Royal British Legion product range has been refreshed and will include a 2021 badge, a tote bag, a grow your own poppies seed kit and more. There will also be some official activities to facilitate groups commemorating Remembrance Sunday and engage young people in Scouting.
All profits raised are split equally between the Scouts and The Royal British Legion. Despite the pandemic and social distancing regulations, the Scouts are supporting RBL more than ever and this November we will launch a collaborative engagement programme for the Scouts to take part in during
Remembrance
.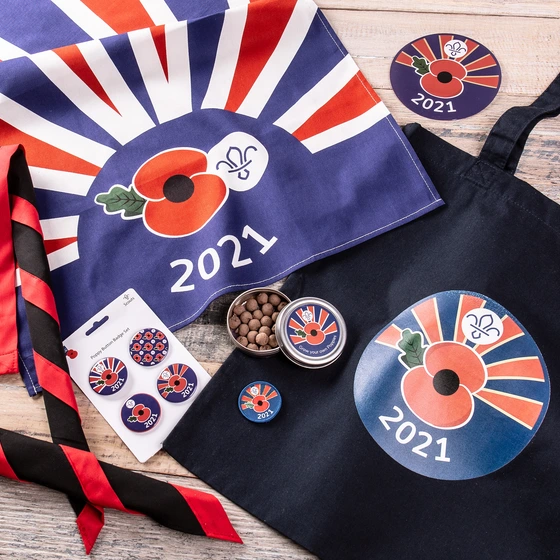 Shop the Scouts and The Royal British Legion range
Browse our new extended range of official products from the Scouts.
Shop the Scouts