In 2019, WO2 Sergeant Major Sean Butcher was deployed on UN peacekeeping mission Op Tosca in Cyprus before, having only been home a few months, he was sent to support the NHS's response to Covid-19.
Covid-19 response
"I've been supporting the Army response to Covid-19 pretty much since the start of this pandemic, aiding the NHS Nightingale build in Harrogate and then subsequently commanding a mobile testing unit in the summer, working all over the Yorkshire and Humber area to deliver Covid tests on behalf of the local councils."
Prior to the pandemic Sean was stationed at Royal Artillery Barrack Lark Hill in Salisbury as a Troop Sergeant Major within 24 Irish Battery where he trained new soldiers in basic artillery trades before they moved on to their regular regiments.
"We handed over the mobile testing to civilian contractors in August, so I had the chance to return to normal artillery training prior to coming here in Liverpool to help deliver the asymptomatic testing."
Sean has been in Liverpool supporting the rollout of mass testing alongside thousands of other service personnel.
"We arrived just over two weeks ago. As soon as we arrived, we received training from the health care professionals on how to safely deliver the lateral flow tests and on how to run asymptomatic test sites.
"Within 24 hours, we opened up test sites within the city."
Working in unfamiliar situations
Being deployed at short notice to unknown or unusual situations isn't something new to Sean and his team.
"We're trained to react at short notice with the ability to deploy anywhere, whether it be overseas or on our own soil. The majority of this sub-unit has been trained since the pandemic started back at the end of March and we've learnt to adopt Covid measures, both while deployed conducting mobile testing, and while stationed in barracks carrying out low-level training.
"Giving assistance to other government agencies isn't anything new to us. Some of us, like myself, were involved with the likes of the UK firefighter strikes and the response to the foot and mouth outbreak in 2001."
Sean and his team are taking positives from their deployment and enjoying the interaction with the locals in the area.
"I'm a typical Yorkshireman, I like to chat to folk, and I think it's the same with the guys. Going from Op Tosca where they have been on patrol and working in pairs or teams of four and not really having a lot of civilian interaction, to now, it's very different.
"I don't only speak for myself, but I also speak for my soldiers when I say that we feel privileged to be part of this UK-wide team.
"The local populace has been so generous and grateful of the work we are doing to support the members of the NHS and local councils. We've had locals from the area come up with biscuits and chocolates to say 'thank you so much for your hard work'.
"We're not here to take any credit whatsoever from our counterparts. What we are trying to do is our best to support the fantastic work of our NHS teams and the local councils, especially at a time like this."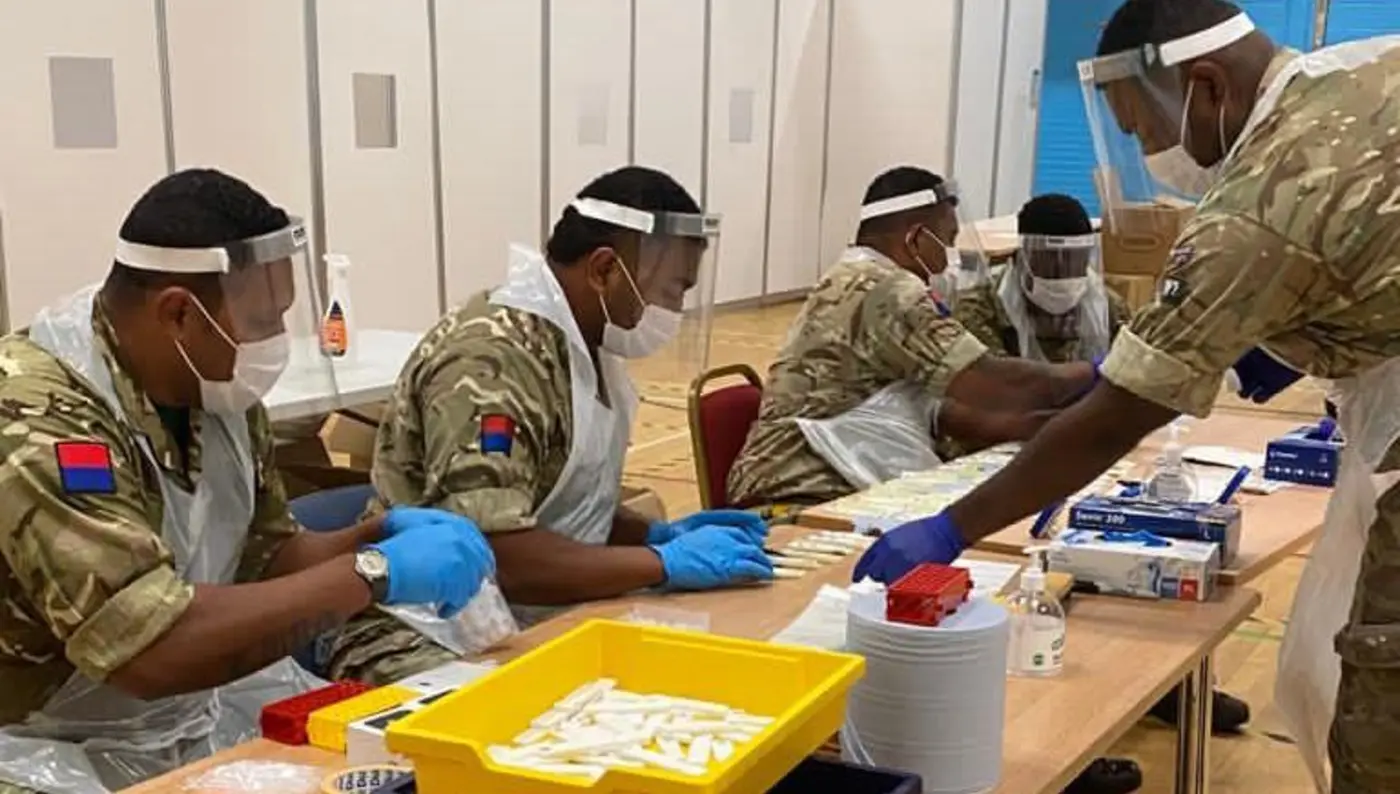 While the Armed Forces have been supporting the nation, RBL has been supporting the Armed Forces community throughout the pandemic, some of whom are struggling to cope in the wake of Covid-19.
"Charities are more important now than ever before. Families are really struggling with work, finances and generally not knowing what is going to happen or what needs to happen. Families can feel, I suppose, in times like this alone and lost during a pandemic.
"And that's where charities like the Royal British Legion can make a difference to the families of soldiers who have had to literally just up sticks and leave to be out on the ground as we speak."