WO Karl Phillips works in the RAF Force Protection Force and from April to June he led a team providing support to the NHS Ambulance Service.
Karl, 48, was inspired to join the RAF by his Grandad who served in the RAF in WW2.
During his career he has been deployed to locations around the world, including across Europe, Bahrain and Oman, as well as Africa, the USA and Cyprus.
As the RAF FP Force Master Driver, he oversees the management of all vehicles and drivers across the Force as well as advising the SLT in respect of transport regulations and risk management.
Since 2002 he has been a Military Co-responder and is the team leader for the Honington Co-response team. Working under the NHS East of England Ambulance Service Trust (EEAST), the team's primary role is to support the ambulance service in providing operational front-line emergency medical services to the local and wider community.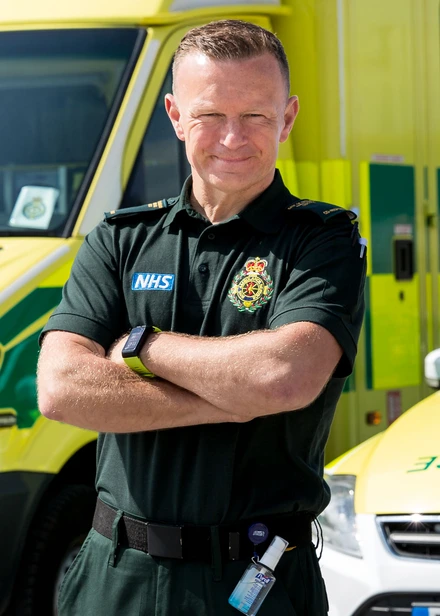 In April this meant providing emergency ambulance crews to absorb the additional demands placed on the NHS due to COVID-19.
"I think, primarily, reassuring the public was very important, particularly given the global effect COVID-19 has had on people's well-being and mental health," says Karl.
"Our teams attended hundreds of 999 calls during the deployment and I think it's important for people to be able to witness members of the Armed Forces actively working to assist them, particularly during national emergencies such as the C-19 pandemic.
"I think the work undertaken on the NHS Nightingale hospitals was particularly awe-inspiring and I am sure this helped reassure the public and restore confidence.
This month Karl is preparing to take part in a fun-run to raise money for the Poppy Appeal and hopes others will do what they can to support the appeal, despite the challenges of COVID-19.


Fundraise for the Poppy Appeal
"It is still vitally important for people to get involved because it is incumbent on all of us to remember those who gave their lives to ensure us as future generations can enjoy the level of freedom we have come to regard as standard," says Karl.
Donations are vitally important in order for the Poppy Appeal to continue funding such good causes.
"The poppy is a symbol of remembrance, of course; however, particularly in this current climate, for me, the poppy also unites people and therefore represents solidarity, commonality and hope."