Throughout the pandemic the Armed Forces have stepped in to support the Covid-19 response across the country, helping to construct Nightingale field hospitals, running mobile testing units and now supporting the roll out of mass testing in Liverpool.
Before the pandemic struck, Lieutenant Douglas Bartlett, troop commander in 4th Regiment Royal Artillery was coordinating the training of his 30-strong troop alongside his troop Sergeant Major in Topcliffe, North Yorkshire.
Since March, however, Lieutenant Bartlett and his regiment have been working alongside the NHS to help support its response to Covid-19.
In November, he and his team were deployed to the UK's first mass Covid-19 testing operation in Liverpool.
"It was a relatively quick turnaround from when we were told we were coming up here to actually boring on to the ground here, we first got hints of it on a Friday, and we were in Liverpool very early on the following Thursday," Lt Bartlett said.
Over 2,000 personnel have been deployed to the city to support the Department of Health and Liverpool County Council with the huge operation of establishing and rolling out testing centres and facilities.

"I'm commanding one of the asymptomatic testing sites up here in Liverpool. It's myself and 22 other men and women in my troop, and we are providing tests for anyone who comes through the door.
"We're trying to make it as easy and as quick as possible for anybody who wants to get tested and the public in Liverpool have been fantastic and have turned out in huge numbers.
"It's nice to have a sort of palpable impact in the local area, and just getting some face time with the local population while you're in uniform has been really rewarding."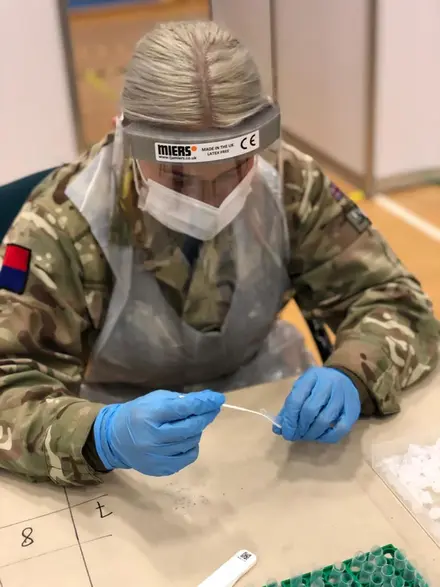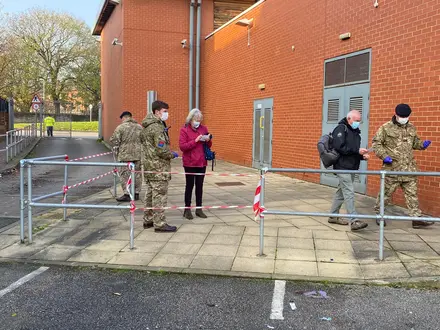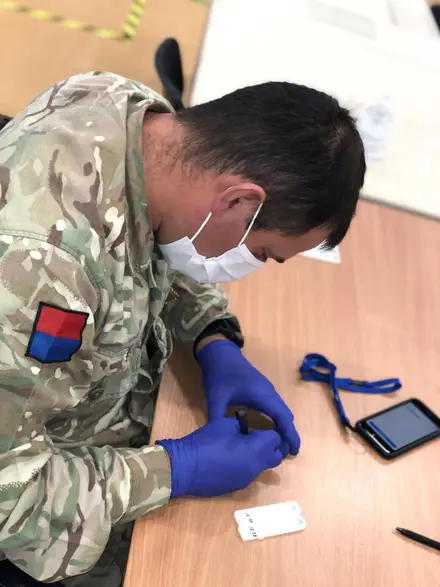 Earlier in the year when it was feared NHS services might become overwhelmed by the volume of Covid-19 cases the Army were drafted in to support the NHS with the construction of Nightingale hospitals across the country.
Lt Bartlett and his team were deployed the assist at Harrogate Nightingale.
"At the Harrogate Nightingale we were very much in support of the NHS, doing any tasks they needed really. We did everything from moving beds, helping to construct some of the wards, and some of my guys and girls also received some training to become wards runners if the hospital ever opened."
The regiment also ran mobile testing units in North Yorkshire over the summer.
"I think our military training has helped a lot. Obviously, the quick reaction has helped to be comfortable in an unfamiliar situation and we've been able to use it to identify any issues that arise and try and fix them as quickly as possible."
"It's been really good to see the country get behind the NHS, and by the fact that we're supporting the NHS, get behind us as well.
"Everyone has been really kind, really friendly always willing to have a chat, and some boxes of chocolates have been dropped off, so we have all been very much enjoying that.
"It's been nice to be able to help the country in a time of need and in times of national crisis, actually feeling like you're having an effect and making a difference has been really rewarding."
"I think we have a very good welfare system when you're in the Army but that transitioning point whenever people leave the Army for medical or other reasons, they can really struggle with that.
"The Legion and other charities like it help provide that sort of welfare aspect from the moment they leave, and also when they're in the Army as well, but it's really the moment when the guys and gals leave the military and leave that family environment that the Legion really step in and provide fantastic support."