Feel-good cook Melissa Hemsley is helping us celebrate VE Day 75 with her delicious root veg fritters recipe.
The recipe is inspired by the vegetables grown in British victory gardens during World War Two and the waste-not rationing mentality of the time.
A good fritter recipe will always be handy, they're always delicious and you'll clear your fridge, ready for a weekend shop.
In this version, Melissa has used spiced carrots and parsnips but you can swap in any veg to a total of 500g, and change up the herbs and spices to keep things interesting.
Image by Sarah Malcolm
Root veg fritters
Feeds 4-6 or 8-12 as a canapé. Takes 40 mins.
Ingredients
5 medium parsnips (about 400g)
2 carrots (about 100g)
1/2 tsp sea salt
3 tbsp ghee or oil
1 small onion, finely diced
2 garlic cloves, finely diced
2 tsp curry powder, Chermoula or harissa or your favourite spice mix
2 eggs
5 tbsp chickpea (gram) flour
Chilli flakes or dried herbs (optional)
Method
In a big mixing bowl, roughly grate the veg. Add the salt, toss everything together and massage for a bit, then leave for 10 minutes.
Meanwhile, add 1 teaspoon of the ghee or oil to a large frying pan, gently fry the onions over a low heat for 3 minutes, then add the garlic and spice mix, and cook for another minute. Transfer to a plate to cool, making sure any scraps go with it as we'll use the pan again and any leftover bits will burn.
Once the grated veg has had at least 10 minutes to sit, squeeze out any excess liquid using a clean tea towel. Do this in four batches - each time placing a quarter of the mix in the cloth, gathering the cloth at the end and giving it two squeezes, not more or it becomes too dry.
Beat the eggs in the mixing bowl then return the veg and add the spiced onion mix, chickpea flour and chilli, if using. Mix well with a wooden spoon or use your hands.
Divide the mixture into 12, squeezing each portion gently into a ball. The veg should stick well together and hold its shape; if it is crumbly add another 1-2 teaspoons of flour and mix well. Place the balls on a large plate.
In the same frying pan, heat up 2 tablespoons of the ghee or oil. Take a ball, flatten it on one side and push it into the ghee or oil with a spatula. Add two or three or the balls to the pan (however many you can fit without them touching) and flatten them gently to about 1cm thick.
Fry for 3 minutes, over a high heat for the first minute then turn down to medium to avoid burning, then flip over using a spatula. Cook the other side for 2-3 minutes. Continue until all the fritters are done, adding more ghee or oil if you need it, keeping the cooked ones warm in a low oven. Serve them with a dip or sauce of your choice.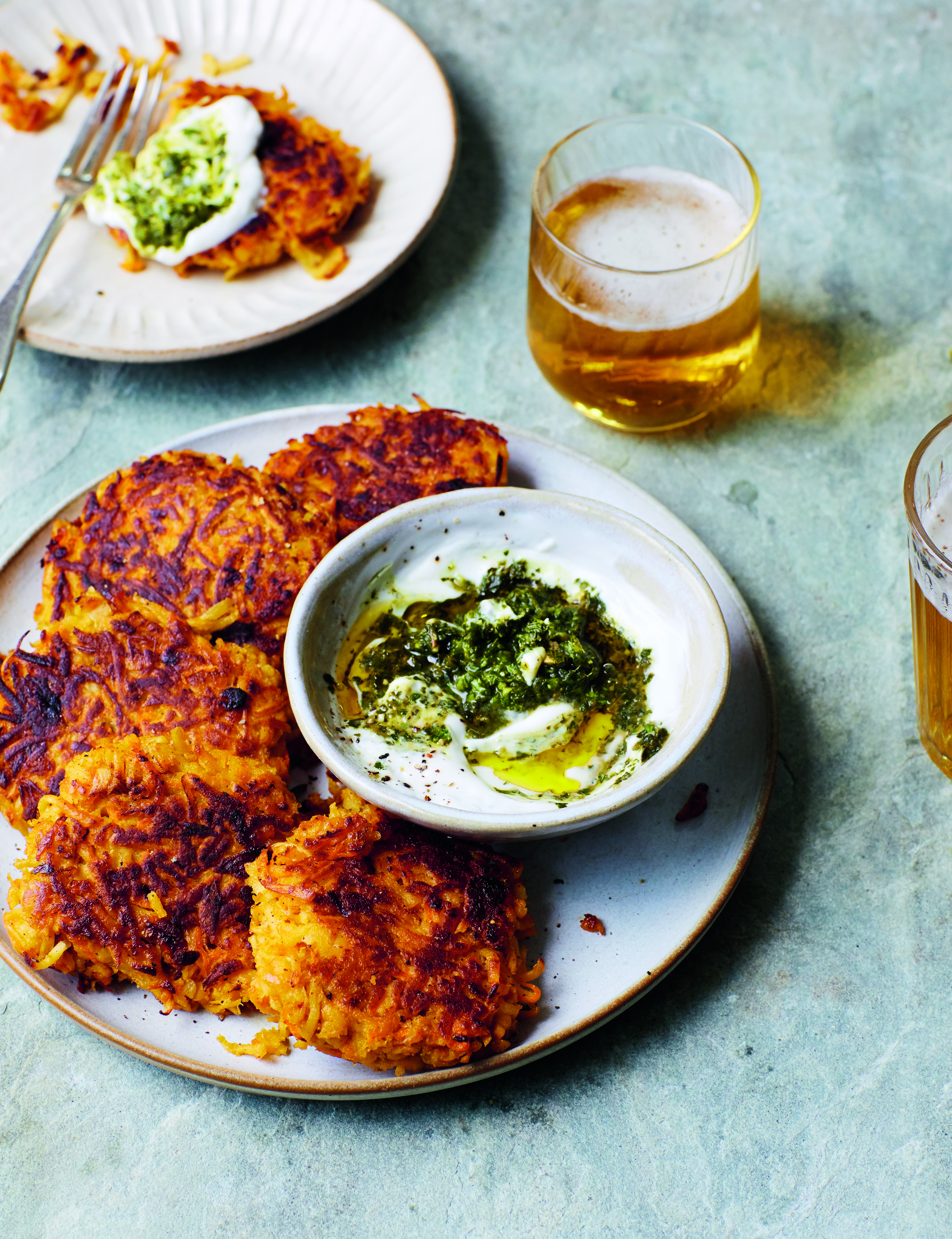 Image by Sarah Malcolm