For millions of pre-partition Indian Army soldiers who had fought in the Far East, peace brought a number of challenges and important decisions to make.
Most elected to return to civilian life, others to stay in the military, eventually joining either the Indian or Pakistani Armies. Others still left their homelands altogether.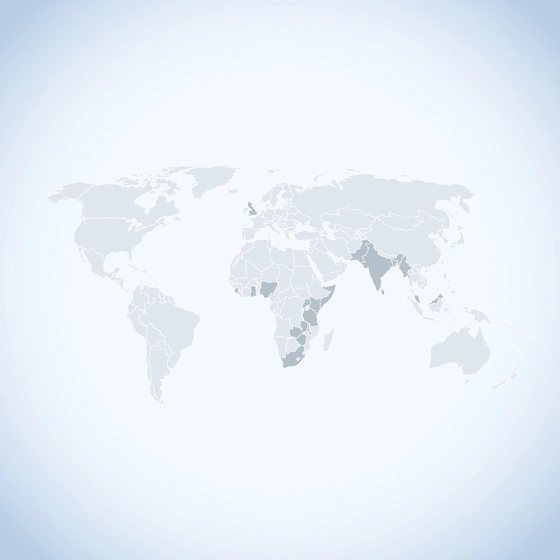 Help us remember the forgotten history of those who served in the Far East
Browse stories and messages of thanks on our interactive map and help us ensure the contribution of those who served in the Far East is not forgotten.
Explore the map
Returning home
At the end of 1945, former pre-partition Indian servicemen arrived home at a time of immense social and political upheaval.
In the period between the Japanese surrender and the end of April 1946, some 600,000 men and officers were demobilized at an average rate of 70,000 to 80,000 a month.
On demobilization, many of these men joined the self-defence units and volunteer outfits of all communities that were mushrooming in post-war pre-partition India.
To these outfits, the former soldiers brought their professional skills in the organized application of force and the ability to impart basic training to other recruits. Those with combat experience were not only hardened to the idea of killing, but capable of improvising in rapidly changing and violent circumstances.
Srinivus Kumar Sinha,
A pre-partition Indian Army officer from the eastern state of Bihar, Srinivus Kumar Sinha, described the delicate situation immediately after the war and before partition, particularly when tensions amongst Hindu and Muslim soldiers who had previously served side-by-side, were beginning to rise.
"…it is remarkable that during the outbreak of communal violence in August 1946 and till well after 1947 had set in, the Indian soldier, Hindu and Muslim, showed remarkable impartiality when dealing with communal violence.
"This was so in Kolkata in August 1946, in Bihar in October 1946 and in Garhmukteshwar (Uttar Pradesh) in November. Two or three battalions of the Bihar Regiment, which had Hindus and Muslims in equal number, had operated in Bihar during the communal riots with complete impartiality.
"At the time of those riots, Col. Naser Ali Khan, who later went to the Pakistan Army, and I were serving at General Headquarters in Delhi. He was many years senior and always very kind. One morning at breakfast, after having read a newspaper report about the Bihar riots, he told me excitedly that his blood boiled when he remembered that I was Bihari.
"I told him I condemned what was happening in Bihar more than him. He was not the only Muslim officer I interacted with in Delhi who was so worked up over the terrible rioting in Bihar. I mention these incidents to show how circumstances were forcing the communal virus to spread in the Army."
Political changes
The changing political climate also brought with it a series of revolts, such as those in both the Royal Indian Navy and the Royal Indian Air Force, not only as a consequence of continuing poor conditions, treatment and food but also as men turned against British colonialism and all it stood for.
Such actions brought serving pre-partition Indian servicemen and those awaiting demobilisation into direct conflict with one and other which, in turn, inflamed the changing geopolitical face of the country.
The Royal Indian Navy mutiny was, arguably, the single most important event in convincing the British government that it could no longer hold on to India.

A British soldier serving in India in 1945, Joseph Stephens, wrote in a letter home; "India wants her independence … We are no longer respected."
India wants her independence … We are no longer respected.
Demobilisation of troops
The demobilisation of former pre-partition Indian servicemen varied considerably, depending on soldiers and regions. However, the limitations of demobilisation became clear as the practice of voluntary recruitment and the illiteracy of a large number of recruits were seen as major problems. Proposed solutions included re-skilling and vocational training.
The Mayo College of Arts in Lahore, offered courses on woodwork, iron work, coppersmith, jewellery and commercial painting. Such openings provided former soldiers with opportunities in sectors that may not have been available to them before the war. However, it was suggested that this may be seen as an ongoing exploitation of colonial manpower.
With a pro-independence Labour government now in place, it was clear that Britain simply no longer had the resources with which to control its greatest imperial asset, and its exit from pre-partition India was messy, hasty, and clumsily improvised.
Although the British Army was able to march out of the country with barely a shot fired and only seven casualties, it left behind the men who had so loyally served it to face an unexpected and ferocious bloodbath.
The end of the British Empire in India in August 1947 resulted in the creation of two separate states of India and Pakistan.

In India, official Remembrance of the Second World War remains a controversial subject, as it is a reminder of the colonial past, although efforts are being made to change this lack of public commemoration.