Our red poppy is a symbol of both Remembrance and hope for a peaceful future.
Poppies are worn as a show of support for the Armed Forces community.
The poppy is a well-known and well-established symbol, one that carries a wealth of history and meaning with it. Wearing a poppy is still a very personal choice, reflecting individual experiences and personal memories. It is never compulsory but is greatly appreciated by those who it is intended to support.
But what is the inspiration and history behind the poppy becoming a symbol of Remembrance?
The Western Front
During WW1, much of the fighting took place in Western Europe. The countryside was blasted, bombed and fought over repeatedly. Previously beautiful landscapes turned to mud; bleak and barren scenes where little or nothing could grow.
Fields of Poppies
There was a notable and striking exception to the bleakness - the bright red Flanders poppies. These resilient flowers flourished in the middle of so much chaos and destruction, growing in the thousands upon thousands.
In the Spring of 1915
Shortly after losing a friend in Ypres, a Canadian doctor, Lieutenant Colonel John McCrae was moved by the sight of these poppies and that inspiration led him to write the now famous poem 'In Flanders Fields'.
Read the poem
The spread of the poppy as a symbol
The poem then inspired an American academic named Moina Michael to adopt the poppy in memory of those who had fallen in the war. She campaigned to get it adopted as an official symbol of Remembrance across the United States and worked with others who were trying to do the same in Canada, Australia, and the UK.
Also involved with those efforts was a French woman, Anna Guérin who was in the UK in 1921 where she planned to sell the poppies in London.
There she met Earl Haig, our founder, who was persuaded to adopt the poppy as our emblem in the UK. The Royal British Legion, which had been formed in 1921, ordered nine million poppies and sold them on 11 November that year.
Sold out!
The poppies sold out almost immediately. That first 'Poppy Appeal' raised over £106,000 to help veterans with housing and jobs; a considerable sum at the time. Today's Poppy Appeal? 40,000 volunteers distribute 40 million poppies.
Poppy popularity grows
In view of how quickly the poppies had sold and wanting to ensure plenty of poppies for the next appeal, Major George Howson set up the Poppy Factory to employ disabled ex-servicemen. Today, the factory and our warehouse in Aylesford produces millions of poppies each year.
The demand for poppies in England continued unabated and was so high, in fact, that few poppies actually managed to reach Scotland. To address this and meet growing demand, Earl Haig's wife Dorothy established the 'Lady Haig Poppy Factory' in Edinburgh in 1926 to produce poppies exclusively for Scotland.
Today, over five million Scottish poppies (which have four petals and no leaf unlike poppies in the rest of the UK) are still made by hand by disabled ex-Servicemen at Lady Haig's Poppy Factory each year and distributed by our sister charity Poppyscotland.
An enduring symbol
Remembrance in the UK today is very different than it was 100 years ago. People take part whatever their political or religious beliefs and the poppy remains a humble, poignant symbol of Remembrance and hope.
Our Poppy Appeal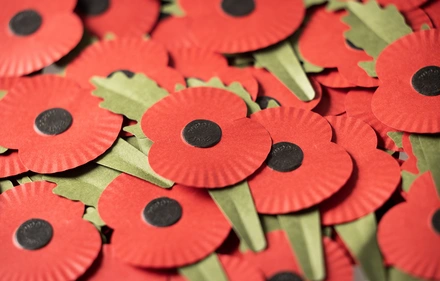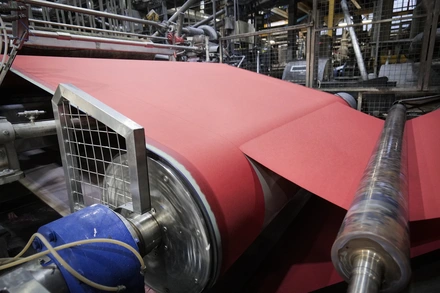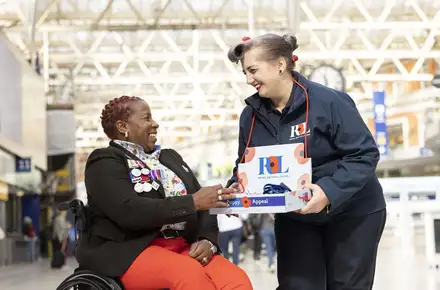 The new plastic-free poppy
For the 2023 Poppy Appeal we have introduced a new plastic-free poppy, made entirely from paper.
Maintaining the iconic poppy design and leaf shape, this is the first time in 28 years that a new poppy has been developed.
The plastic-free poppy is created from bespoke red and green paper manufactured by specialist papermaker James Cropper.
The paper is made using a blend of renewable fibres from responsible sources, 50 percent of which has been recovered from the waste used in the production of coffee cups.
More than four miles of paper are produced every year to create the poppy.
Once manufactured, giant rolls of red and green paper are transported to the Royal British Legion's warehouse in Kent where they are loaded onto specialist automated machines that cut and crimp the paper before assembling the poppy.
Finished poppies are then packed and distributed across the UK, from supermarkets and retail stores to local collectors up and down the country.
After Remembrance Sunday the plastic-free poppy can be easily recycled at home via ordinary paper recycling collections.
Order your plastic-free poppy