Winifred Blackwell shares her memories of being a Barrage Balloon Operator during the Second World War.
I joined the WAAF on a cold, wet day in 1942. I was 26 years old and had previously been in service during the early years of the Second World War. I was instructed to go from Burgh Heath to Croydon and get the train into London with some other girls, before we went on to Gloucester.

Lorries took us to our 'camp' once we had arrived, and we were given a hot meal and shown to a hut which was to be our home for a week. There were about 20 to 24 in our group; I remember it being freezing cold. We were given uniforms and our civilian clothes were sent home.

After that first week we were sent to Morecambe in Lancashire and billeted in private houses. There were about 12 in our house; the people were very nice and the food was good.
We did our basic training at Morecambe, parading on the sea front – very cold and snowy – and had lectures in the hall on the pier.
After a month we were transferred to RAF Titchfield near Portsmouth.
"The locals had been heavily bombed before we arrived"
We were the first women to take over a balloon site at a school in Everton; slowly all the other sites in the area were taken over by women.
Guard duty was for four hours at a time and our headquarters were in the small suburb of Fazakerley, near Anfield. We were all very happy there; we did our own cooking on a coal stove that we kept going day and night – two different girls took it in turns each week to do the cooking. We made friends with the local people in the area; they had been heavily bombed prior to us 'girls' arriving.
During our stay we had a visit from the Duchess of Kent and we had to get everything spotless – even the coal at the school had to be whitewashed before she came!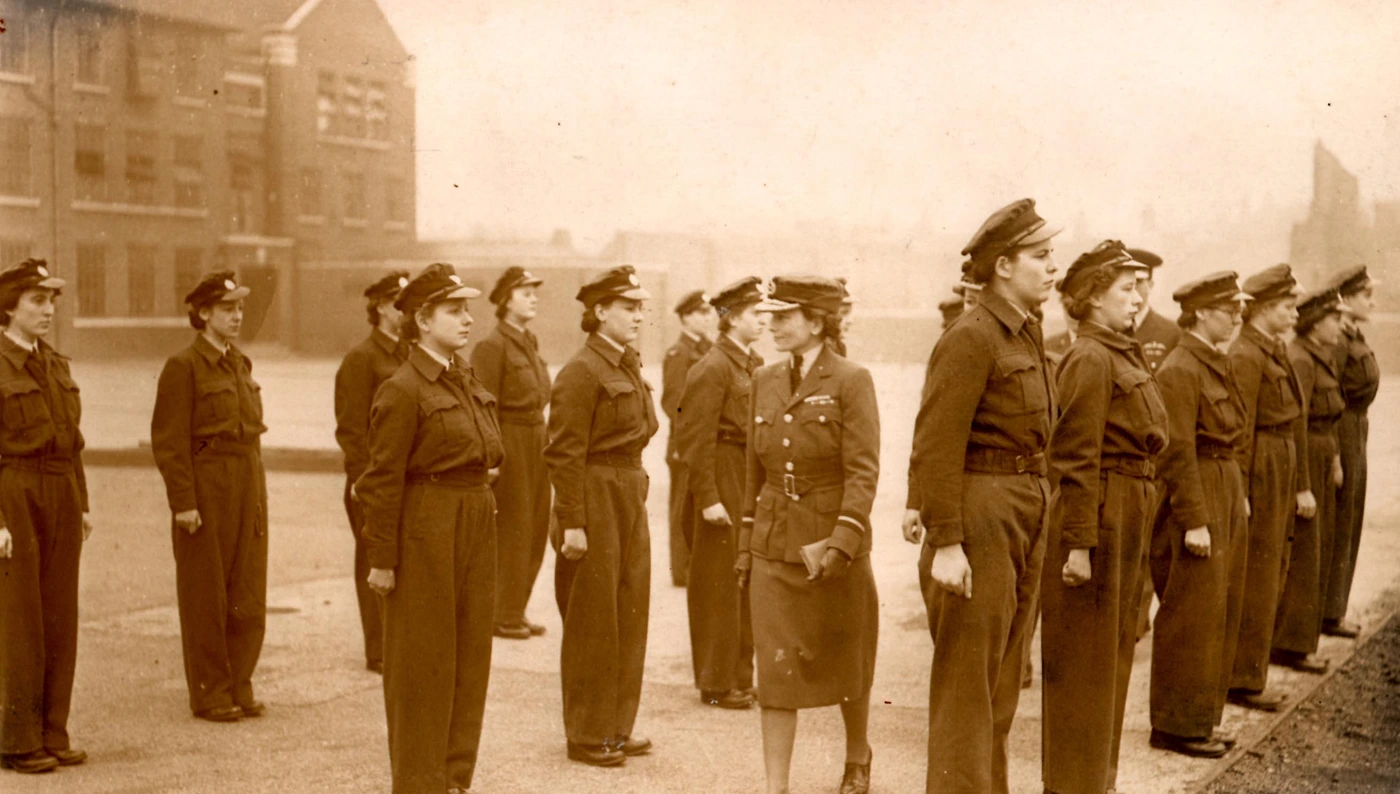 During Christmas 1942, an American troop ship docked in the city and they sent us a hamper. The officers brought dinner down from headquarters, waited on us and then went round to other sites. We phoned HQ that evening and was told nobody would be making rounds as they were all merry with drink! Another girl and I stayed on duty while the others went to the pub up the road.
During my stay in Everton I kept getting chest colds and finally contracted jaundice. I was sent to a convalescence home near Strathaven, Scotland, to recuperate for three weeks. It was a very large house and had grounds out in the countryside; it was the area where, in 1941, Rudolf Hess parachuted in.
When the site in Liverpool closed, we were sent to Hull to be sorted, then sent elsewhere for training. I ended up in Penarth but did not pass the course. When asked where I would like to go, I asked to be near to Staines as my sister lived there.
I was sent to work in RAF West Drayton's workshops. It wasn't far from where my sister Edie lived; I was able to visit regularly by bicycle or train in the evenings and at weekends.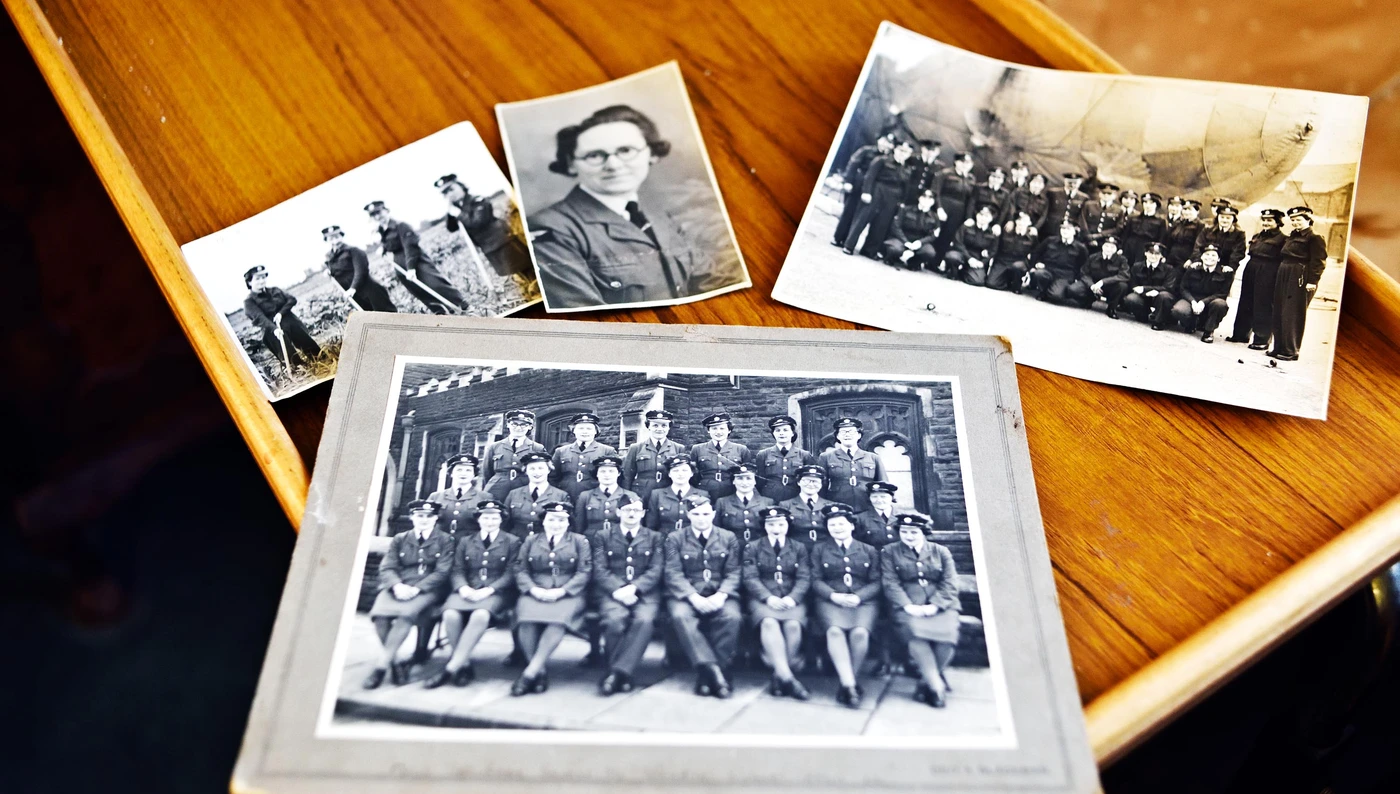 My mum was bombed out of her cottage.
While I was at West Drayton, my mum was bombed out of her cottage at Burgh Heath. A house just down the road had a direct hit by a 'doodlebug'; the husband, wife and a daughter were killed, while another daughter was slightly injured
I put in for compassionate leave to be with my mum and was given two weeks to sort things out, but not a lot could be saved. She stayed with some friends down the road before moving in with my sister. With Ed, Edie's husband, coming home from war, there wasn't enough room at their cottage and so mum moved into a home in Staines.

I got to know my husband, Wallace, through my sister Lily's husband. They were in the Pioneer Corps; we started to write letters to each other – 'Wall' was abroad when I was in Liverpool.
The first time we met, he was stationed in Sandy, Bedfordshire; we arranged to meet under the clock on Waterloo Railway Station in London as in the film Brief Encounter!
I later had a week's leave and travelled to Bletchley to meet up with him while he was on embarkation leave before going across the Channel. I sent off to ask for a few more days' leave; I did not hear anything back so I took them anyway.
When I got back to West Drayton I had to see the officer and was put on 'jankers' for a week – every evening from 1800 to 2100 I had to go to the checking-in gate, sweep up and do other little jobs, which was not too bad.
When the war was over there was great rejoicing. I quite enjoyed my time in the WAAF. I was demobbed in December 1945 (if I'd stayed until January I'd have completed four years' service) and came out as LACW [Leading Aircraftwoman] Blackwell.
Winifred's War Medal 1939-1945 and Defence Medal.
I quite enjoyed my time in the WAAF. I was demobbed in December 1945 (if I'd stayed until January I'd have completed four years' service) and came out as LACW [Leading Aircraftwoman] Blackwell.