Reggie and Betty met on a blind date 30 years ago. When he couldn't get into the garden due to a fall, we came to the rescue.
"It has dramatically improved our lives," says Betty, "It sounds silly but he was largely-housebound since that spell in hospital."
"I'm getting more and more confident on my feet," says Reggie, "and it's thanks largely to the handy van service."
"They really were the answer to our prayers. The Royal British Legion has been a godsend to us.
"We're just waiting for the summer now."
Trapped in his own house
When Reggie returned home after having a bad fall he found that he couldn't manage the high step from the kitchen into the garden.
"Reggie hadn't left the house for eight months because he wasn't too good on his feet. He just couldn't step out of the front or back doors because of the big step."

When Betty saw Reggie staring out of the window at the greenhouse that was his pride and joy, it broke her heart.

Gardening had been a passion for Reggie, and he'd filled the garden with flowers for Betty.
But now he was trapped, a prisoner in his own home.

After Betty called us, one of our team visited later that week, putting in a new step along with a post and a handrail so Reggie was able to get out to his precious greenhouse.
Joining the Army in the Second World War
Reggie was serving in the Royal Norfolk Regiment when it came under fire while establishing a bridgehead over the River Orne in Normandy.
Fighting was fierce and lasted for 36 hours. Reggie was shot during the battle, and returned to complete his service after recuperating.
The bridgehead was held due to the leadership of Captain David Jamieson who received the VC for his actions. Reggie has a painting showing the battle. Captain Jamieson is shown on top the tank commanding his troops, despite numerous injuries.
Reggie left the Army at the end of the Second World War and became a tanker driver for Esso. But after moving down to Southampton to be near the sea he joined the Royal Engineers Diving Establishment (REDE). It was during this time that he met Betty.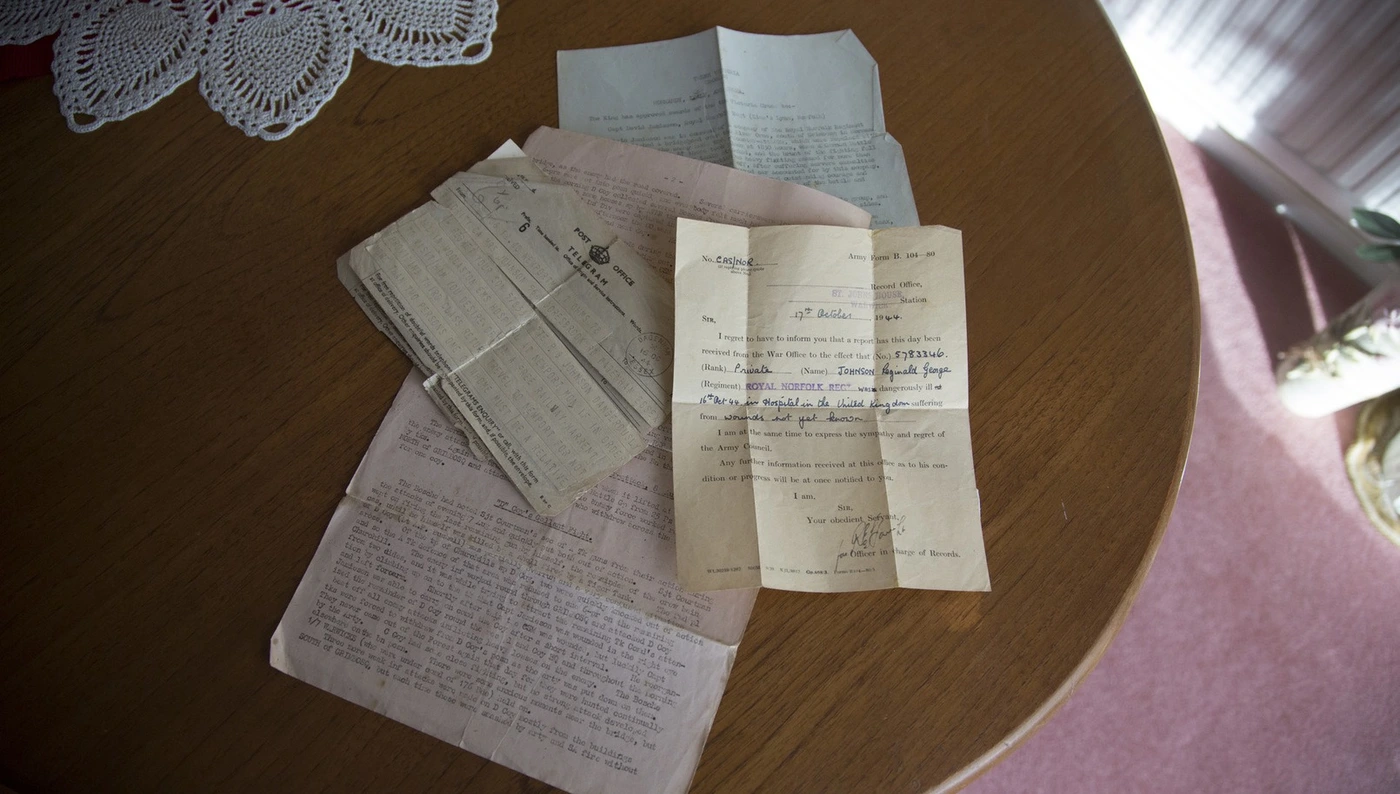 Reggie still has the telegram that his mother received when he was injured, along with the mention in dispatches for D-Company and Captain Jamieson's VC announcement.
A blind date
Betty used to travel by bus to work, and on one journey she got talking to a young woman called Beverly. After a couple of journeys Beverly asked Betty if she fancied going on a blind date with Beverly's dad.
"My son said 'Go for it'," says Betty, "and my daughter-in-law wet her knickers laughing as she thought it was hilarious."

They agreed to meet outside the local supermarket, with Betty driven down by her son.

They hit it off from the start and it wasn't long before Reggie got into trouble at work, where part of his job was cleaning out the big tanks. The captain called all the men out as he wanted to know who had drawn a giant heart with R+B in it on one of the tanks.

They got married at their local church almost a year to the day that they met, surrounded by their families.
Can't you grow anything else except fuchsias?
After they married they moved in together, and they've lived in the same house for 30 years. It wasn't long after they moved in that Reggie started growing flowers in the garden.
"My garden was beautiful, he put flowers everywhere. It was lovely. He didn't grow any vegetables, it was just flowers, flowers everywhere."
"Can't you grow anything else except fuchsias?"
"Just right, lovely it was," says Reggie, "I get more joy from flowers, than I get from vegetables."
"He used to grow fuchsias, which were beautiful. He had all the little ladies dancing. But then one day I said, 'Can't you grow anything else except fuchsias?'"
"Once I said that he went onto more flowers. We did have a go at orchids, as part of the Wessex Orchid Society, but we didn't have a lot of luck with orchids. Beverley sent him some tobacco plants which he grew from seed. It was a great joy."