The Invictus Games harnesses the power of sport to inspire recovery and support rehabilitation for wounded, injured or sick servicemen and women.
Eligibility for the Invictus Games is based on being wounded, injured or sick during time in service.
For further information please contact InvictusUK@britishlegion.org.uk.
Supporting Team UK
Working in partnership with the Ministry of Defence, RBL will deliver Team UK to The Invictus Games in 2023 in Dusseldorf and 2025 in Whistler and Vancouver.
We will use our facilities at the Battle Back Centre to support Team UK applicants and participants, and their friends and family, through the Games process.
This will include:
Facilitating training camps and coaching for each of the sports
Supporting those not selected and offering other recovery opportunities
Accompanying Team UK to the Games
Providing access to a range of RBL support
Continuing to run the friends and family programme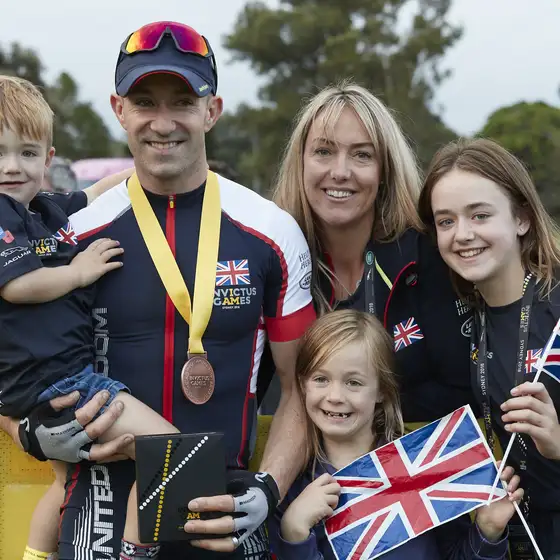 "I can't explain how much the Games have helped us.
"It's given my husband and I the best support network we could have asked for."
Story of the Invictus Games
Created by Prince Harry, the Invictus Games is an international adaptive multi-sport event. It also helps to generate a wider understanding and respect for Armed Forces personnel injured in service.
The first Invictus Games was held in London in 2014 and have subsequently been held in Orlando, Toronto and Sydney.
In 2022 the postponed Invictus Games The Hague 2020, were hosted by the Netherlands, bringing together over 500 competitors and 1,000 friends and family from 19 nations to compete in a series of adaptive sports over the course of a week.
Our team is just a phone call away
Call us on 0808 802 8080. Lines are open from 8am-8pm every day.