After being medically discharged from the Army, we helped Emmanuel Akor with a benefit claim for his young son who is autistic.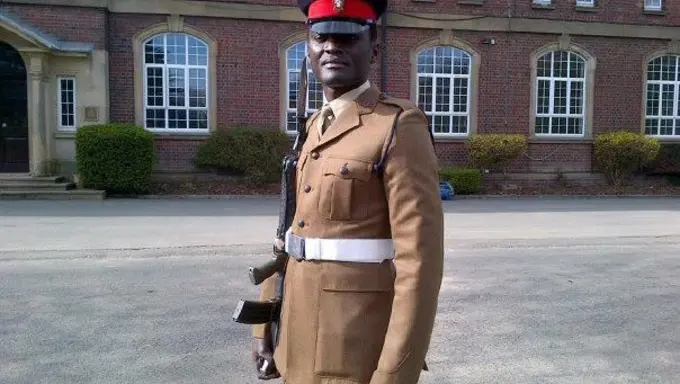 Emmanuel grew up in Nigeria but came to the UK when he joined the British Army, serving for six years in the 1st Battalion The Princess of Wales's Royal Regiment (1 PWRR) before being medically discharged in 2019.
He now lives in Mansfield with his wife and three children, and recently became a Police Officer.
After being discharged from the Army he was referred to us when he needed help with disability benefits for his son Chizzy who is autistic.
"Chizzy is 5 and has acute autism," explains Emmanuel.
"He doesn't sleep at night very well and needs 24/7 care at home.
"He's not toilet-trained and he has no sense of danger. He doesn't know danger at all so we need to have locks on the doors.
It's tough for the whole family
"It's hard to just go to the shops or socialise because Chizzy struggles in public and there are dangers everywhere for him."
To help care for Chizzy the family applied for the Disability Living Allowance.
"I applied for the benefit and we were awarded middle rate care," says Emmanuel.
"But when I went through the paperwork I realised it wasn't the right level of support for Chizzy.
"I phoned them up to explain the situation and appeal but that was rejected. And that's when I contacted the Royal British Legion."
With help from our financial support team Emmanuel was able to successfully challenge the decision and Chizzy was awarded high rate care, as well as mobility support.
Help with disability benefits
The family have been able to get a mobility car that suits Chizzy's needs as well as a disabled badge so they can park closer to shops.
They have also got a specially adapted bed that they hope will help Chizzy sleep better.
I had lost hope to be honest
"We were really happy when the decision was changed," says Emmanuel.
"We were struggling as a family with Chizzy's care, especially in lockdown.
"Now we can easily meet his needs, and if Chizzy needs something we have that extra bit of money to help us get what he needs."