On discovering that a dog could help support their autistic son, The Gill family reached out to us for help.
Simon Gill and his wife Jo both served in the Royal Military Police from the late 1980s, mainly in Northern Ireland. They got married in 1994 and left the Forces three years later. The couple now have two sons, Ben, 15, and Jake, 13.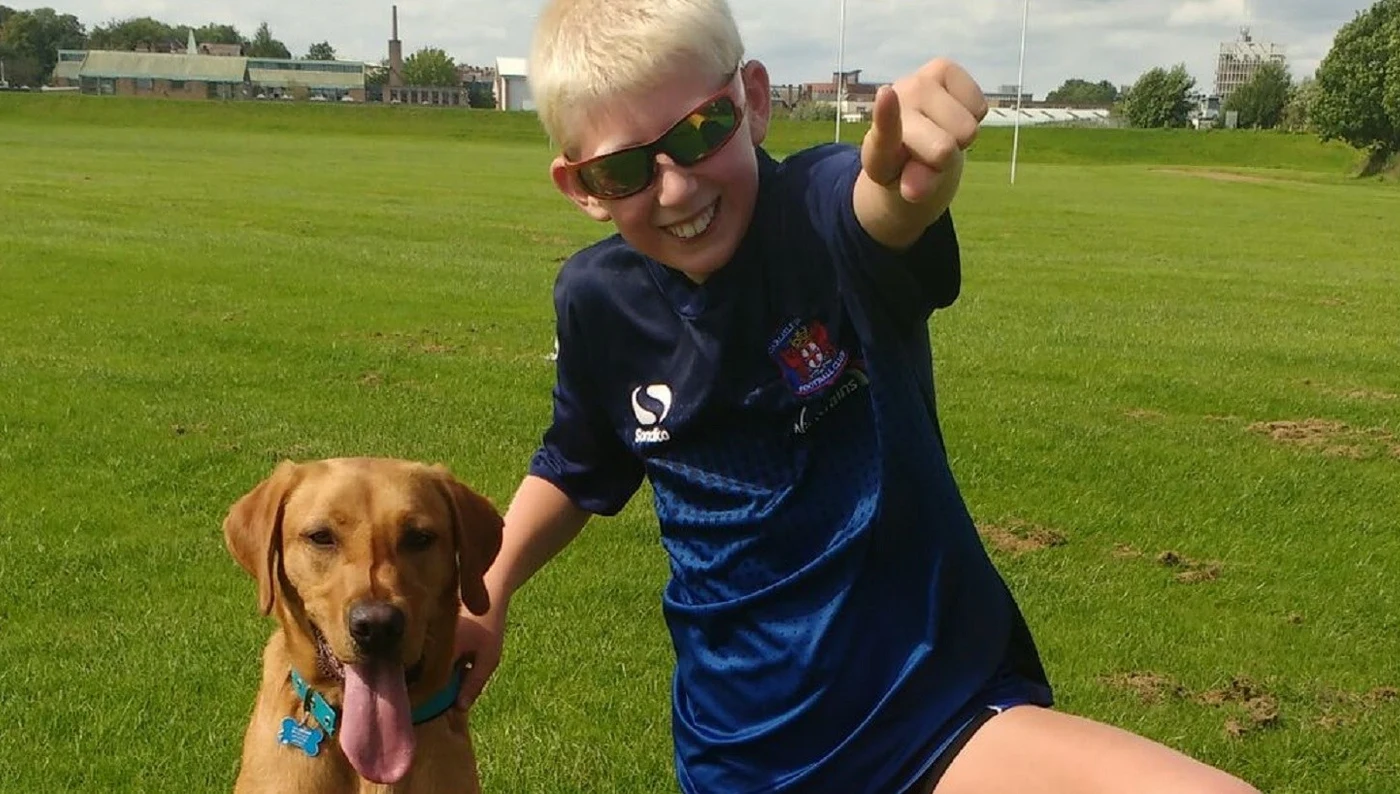 In 2012 when Jake was seven, he was diagnosed with autism and now attends a specialist school. Jake suffers with anxiety and struggles to cope in crowded places so Simon and Jo researched strategies that might improve his condition.

Turning to RBL for help
They discovered Autism Assistance Dogs, who are trained to provide safety and companionship, helping to bring independence and a more socially inclusive life to autistic children and their families. Unfortunately, they were unable to cover the £5,000 costs required to train a dog for their son so they turned to us for help.
Jake's confidence has grown a lot since having Rigby in his life. Simon Rigby

Jake's Dad
Working with other organisations to find the funds, we helped to pay for a puppy and the family now have Rigby – named after a character in one of Jake's favourite cartoons - who came to live with them in October 2016.
Simon – now an emergency medic – said: "Jake adores Rigby and likes going out for walks with him, which is something he wouldn't really do before as he didn't like crowded places. It's little things like going to watch his brother Ben play football – normally Jake wouldn't do that but he's keen to come along with Rigby now.

"We can't thank RBL enough for their support – even when our house was flooded at the start of 2016, the team contacted us to see if we needed any help and put us in touch with the Cumbria Flood Association, so it's nice to know how much they care for veterans and go above and beyond to support us.
"Rigby has made such a huge difference to our lives and has had a massive impact on Jake - they have a very strong bond and we look forward to sharing many more happy family times together."