When Mike Kiff was discharged from the Army, chronic pain and depression threatened to end his marriage. But with our support, he and his wife have rebuilt their life together.
In 2005, Cpl Mike Kiff fell from a roof and dislocated his shoulder badly while on active duty. The injury required surgery but seemed unlikely to curtail a career in the Armed Forces.
Although it was never quite right after the incident, he continued in his role. Then, one day in 2014, while serving in Kabul, Afghanistan, he reached for his rifle and felt a blinding pain in the same shoulder. The pins that were holding it together had been ripped out, tearing tendons and fracturing the bone.
In my mind I knew it was all over then, the pain was so severe I couldn't breathe.
Our team is just a phone call away
Call us on 0808 802 8080. Lines are open from 8am-8pm every day.
"Things went downhill from there," says Mike.
He attempted to continue his job, but after a few weeks Mike's senior officer made it clear he was in no position to function effectively in what was a war zone. He was flown back to his base in Germany where he found his problems shelved as the rest of the regiment began a move back to the UK.

The injury also meant that a pending promotion was off the table because he was now considered unfit for duty. Serious injury often signals the end of a career in the Armed Forces but making the transition back to civilian life can be a very difficult process for both the service person affected and their family.

With little external support and constant chronic pain he began to sink into severe depression, which soon had an impact on his relationship.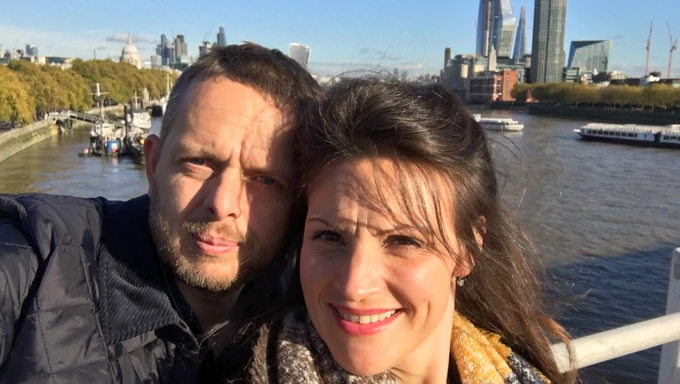 "I knew Mike was struggling badly from the calls we had when he was in Afghanistan," says wife Linda.
"But when he returned to base it began to fall apart almost from the moment he walked through the door."

As the barracks emptied out around them, their problems were low priority. However, Mike had some good fortune when a medical officer recommended a break at Brydon House, a recently opened personnel recovery centre that had received major funding from The Royal British Legion.
Mike's Stay at Brydon House
I had physiotherapy, received specialist counselling and found people who were prepared to listen to my problems. It was a completely different level of support, a hundred times better
After a lengthy recovery process, Mike was medically discharged and the family returned to Bournemouth from Germany. Unfortunately, their problems worsened. They found themselves homeless and were forced to move in with Linda's parents. Meanwhile Mike was jobless, in severe pain and on antidepressants. Linda took a job working nights. Their relationship deteriorated rapidly.
"I had no one to turn to," says Linda. "I'm Mike's support system of course, so I took the brunt of it. He was jobless for a year and I was working full time. Our roles changed completely, which only added to the stress. It wasn't a healthy situation but I discovered I could also get support from the Legion. Until then I thought they were just fundraisers.
"They advised me to adapt my thought process towards him. I talked to them on a number of occasions and they were always a huge help.
"We had hit a wall in our marriage and their support was crucial to us getting through it."
My issues had begun to affect our relationship and we were struggling.
"The Legion were there to support us," says Mike.

"We were both able to talk to people about what was going on. I was able to get anything from a sympathetic ear to practical financial guidance and help finding a job.
"Linda got advice about how to manage me because I was depressed and angry."
With our support, the couple have slowly rebuilt their lives. Mike now works as a civilian instructor teaching fibre optics to military personnel and Linda has a job in retail. Mike is still on medication and has good days and bad, but knows he can always pick up the phone and talk to someone.
In 2017 the couple ran the London Marathon to raise funds for the Legion.
"It was a way of saying thank you and having a common goal also helped reconnect us," says Mike.
"I think it's safe to say we'd probably be divorced without them and if that had happened I don't know what would have happened to me. It would have been the final straw."