Gurkha Nick Tamang served in 12 Platoon, D Company and was deployed to the Falklands in May 1982. Forty years on he remembers his time in the conflict.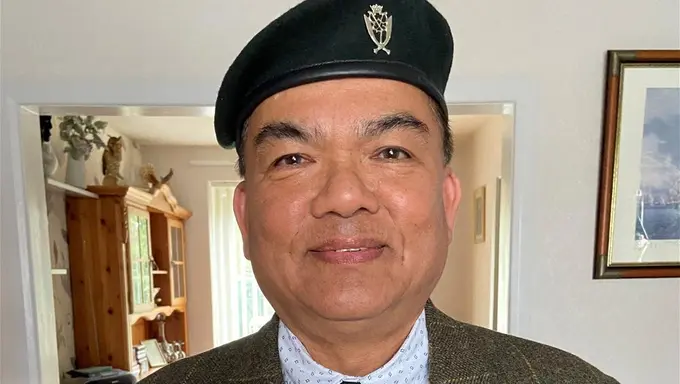 Nick was a Scout One (Rifleman) in 12 Platoon, D Company, and after the Falklands War broke out on 2 April 1982, his battalion was soon preparing for deployment.
"We all watched the invasion on TV and quickly began battalion exercise training in Wales in preparation to join the defence of the Islands and to simulate the weather and terrain conditions," remembers Nick.
On 5 May he set sail from Southampton as part of the 5th Infantry Brigade on board the QE2, eventually landing at San Carlos.
"When we arrived, we started to walk towards Darwin and Goose Green and on several occasions we encountered the Argentine attack aircraft," says Nick.
"On the afternoon of 8 June, I was on anti-aircraft duty when an enemy aircraft came into view.
"I opened fire, but as a result the pilot spotted our location and quickly dropped a bomb.
"It landed 20m in front of me but dropped into soft, boggy ground and failed to explode – if it had been a hard surface, we would have sustained heavy casualties and losses."
For the following two days Nick's company had no ration supplies but were forced to carry 80-90lbs packs without eating for 48 hours.
"We were physically exhausted by the end as we continued walking towards our objective. But we had only one focus – we could not allow the hunger or fatigue to distract us," adds Nick.
Nick's company led the assault on Mount William, a key strategic stronghold for the Argentinians.
They faced Argentinian artillery and mortar fire and suffered eight casualties, including two seriously injured, but they secured the objective and cleared the location. A short time later, the Argentinians surrendered Port Stanley.
I can still remember seeing the white flag over Port Stanley, telling us that it was over
"It is so long ago, it is honestly a bit like a dream – did I imagine those 90 days?!" says Nick.
"I am still amazed at what we achieved, as well as my own physical capabilities, to carry that colossal kit and walk without food for two days – when I think back to the long walk, the fighting, it's just thanks to God that we are still alive to tell the tale."