Every year, the Poppy Appeal sees thousands of people joining in and taking on their own fundraising efforts to support the Armed Forces community. We've been amazed at how many wonderful fundraisers have taken on an array of inspiring fundraising activities to help raise money during the Appeal.
Jon Hilton
Army Veteran Jon Hilton completed a 5km Poppy Run just days before an operation to amputate his left leg after enduring years of service-related wear and tear. Jon hadn't run for 10 years after he developed a blood clot following knee surgery and had suffered ever since, but decided to take part in his last run before his operation for the Poppy Appeal when he read about the impact Covid-19 might have on the 2020 Appeal.
"Every year I support the RBL by purchasing a poppy, but the support they give out is so much more," Jon said.
"If I was going to run for the last time, I wanted to make it worthwhile and run for the RBL."
Despite being in a lot of pain during the run, Jon finished in 33 minutes and has so far raised over £11,000.
Since this heroic fundraising effort, Jon recovered in hospital following his operation and is working on his next fundraising venture.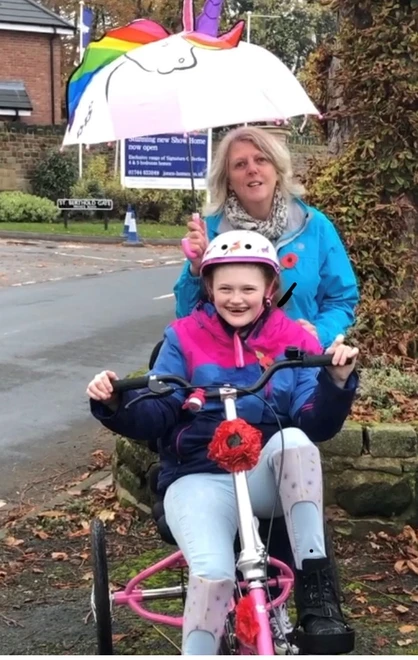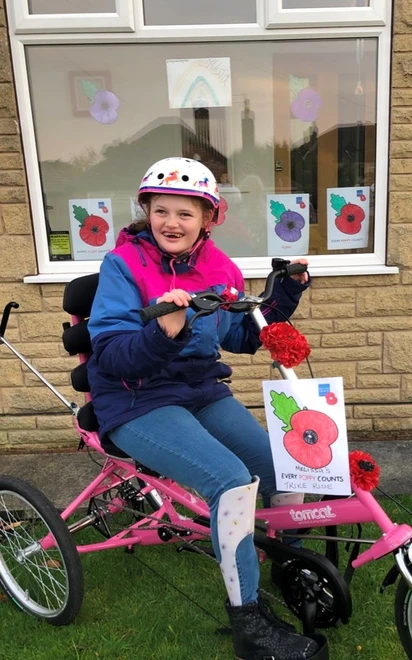 Melissa's Poppy trike ride
Teenage fundraiser Melissa has raised over £1,800 after riding her trike a mile a day for 11 days.
17-year-old Melissa was born with a rare condition called Angelman Syndrome which requires 24-hour care, affects her mobility and coordination, and due to a very poor sleeping pattern she sometimes only has as little as three hours sleep each night.
"Melissa has just been lucky enough to take delivery of her special trike, so she thought it would be a really great idea to include it to raise funds," her mum Kathryn said.
"When we saw the 11/11 challenge, we thought 11 miles in 11 days beginning on the 1 November and ending on Remembrance Day would be perfect."
"Riding her trike for a mile every day was quite a challenge for her, but in true Melissa spirit, even in the pouring rain, she still carried on with a smile."
Harry Fletcher
Eight-year-old Harry Fletcher has raised over £5,000 for the Poppy Appeal by selling homemade poppies in 2020.
"I was feeling sad in lockdown and even more sad that my Cubs Remembrance Parade was cancelled so I came up with the idea to sell my poppies I made for VE Day, and raise money for the Royal British Legion," Harry said.
Having already made and displayed 20 poppies for the 75th anniversary of VE day, Harry decided to sell them with the aim of raising £20, but soon found he was inundated with orders for more after opening up the offer to family and friends, and across local communities online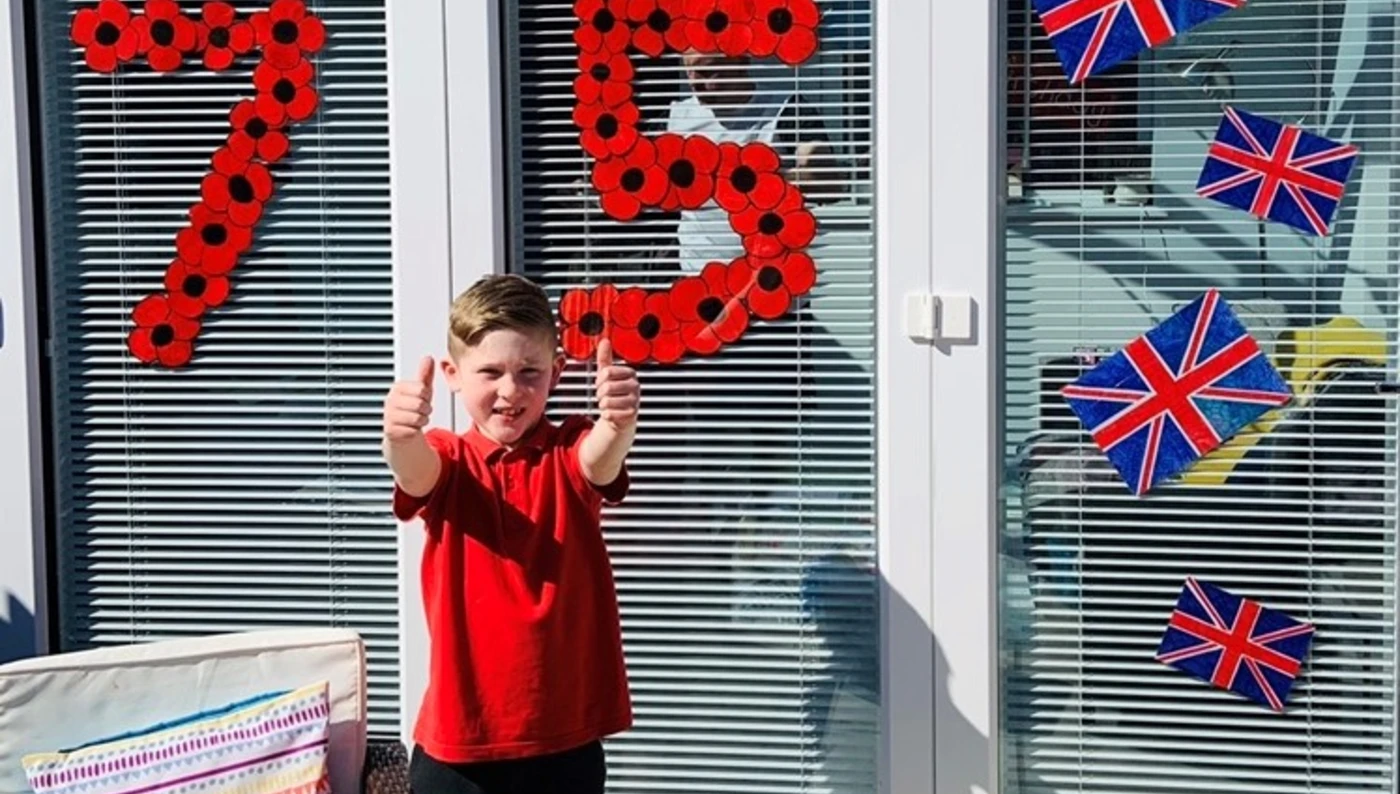 Increased demand
"The demand got bigger and bigger so then we had to get a printers to print them off and every night for about three weeks I came home from school, laminated and cut them out, then me and my brother delivered them. I even had shops decorating their windows with them which made me so happy to see."
Harry raised over £5,000 which will help support those in our Armed Forces community.
"It is so important to help them [veterans and the Armed Forces] as they have helped us in the past, and now it's our turn to help them."
Dan Fallon
Royal Navy veteran Dan Fallon decided to take on the gruelling challenge of 11 marathons in 11 days to raise money for the Poppy Appeal, but not quite how you might imagine. The former Royal Navy physical training instructor, who now runs a gym, set out to complete each 26-mile marathon by using just his arms on a SkiErg machine.
"I was inspired to do the challenge as I feel it's important for veterans not to give up on their fitness, even if they are injured there is always something they can do, like the Ski Erg," Dan said.
"The first two marathons were a culture shock, and it was a baptism of fire that's for sure."
But just two days before he was due to finish the challenge Dan was forced to cancel the final two marathons after developing Covid-19 symptoms.
"I'm absolutely gutted but nine in nine days isn't too bad."
Despite not quite meeting his target, Dan managed a remarkable nine marathons in nine days, the last of which saw his fastest time: 2 hours 59 minutes and 29 seconds, breaking the three hour mark, and has raised over £3,000 for the Poppy Appeal.
"All veterans need to understand the mechanisms of the RBL in civvy street as they are a phenomenal charity that do so much that people don't realise," Dan added.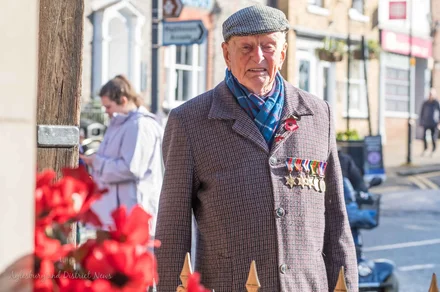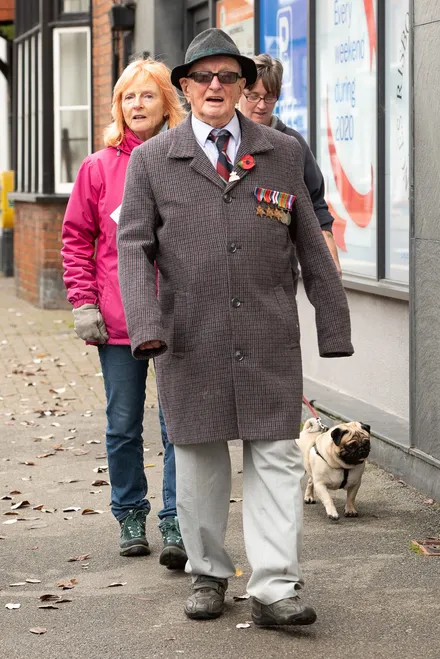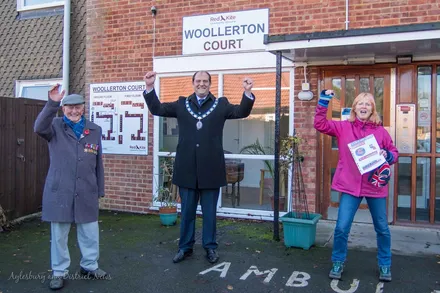 Malcolm Cloutt
Former Second World War RAF pilot Malcolm, now 100-years-old, walked 11 miles in 11 days and raised over £10,000 for the Poppy Appeal.
Malcolm decided to challenge himself after becoming frustrated with the Covid-19 lockdown which prevented him from doing his favourite activities.
"Coronavirus and lockdown have prevented me doing my three favourite activities which are reading with all the wonderful children at Princes Risborough Primary School, playing Bridge and worshipping at St Mary's Church, so I took on this challenge to give myself something positive to do," Malcolm said.
"I am incredibly blessed to be very fit and well, and to have a supportive and caring family around me. Sadly, others are not so fortunate, and I hope to make a difference."
Forces Wives Challenge Pedal4Poppies
On Saturday 24 October 2020, hundreds of people around the world took part in the Forces Wives Challenge virtual bike ride, cycling thousands of miles to raise money for the Poppy Appeal.
Organised by the Forces Wives Challenge (FWC) a social enterprise group which seeks to unite women with partners in the Armed Forces through adventure and challenge, a group of members, friends, families and supporters joined forces to collectively cycle 2,020 miles.
"It just totally blew me away, honestly it was amazing, so many people took part all over the world, which was great," FWC founder and Pedal4Poppies organiser, Heather said.
"We aimed to cycle 2,020 miles, and we cycled 10,900 miles, so it was a bit of a shock. People completely embraced the event."
Around 500 people took part, and collectively cycled over 10,900 miles, raising over £6,000 and smashing their £2,020 target.
"The Legion have backed us from the very beginning, sponsoring our first expedition and a number of other challenges, so when Covid hit we just thought this was something we can do to pay back and say thank you."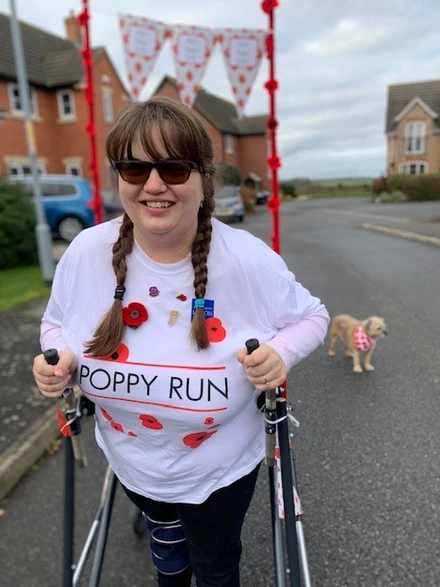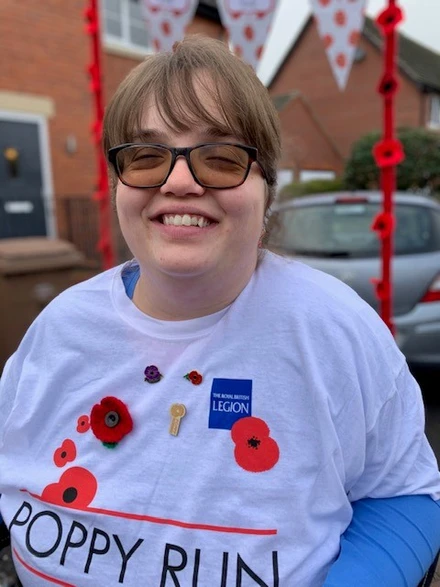 Amy Hodson
Amy Hodson, who has a rare genetic condition called Gillespie syndrome, which means she cannot walk unaided, completed a 2.1km Remembrance Day Poppy Run and raised almost £1,500.
Her condition means that she needs to use a wheelchair and can only walk short distances with a walking frame.
Amy said she wanted to challenge herself and raise money for the RBL as her father was in the RAF.
"I wanted a challenge," Amy said. "I walked 2.1km over five days doing laps around our cul-de-sac.
"I found it harder some days than others, I get tired quickly, but my goal pushed me on.
"I think it is very important to support the RBL because it's an amazing charity. It helps veterans of the Armed Forces and their families in the community. They gave a lot for us so we can give something back."
RFA Argus
The sailors, soldiers and Royal Marines onboard RFA Argus, the UK's Caribbean flagship, have raised more than £4,500 for the Poppy Appeal by taking part in an 11-hour sporting challenge after being inspired by the fundraising efforts of the late Captain Sir Tom Moore.
"We wanted to do something similar for veterans and with a theme linked to Remembrance so we came up with the idea of doing an 11-hour challenge," nursing officer Lieutenant Emily Harding, Argus' Hospital Officer said.
"It ended up being much more physically and mentally taxing than I thought, but we all dug deep and it was great to finish 11 hours."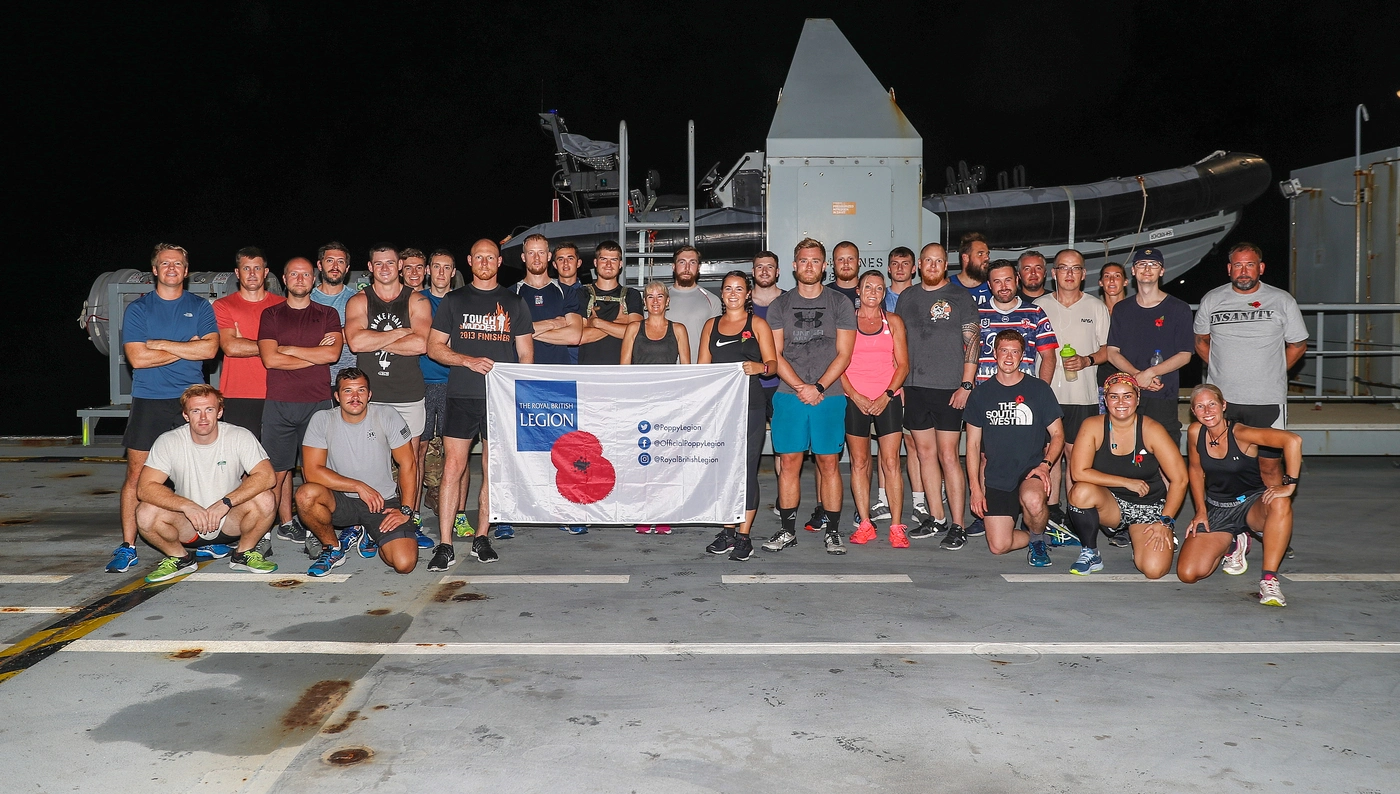 Personnel aboard chose their own challenges, some ran, cycled and rowed 11km - some multiple times - while others completed more unconventional challenges such as 1,111 burpee squat thrusts and deadlifting the weight of 11 Merlin helicopters and running a mile every hour.
One standout challenge was undertaken by Staff Sergeant Dylan Jones from 59 Commando Squadron Royal Engineers, who completed an ultra-marathon run of 59 miles. His efforts alone raised £1,400.
Lee and Noah
Seven-year-old Noah and his Dad Lee have raised over £5,000 by singing their way through the Poppy Appeal. The father and son duo have learnt and sung 102 songs, one popular song from every year since the end of WW1 up until 2020, singing daily from 1 October until 11 November to raise money for the RBL.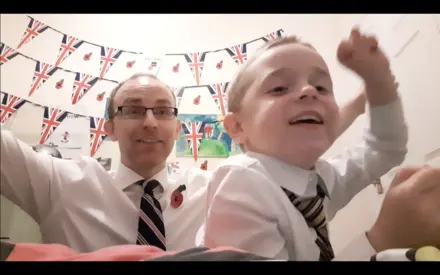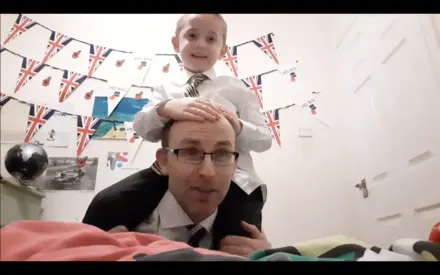 "My wife and I have both worked for the Royal British Legion for six years. During the last 12 months my wife has been very ill with Myasthenia Gravis, which is an autoimmune condition that effects muscle movement. The Royal British Legion have looked after my family so well and given us so much support that we wanted to give something back."
Lee was inspired by the Duchess of Cambridge after a video call she had with two of the residents from RBL care home Mais House on VE Day – where he works.
"Kate said she was teaching her son the words to 'We'll Meet Again' and this inspired me to devise a fundraiser to ask people to sponsor Noah to learn and sing the words to wartime songs."
The pair had a great time learning and singing the songs and even got to perform on live TV.
"Being able to promote the Poppy Appeal to potentially millions of people live on This Morning was a fundraiser's dream come true.
First Fusiliers
This year the Zulu Company, First Fusiliers wanted to do something to mark Armistice Day so decided to take part in a Poppy Run. "We wanted to do something to help mark Armistice Day and to educate our junior soldiers as to its importance, and help raise money for such a great cause," Maj Tony Bryant from Z Coy, First Fusiliers said. "We wanted to do our bit."
The challenge saw the team move a single wreath around a 65km route that started and finished at the Mooltan Barracks Memorial Garden. The wreath was handed from runner to runner at local war memorials along the way and the handover was marked by a short act of remembrance. The team was made up of runners from across the battalion including the newest Fusilier, a member of ever rank and the Commanding Officer.
Thanks to their efforts the team raised over £5,000 and would like to make the challenge an annual event.
"The Royal Regiment of Fusiliers has a rich history, many of our people will benefit from the organisation and it is therefore very important to us," Maj Tony Bryant added.
Toby Bourne
Inspired by the experiences and sacrifices of the soldiers during the First World War, in particular his ancestors who served, 15-year-old Toby Bourne completed an 8-mile walk dressed in full First World War uniform in aid of the Poppy Appeal.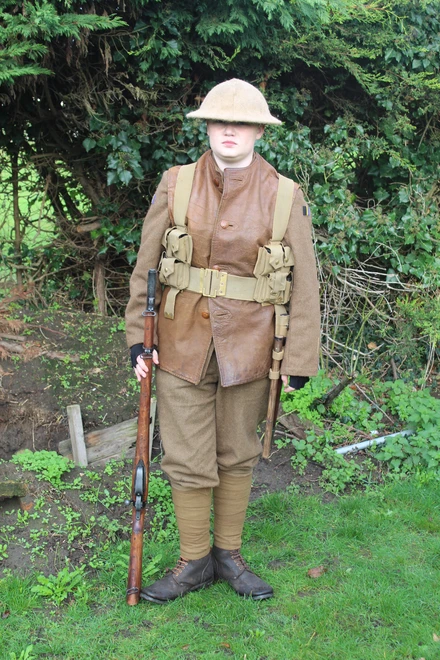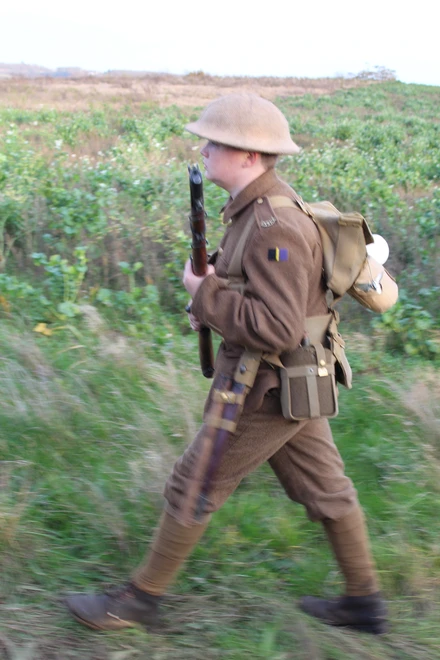 Toby was also inspired to take part by his three ancestors fought in the war - his great, great grandfather Samuel Vaughan Pearce, his great, great uncle Frank Whipp and on his father's side William Crook who fought at the Somme.

Having originally hoped to raise £50, Toby raised more than £700 after walking around his local area with his father Nick in First World War infantry uniform.
"I found it very physically demanding and tiring, especially with the rifle, all the uniform and equipment weighing me down - I was exhausted by the end of it.
"But with that, I managed to get a brief understanding of how hard it was for them while on even longer marches and with even more equipment."