After Covid-19 restrictions were first announced last year, WW2 veteran Dennis Woollons volunteered to take part in our telephone buddy scheme to tackle loneliness and isolation.
Throughout the pandemic, 94-year-old Dennis has volunteered to help lift the spirits of isolated and vulnerable people in his community, all whilst shielding himself.
In the week before Christmas he joined a virtual get together as part of our Together at Christmas initiative, meeting others from the Armed Forces community who shared their experiences from the past year.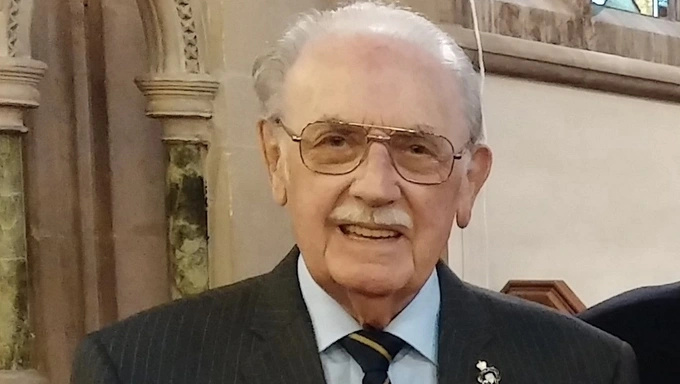 "I've been involved with RBL and the Poppy Appeal for almost 25 years," says Dennis, who is President of the Willerby Kirk Ella & Anlaby Branch.
"When I heard about the buddy scheme I realised that I was perhaps one of the lucky ones able to cope with the situation, but there might be people who would benefit from contact with someone with possibly similar lifetime experiences, so I decided to give it a go."
Dennis has been in contact with two D-Day veterans in North Yorkshire, both in their 90s.
"We talk about our service, of course, but also football, rugby league, the weather and we put the world to rights - we all get something out of it.
"They enjoy talking to somebody from their own era with similar experiences to them," he adds.
"I call the veterans once a week and we all look forward to it.
It will be nice to meet up when all this is over!
Dennis had a distinguished military career, having been seconded to the Indian Army in 1945 based at Burma Command HQ, where he was heavily involved in Operation Nip-Off, the repatriation of Japanese surrendered personnel from Rangoon.
He signed the Official Secrets Act, making him probably the only NCO in the Far East allowed to handle a top-secret guard file.
After two years he contracted hepatitis and was sent home on a hospital ship in November 1947, before returning to his career in accountancy.
"I might even have a couple of G&Ts this year!"
On Christmas Day, Dennis normally spends the day at his niece's nearby, which hopes he will be able to do this year as well.
"She is only three miles away and they always pick me up so I can have a shandy," he says
"I might even have a couple of G&Ts this year. But we are trying to be semi-sensible given the current circumstances."