Our collectors have been at the heart of the Poppy Appeal for 100 years.
From all regions, walks of life and corners of the UK, meet some of those helping to raise vital funds for the Poppy Appeal.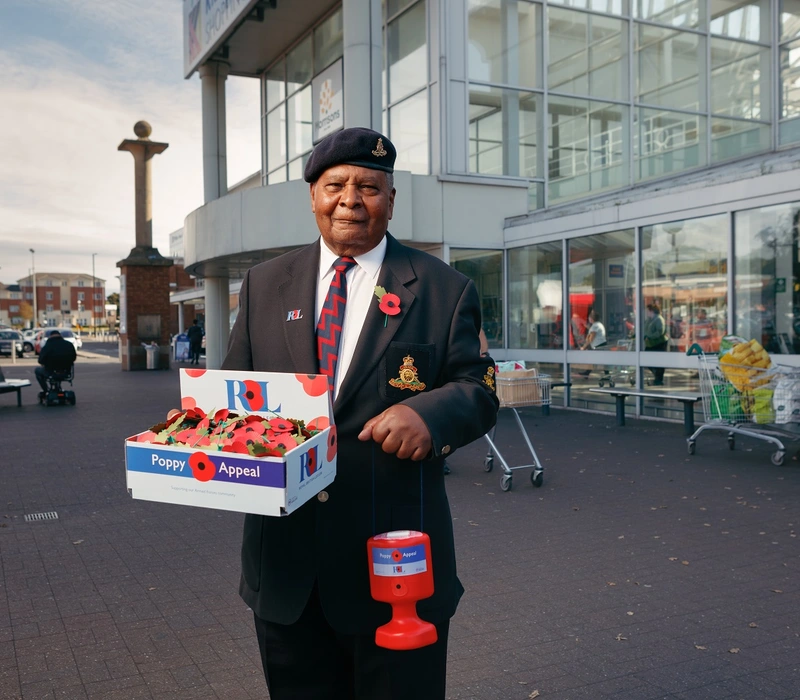 I enjoy speaking to the people who come and donate, so it'll be great to be back out there. Andy Owens

Army veteran and Poppy Appeal collector for 30 years

Donate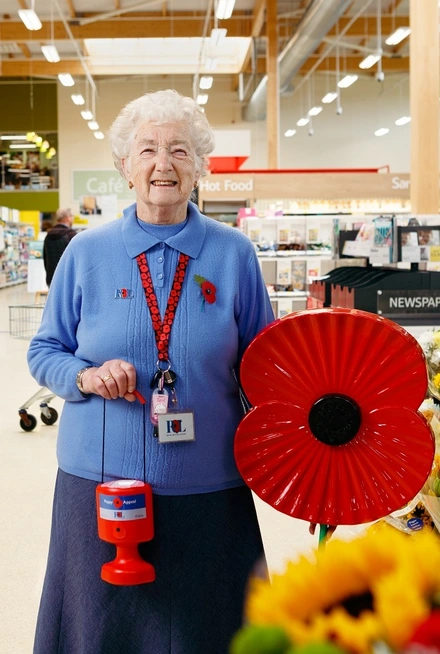 'Mrs Poppy'
Vera Parnaby has been a committed collector in County Durham for more than seven decades.
Known locally as 'Mrs Poppy', she has raised well in excess of £1m for the Poppy Appeal during 75 years of dedication to the Armed Forces community.
In 2020 Vera's volunteering was recognised by Prime Minister Boris Johnson when she was presented with a Points of Light award.
"I just want people to remember and make sure we all take a moment"
Maisie is a Poppy Appeal collector in Plymouth and has been involved in the Poppy Appeal since she was four. She began supporting RBL after her dad was injured and medically discharged, and collects because she wants to help other soldiers like her dad, who joined the Armed Forces very young.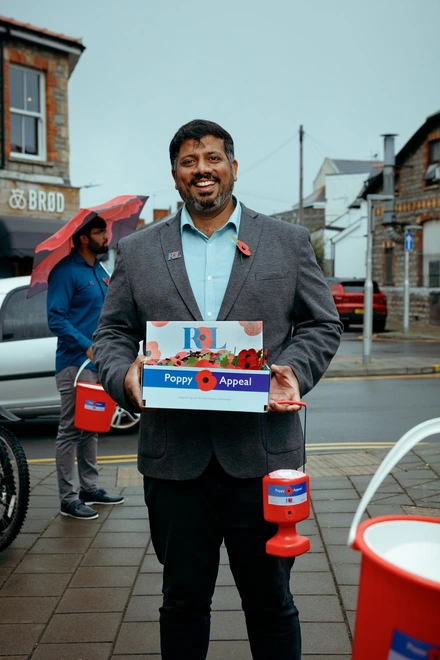 Mirza Shahzad
Mirza is the Regional Coordinator of Ahmadiyya Muslim Youth Association (AMYA) for the South-West of the UK and has been supporting the Poppy Appeal since he moved to the UK from Pakistan in 2012.
"It gives us a great feeling that we're doing something very positive by standing with our Armed Forces."
AMYA is the youth section of the Muslim Elders Group - Ahmadiyya Muslim Association (AMA). The AMA are a set of Islam who believe in serving humanity, and that's why the various groups are so passionate about supporting charities like RBL.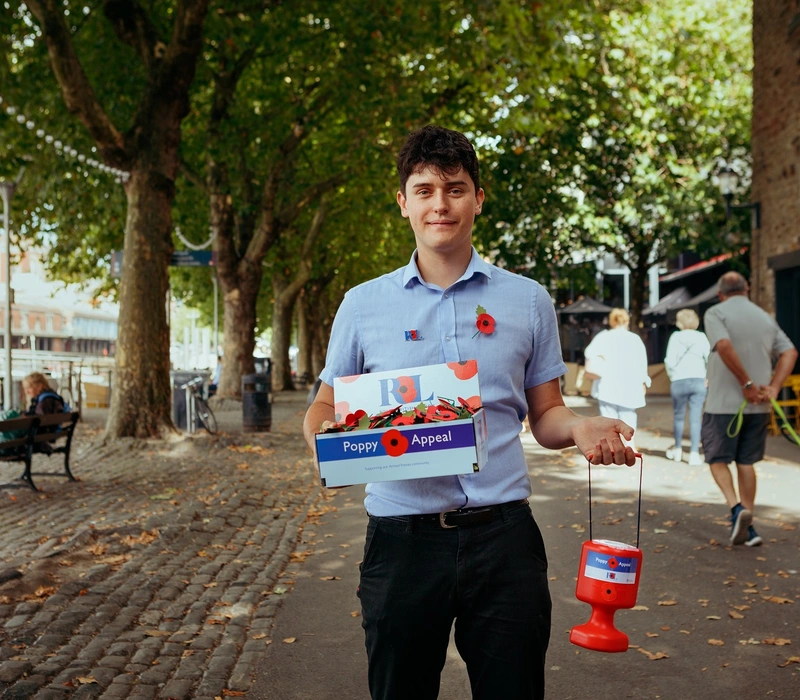 I've got a huge passion for supporting our veterans and our Armed Forces. Billy Wilde

Poppy Appeal organiser in Bristol who has been volunteering since the age of 4
Your poppy shows you care
Your donations help us continue our vital work supporting everyone in the Armed Forces community.
Support the Poppy Appeal
Jill Gladwell
Jill has collected for the Poppy Appeal since the age of 14 during the height of the Second World War. Her mother was a Poppy Appeal organiser, and now five generations of Jill's family are involved, with the youngest volunteer being 10 years old.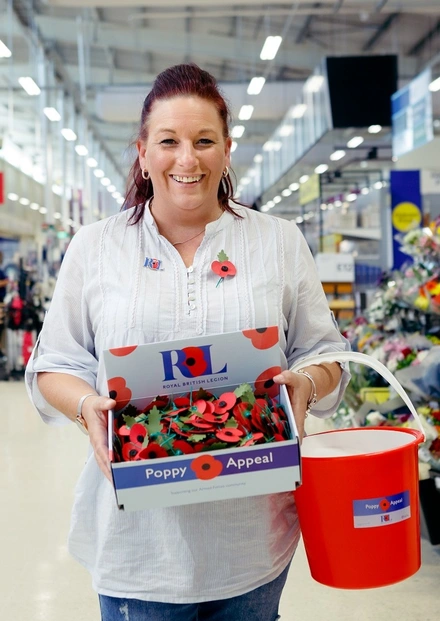 Anne-Marie Cobley
Anne-Marie is the third generation in her family to be involved with the Poppy Appeal, beginning with her grandfather who began supporting the appeal in the 1950s.
"The Poppy Appeal is something I've grown up with from my parents' and grandparents' influence, and I love carrying on their tradition of selling poppies to raise vital funds."
As Poppy Appeal organiser for her local area in Newport, South Wales, Anne-Marie is looking forward to being able to collect in person again this year.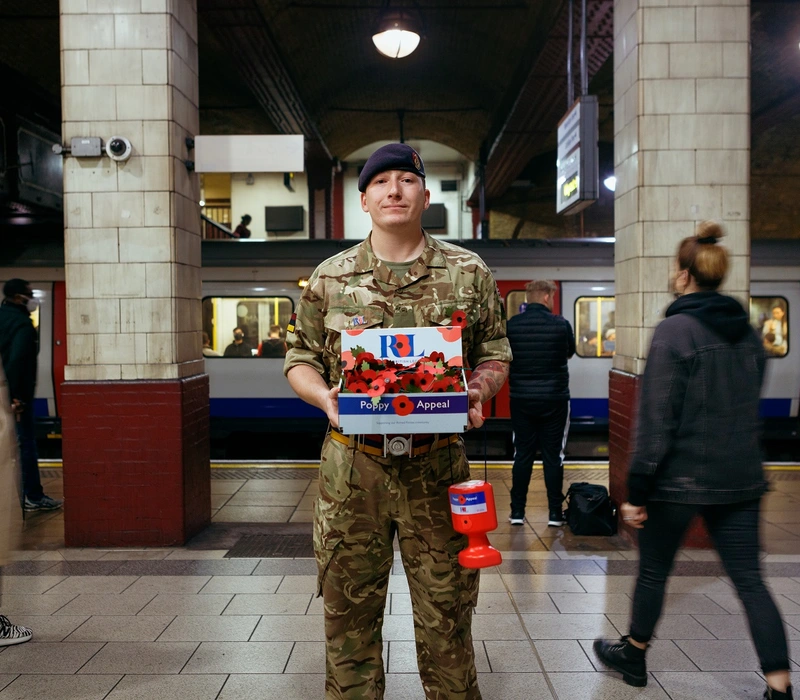 It's a fantastic feeling to be part of continuing the legacy of the poppy. Ashley Martin

Paramedic in the Royal Army Medical Corps and Poppy Appeal collector since 2016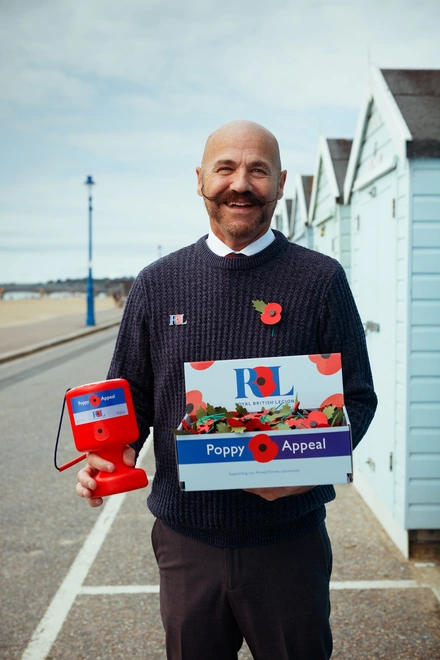 David Kelsey
David is Mayor of Bournemouth and has been collecting for the Poppy Appeal since 2007.
"It's a chance to meet so many veterans, it's amazing how many of them stop and come up and talk to you as well as their families."
Having served in the Royal Engineers Corps he is passionate about supporting fellow veterans in his community and is looking forward to collecting in-person in his local spots, Bournemouth Centre and ASDA supermarket.
"RBL helped me when I needed it, I see this as a way of paying it forward."
Army veteran Lesleyanne Gardner has been collecting donations in South Hylton, Sunderland for 10 years. After a training accident left her seriously injured and needing support, RBL stepped in and provided Lesleyanne with a mobility scooter.