Four generations of the Royal Family are helping us launch a new community initiative to provide extra support to the Armed Forces community at annual festive get togethers.
Her Majesty Queen Elizabeth II was joined by Their Royal Highnesses The Prince of Wales, The Duke of Cambridge and Prince George to prepare special Royal British Legion Christmas puddings at Buckingham Palace earlier this week.
The puddings will become the centrepieces of next year's Legion Christmas get togethers.

Make your own Christmas pudding using our new recipe
Makes 1 pudding with 8-10 portions
Ingredients
Sultanas 120g
Currants 120g
Raisins 120g
Mixed peel 80g
Suet 120g
Breadcrumbs 80g
Flour 60g
Crystallised ginger 10g
Prunes 20g
Ground almonds 10g
Large egg x 1
Pinch of salt
Brown sugar 80g
Oranges x 1
Half a lemon
Apples 150g
Mixed spice 2.5g
Stout 75ml
Rum 5ml
Brandy 5ml
Madeira 12.5ml
Sherry 12.5ml
Milk 2.5ml
Pinch of poppy seeds
Method
Chop the suet and crystallised ginger
Peel, core and finely chop the apples
Wash and dry the dried fruit, stone and chop the prunes
Grate the zest and squeeze the juice from the oranges and lemons
Sieve together the flour, salt, mixed spice and add all the other dry ingredients; dried fruit, suet, breadcrumbs, mixed peel, chopped crystalised ginger, apples, prunes, brown sugar, orange and lemon zest
Make a bay in the centre, mix the eggs with the milk, brandy, rum, stout, madeira, sherry, orange and lemon juices and pour into the bay
Mix all the ingredients thoroughly together, cover with a cloth and allow to stand in a cool place for twenty four hours
Oil pudding basins and three quarters fill each one with the mixture; divide between the greased basins
Cover with greaseproof or silicone paper and steam or boil for four hours
Remove from the steamer and, if not for immediate use, recover with fresh paper and store in a cool dry place until required
When required for use reboil or steam for a further two hours

Starting in 2020, the annual events will be hosted at high street locations, care homes, membership branches and other locations with the aim of combating the loneliness and isolation experienced by some members of the Armed Forces community at what can be a difficult time of year.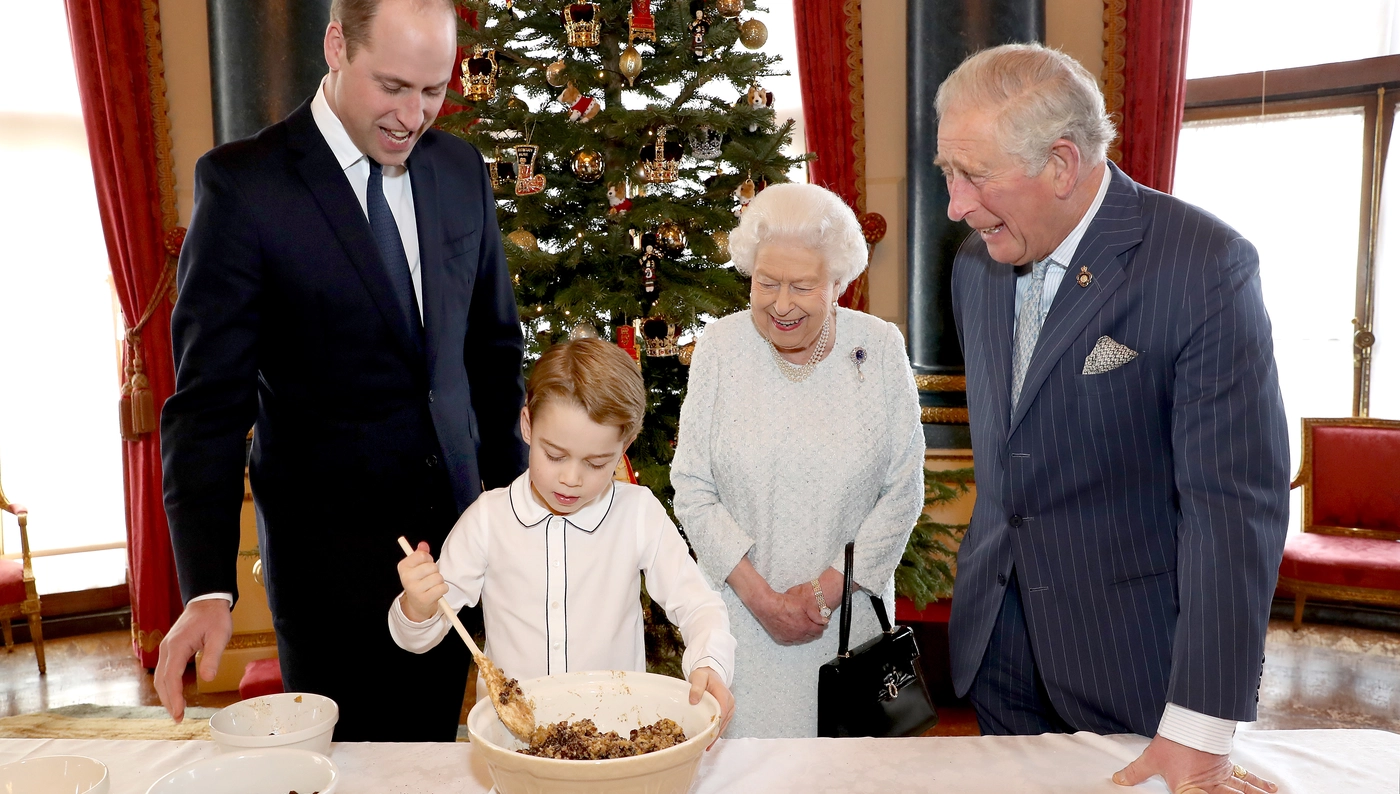 The camaraderie of our get togethers can make a big difference to our community's well-being. Charles Byrne

Director General, The Royal British Legion
The mixing session at Buckingham Palace was led by Alex Cavaliere, a chef from one of our care homes who created a new Royal British Legion recipe for the launch, with the Royal Family uniquely adding poppy seeds to the mixture, in a nod to the iconic symbol of Remembrance.

Christmas puddings at Buckingham Palace
The family stirred four puddings together - which traditionally brings good luck - and each placed commemorative sixpences into the mixture, ready to be found by those attending the get togethers next year.
These special puddings will form part of 99 puddings that we will distribute in time for Christmas 2020 get togethers, marking our 99th year.
"Bringing people, families and communities together lies at the heart of the Legion's work and has done since we were founded in 1921," says Charles Byrne, The Royal British Legion's Director General.
"As we head towards our centenary in 2021, we are proud to start a new tradition for our community with the support of our Patron, Her Majesty Queen Elizabeth II, and three generations of her family.

"We are keen that the people we support and the wider public understand that the Legion is not only here for older veterans, but all ages of the Armed Forces community.
"As the Monarch and next three generations, Her Majesty and Their Royal Highnesses represent a cross-section of those supported by the Legion, from the children of service personnel, to Second World War veterans.

"Christmas can be a time when people's troubles and worries are exacerbated by the financial pressures of the season or feelings of loneliness and isolation. The extra support the Legion can give, and the camaraderie of our get togethers can make a big difference to our community's well-being.
"Making and eating Christmas puddings has traditionally been a shared family activity, and we look forward to sharing these special puddings made with the help of The Royal Family."
Image copyright Chris Jackson/Getty Images