When Leon Parker left the Army, he struggled to adapt to civilian life and ended up homeless living in the woods in a tent with his dog Misty.
Help is just a phone call away
Call us on 0808 802 8080. Lines are open from 8am-8pm every day.
Find RBL near you
Leon joined the Army when he was 16, serving in Malaysia, Germany and Canada before leaving service in 2016.
"When you first leave [the Army] that's when you struggle the most," Leon says.
"It was tricky to adapt because, when you're in the Army, you have your three meals a day, you've got a home, you've always got people around you, all your bills are automatically taken out your wages, everything's just done for you."
"And then when you come out you realise you've got to find a home. You've then got to find a job, you've got to cook for yourself, you've got to do everything.
"But when you've joined at 16 you've never been taught any of that."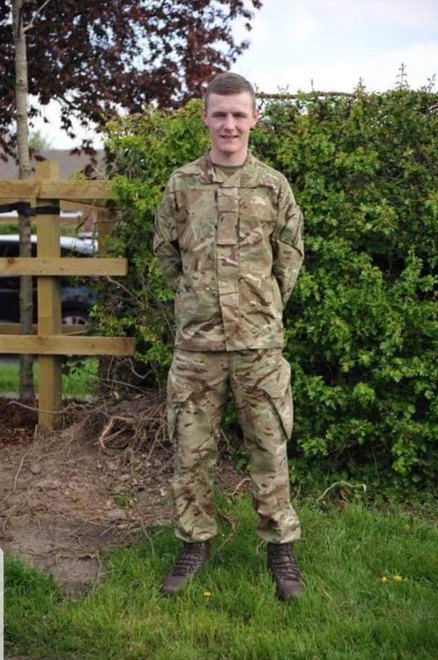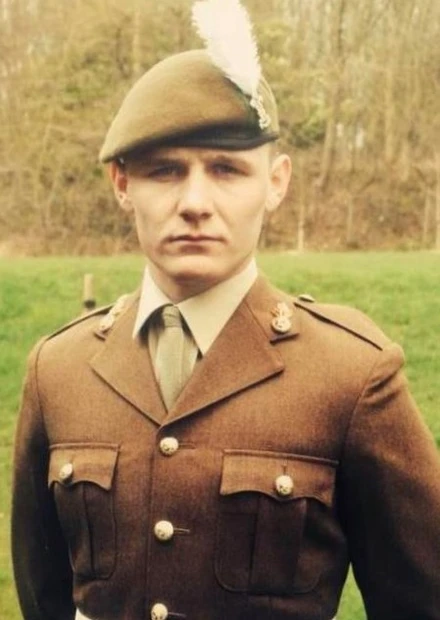 Life after service
"I was in the middle of Liverpool where I'd never been before," Leon says. "I didn't have my family or anyone there, and you just, you don't know a single person there, and you're just completely by yourself.
"I had a little flat, a one bedroom flat in Liverpool and I was happy there. But the walls were like sort of just depressing me and like eating me away."
Feeling increasingly disconnected from the world around him and struggling with PTSD, Leon tried to take his own life.
"I was in hospital for four days and three nights. My family were at the end of my bed and they were crying in the hospital, and I just I didn't feel anything.

"When I come out of hospital, I just, I didn't change the way I felt about living.

"So, I thought just to save myself and save Misty [we had to] get away. We went and bought a tent and then we headed towards Southport and then made our way over to North Wales."
Living rough
Effectively dropping out of society, Leon lived in a tent with his dog Misty for three and a half months as he struggled to cope with his latest bout of PTSD.
"This sounds bad but because of my state of mind and the way I was feeling, I didn't miss anything or anyone. The only thing I cared about was Misty and she was there with me," Leon says.
"When your homeless or sleeping in a tent, you have a lot of time and you do miss the little things like; always having water because I had a dog, we always had to have water.

"I know it sounds stupid but also clean socks, clean clothes, even being able to come home from work and being able to jump in the shower. When you're homeless even just walking through a field you get dirty, your socks get wet, your shoes get damp…having food whenever you want. Just being able to go in your freezer and put on."
After 13 weeks Leon was encouraged by a friend to get in touch with RBL.
"We got in touch with RBL 12, 13 weeks later and I said I'm better now, I've had the time by myself with me and my dog and no one else, no phone, no nothing. Can you help me? And they were like 'yeah'.
"I made a deal with them, they said if I could get a full-time job, they would pay the first months' rent and deposit."
A new chapter
We helped get Leon off the streets and into a fully furnished flat, which enabled him to get a job as a chef in a 5-star hotel.
"They moved me in first, so they put their trust in me because they could have said I had to get a job first and then move in. But it's hard looking for a job when you haven't got a fixed address," Leon says.
"But they moved me in and said now go and find a job."

"They've also made it clear to me that I'm not on my own, they don't just move you in and that's it. The amount of times I've had phone calls asking me if I need any more help with anything.

"It's just nice to know they're always there just in case."
A year on
Nearly a year on and Leon's life continues to change for the better.
"I'm now in full-time work, I've upgraded to a two-bedroom house and I've got another dog called Bruce.

"If it wasn't for RBL, I wouldn't have a full-time job and I wouldn't have a house now. So, my life's changed quite a lot.

"Now I've got everything going for me. I eat every night; I've got money every day and I'm happy again."