When serving in Afghanistan in 2006, Andy Barlow ran into a minefield to help an injured fellow solider. This changed his life forever.
Andy joined the Army as an infanteer straight out of school at 16. After his initial training he enlisted in the Royal Regiment of Fusiliers and at 18 years old was sent on operations in Northern Ireland.
"To be out with an infantry regiment straight on the front line was quite eye opening," Andy says.
"From there, we moved to Cyprus as an Op Telic [Iraq War] reserve battalion, as the wars in Iraq and Afghanistan were slowly starting.
"I'd been out there for a few months when we heard the rumour that we were about to go to Afghanistan, then we did."
Wednesday 6th September 2006
It was while deployed in Afghanistan that Andy's life would change forever. Image credit: © Crown Copyright
"I remember going into Afghanistan and went straight to Camp Bastion, which was just a few tents in the beginning…at the end of the campaign it was a huge city.
"It was there that we were told we would acclimatise for a few weeks. But after three days, I was rushed out to a place called Gereshk, where I spent a lot of time in a sniper tower with a machine gun. And then, from there, I was deployed as a gun team to Kajaki with a section of men, where 3 Parachute Regiment Battlegroup were stationed.
"On the 6 September 2006 at 11 o'clock in the morning we received a radio message saying we had a casualty to the South. We didn't know at the time, whether it was British, Taliban or local."
Andy and fellow solider, Corporal Mark Wright GC, gathered a medical team and set off to locate the casualty.
When they got there, they quickly realised it was one of their own, sniper Lance Corporal Stuart Hale, who was seriously injured and had lost a leg after stepping on a land mine. The medic tended to Hale while the rest of the team called for assistance.
"The reply came back saying 'ETA one hour, no winch', (which meant the helicopter would have to land). We managed to dig a safe route, moved the casualty to the left about 20 meters and put him down to wait. We were then all asked to leave, apart from a few that were by his side."
But as they were walking back another mine when off.
"I sprinted to Stu (Sergeant Stuart Pearson who had stepped on the mine) and Mark joined me. Another medic from the top of the mountain came down and sat by my side. It was at this time Mark got on the radio again and asked for a chopper saying, look, we've now got two casualties, we need evac A.S.A.P
"The reply came back 'ETA an hour, no winch'. So, it had gone from 45 minutes to an hour. So, we waited, we tourniqueted Stu, the medics gave him morphine and sorted him out."
Awaiting rescue
Help eventually arrived, in the form of a Chinook, but despite the team's attempts to stop the helicopter from landing, as it was now apparent they were stuck in the middle of a minefield, it landed. Image credit: © Crown Copyright
"The guys came out the back [of the helicopter] and started waving their hands to get us on board. We froze, we knew where we were," Andy says.
"The helicopter took off, as it did another explosion went off. I was thrown back six feet with shrapnel to my arm and Mark Wright dropped in front of me, severely injured.
"Luckily, the medic managed to get out of the minefield, but I was left at 19 with no medical training, with two casualties. I was flapping, I'll admit it.
"It was when the medic, who was about 20 metres away with the first casualty, started to shout my name that my training slowly kicked in and he talked me through what I needed to do with the casualty."
Andy stabilised the casualties as best he could and then they waited.
"We waited, it was hot, it was four million degrees at this point, it was now the middle of the day."
He noticed that his fellow soldiers were getting dehydrated due to the intense heat and asked a medic for some water.
"The medic came across the minefield, doing the bravest thing I've ever seen, throwing his bergan on the floor and jumping on it," Andy says.
It was during this quest for water that Andy stood on another mine.
"I remember the blast, but I didn't hear it. I landed on my right foot, fell back, looked down and my left foot was gone."
Now injured himself, Andy had to tend to his own wounds and carry on treating the other casualties.
"Again, we were asking for helicopters, there was a big group of people up and down the mountain just waiting. And it was just going on and on.
"There were lots more contacts [firefights with the enemy] going on that day, but we didn't know at that time."
Finally help arrived and one by one they were winched to safety.
"We finally saw the Americans, the Blackhawks came over. The PJ [Parajumper] came down a line, looked at me and said, 'I'm taking you'. I said, take Mark. He said 'look, we've only got the sling' and threw the sling around me.
"Mark said; tell my wife I love her and tell my uncle I'm a good soldier.
"Everybody else started to come on board until the last man was out. At the bottom of my stretcher I noticed CPR had started on Mark's body and then the body bag came out. So, I knew then that Mark was gone."
Rushed back to base
Andy was taken back to Camp Bastion and rushed into the makeshift theatre. Image credit: © Crown Copyright
"As I said, it was a few tents, and the operating theatre at the time was tents with an intensive treatment unit on the side of it. I remember going into the theatre. I remember the countdown, it was 8:15 at night and I remember the anaesthetist saying; 'we're going to put you out, count down from ten'.
"I woke up the next morning covered in tubes and I looked to the nurse. She did my observations, I was fine and she started to pull the tubes out.
"But from then, that's when my life began, because the next choice I had to make was do I pull the sheet back or not.
"I could still feel my whole leg, and I thought I need to, so I pulled the sheet back on what I thought was my leg down to my ankle, but I was now an above knee amputee.
"I was then moved into the intensive treatment unit with the other guys that were injured, and the medics were, and it was at that point where life and my recovery began."
Andy was flown back to the UK two days later where he began his life as an amputee.
"I didn't know what an amputee was, I didn't know what a prosthetic leg was at the time," Andy says.
"I did a little bit of rehab in hospital, I was there for 12 days, and then moved into Headley Court, which was a phenomenal place."
Headley Court was a military medical rehabilitation centre that provided expert care and support for wounded, injured and sick Armed Forces personnel. It has now moved and become the Defence Medical Rehabilitation Centre (DMRC), Stanford Hall.
"Headley wasn't what it was at the end, it was very small. And we were the first lot coming back from Afghanistan at the time.
"Luckily, I had two amputees from the previous year that were talking me through their prosthetics and how they'd got to where they are now. And I started to do all the courses and get fit and was put through my paces by the physios and the occupational therapists."
"It was here that I found that it doesn't matter whether you're injured, whether you lose a leg, or you twist your ankle, in rehabilitation you're all equal and ranks don't matter. It's about going from that injured person to independence and being able to live a normal life.
"And I think that's what Headley Court promoted for me, giving me that independence back and showing you that life's not over. You've got a chance to go out and succeed and thrive in whatever you want to do in the future.
"My rehabilitation was quite short. I was through quite quickly because I was young and fit. But the prosthetic care afterwards, and for the following 10 years that I spent in the Army, was second to none at Headley."
Andy then left the Army and went on to work before he found sport, which allowed him to travel the world and compete in skiing events, narrowly missing out on the Paralympics in 2018.
The power of rehabilitaion
Andy credits his time at Headley Court, and being around other injured soldiers, as a catalyst for his rehabilitation.
Andy then left the Army and went on to work before he found sport, which allowed him to travel the world and compete in skiing events, narrowly missing out on the Paralympics in 2018.
Andy credits his time at Headley Court, and being around other injured soldiers, as a catalyst for his rehabilitation.
"I think being around other people in similar situations is definitely beneficial. One, because you're competitive and you always want to be better than the next person.
"I think that's what drives rehabilitation. You can walk into the gym and you see another amputee or another injured soldier and… it doesn't matter whether you're on a spin bike or on a rowing machine, you want to be better than that guy.
"There's nothing better than seeing a Para and a Royal Marine going up against each other with no arms doing press ups. It's that drive, that sense of humour that the military have, and that camaraderie, that brotherhood that we have. I think that's vital in rehabilitation.
"It's places like Headey Court and the new DMRC Stanford Hall in Loughborough that promote that."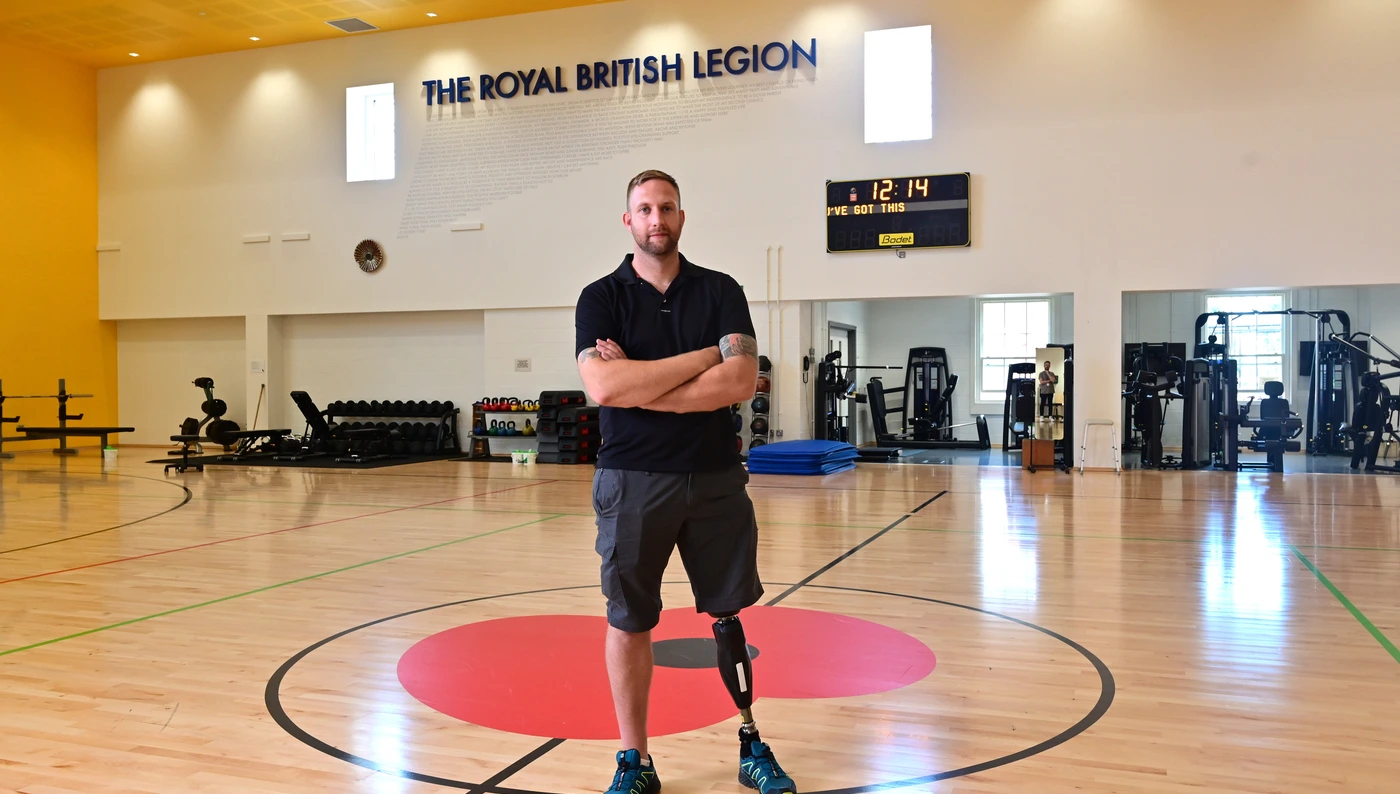 The new state of the art DMRC Stanford Hall clinical rehabilitation facility has replaced the original centre at Headley Court in Surrey, and will continue to provide expert care and support for wounded, injured and sick Armed Forces personnel.
The Legion provided funds to build the centre's Royal British Legion Complex Trauma Gym as part of our commitment to helping serving personnel lead dignified, fulfilled lives.
"I'm absolutely blown away, the size of the site is phenomenal", Andy says. "It's just like Headley Court but on a massive scale."
"[Places like the DMRC are] vital because in day to day life, you join the Forces, whether it's the Army, RAF or Navy, and you're a family. And I think to be able to come to a rehabilitation centre, which is family orientated with the military in mind, it just makes sense because you're all in it for the same reasons.
"You all want to get back to work, you all have goals, you've all got future careers to think about, and I think this is the perfect place to be able to achieve your goals."
Andy was awarded a George Medal award for gallantry for his actions in Afghanistan. In total seven soldiers were injured in the mine field including Andy and Mark Wright GC who sadly lost his life. Wright was posthumously awarded a George Cross, the highest award for gallantry not in the face of the enemy.