Bravo 22 Company is an award-winning recovery through the arts programme for our Armed Forces community.
Funded by the Royal British Legion and delivered by The Drive Project, the programme provides an opportunity to develop new skills, and helps improve confidence, self-awareness, and motivation to support an individual's recovery and transition into civilian life.
Bravo 22 Company was created by Alice Driver, using theatre as a vehicle for recovery for the Armed Forces community. In 2011, produced with the Theatre Royal Haymarket Masterclass Trust, RBL and Ministry of Defence, Bravo 22 Company brought together 30 wounded, injured and sick current and ex-serving personnel to write, produce and perform their own play, The Two Worlds of Charlie F, written by Owen Sheers and directed by Stephen Rayne.
Unspoken Tour 2018
Created during a year-long theatre project with Bravo 22 Company alumni, Unspoken shared the stories of 100 wounded, injured and sick service personnel, veterans and their families to create a heart-wrenching tale of love and loss.
Find Bravo 22 on Facebook
After the success of its theatre projects, we expanded the programme to art.
The programme currently offers both in-person and live digital sessions and includes everything from painting, sculpture, photography, improvisation, writing and storytelling workshops to visits to theatres and galleries, residential courses, play readings and live interviews with industry experts. The annual programme is seasonal (winter, spring and summer) with new activities continually being added - so there's something for everyone.
Pastel Power Workshop at the Battle Back Centre – led by Al Johnson
Participants learned how to use pastels for creating images. They explored the different pastel techniques needed for wax and chalk pastels and experimented with a variety of different papers in order to create their own pastel masterpieces.
Find Bravo 22 on Twitter
Who can join?
Bravo 22 Company is open to current and ex-Service personnel, reservists and family members.
To date, Bravo 22 Company has worked with over 600 members of the Armed Forces Community using the arts to support their recovery and the work has been seen by over 48,000 live audience members.
Everyone is welcome and you don't need to have any experience – just the enthusiasm to try something new!
To see what's coming up this season, have a look at our event calendar.
If you'd like to get involved please email Bravo22@thedriveproject.co.uk for more information.
Reparation Island: Birmingham theatre project
Performed by members of the West Midlands Armed Forces community and created around the stories of fellow community members, this bold and inventive play by Kevin Fegan combines storytelling, music and poetic imagery in an honest narrative. Under the expert guidance of the director, Christopher Elmer-Gory, the cast worked tirelessly and challenged themselves to tackle things outside of their comfort zone, trusting in the creative team to guide them well.
I was hoping to come away feeling more confident in myself, but I have a much better outlook generally. Bravo 22 Member
Liverpool Art Project
Led by professional sculptor Al Johnson, participants created life-size timber and wire figures that included a facial life-cast. The project taught new skills and improved wellbeing of ex-serving personnel who may have physical injuries, PTSD and other mental health challenges. The resulting artwork was tremendously moving as it helped communicate pain and trauma, as well as show the importance of support from family and friends.
Members showcase
Scroll through our image gallery below to see some of Bravo 22 activities and projects.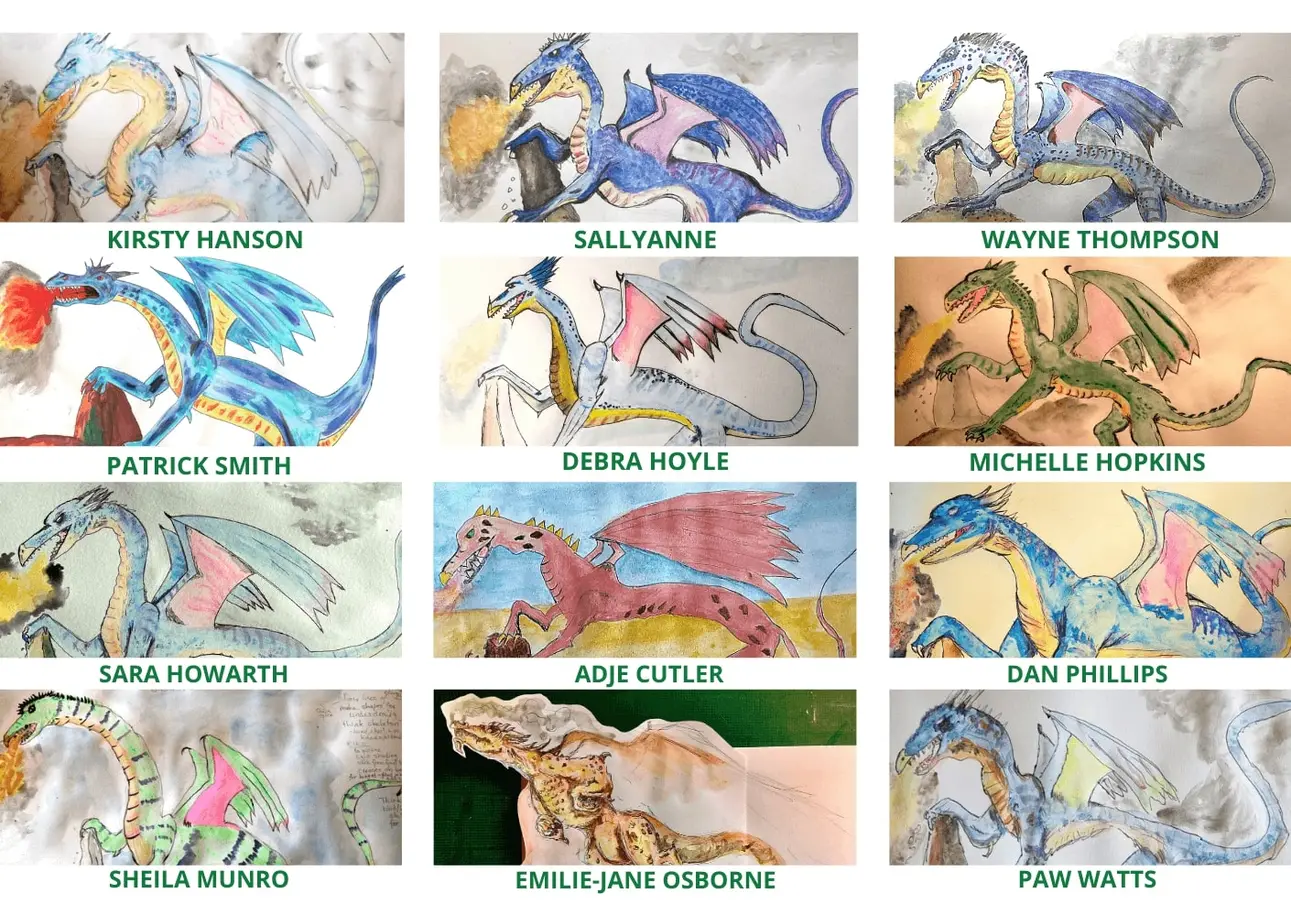 1 / 12
Drawings of dragons from Bravo 22 participants.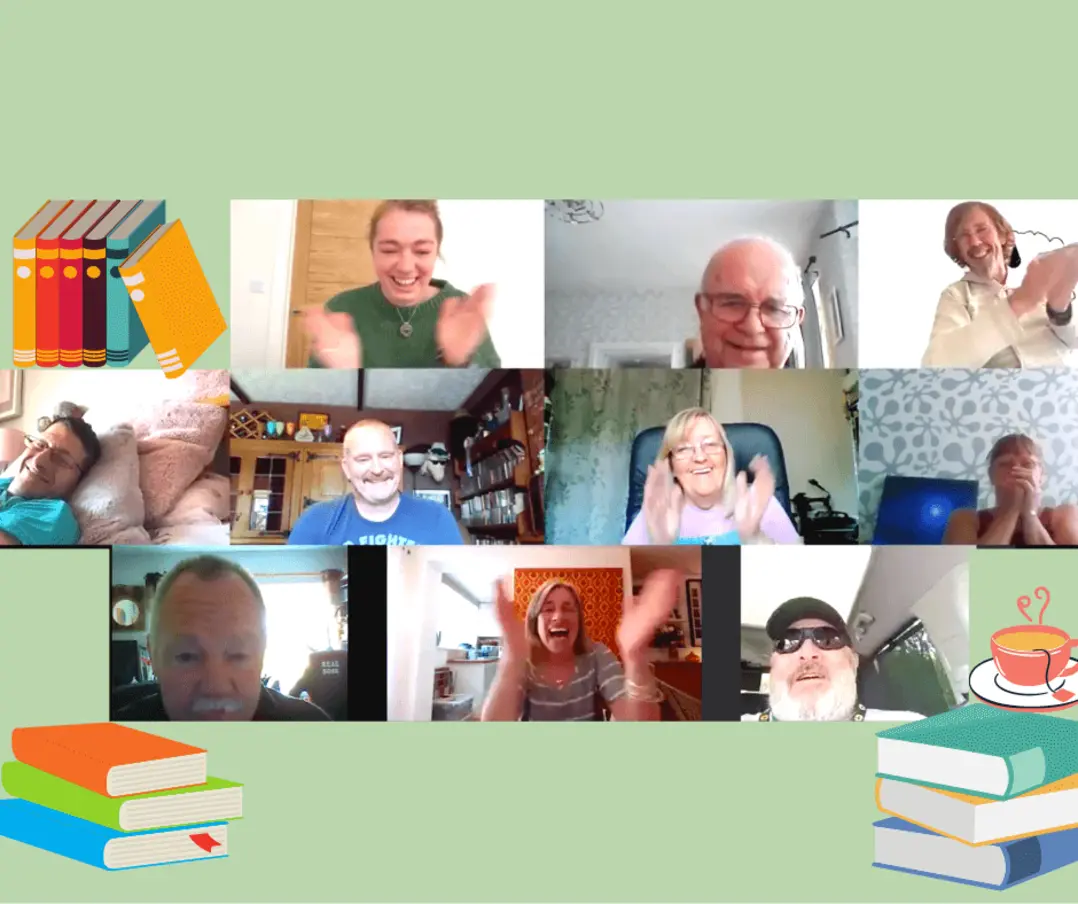 2 / 12
An online wellbeing session to keep in touch with Bravo 22 participants during the pandemic.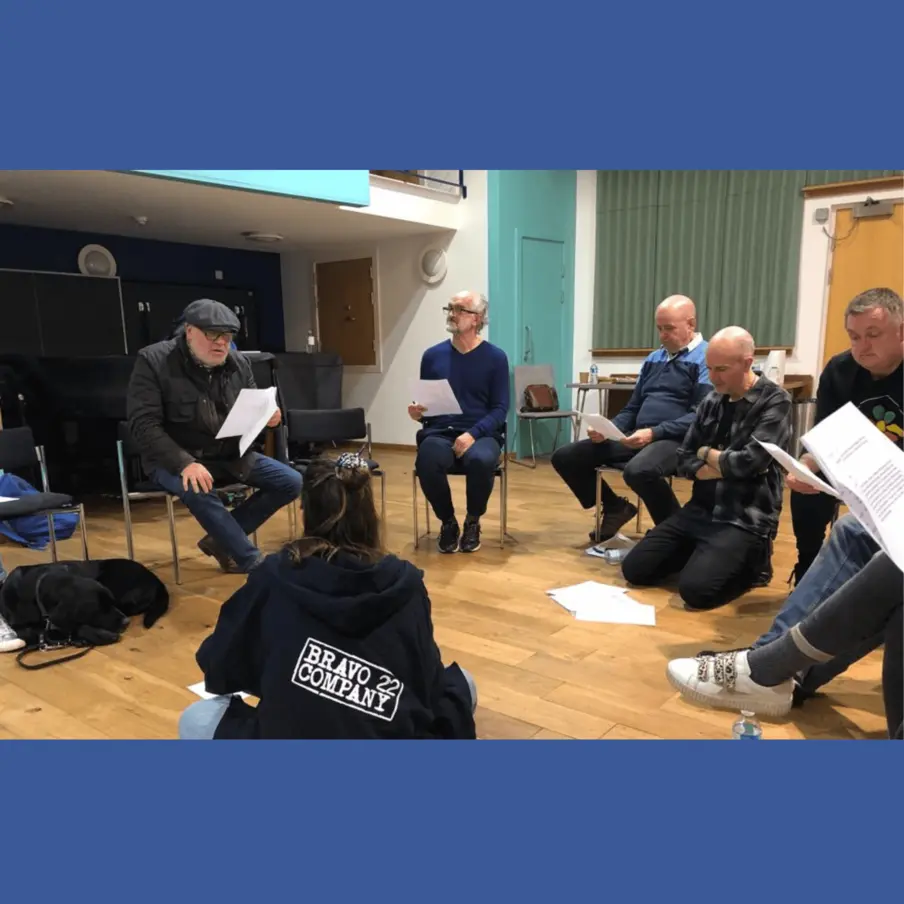 3 / 12
Acting workshop with Ian Rickson and Ray Winstone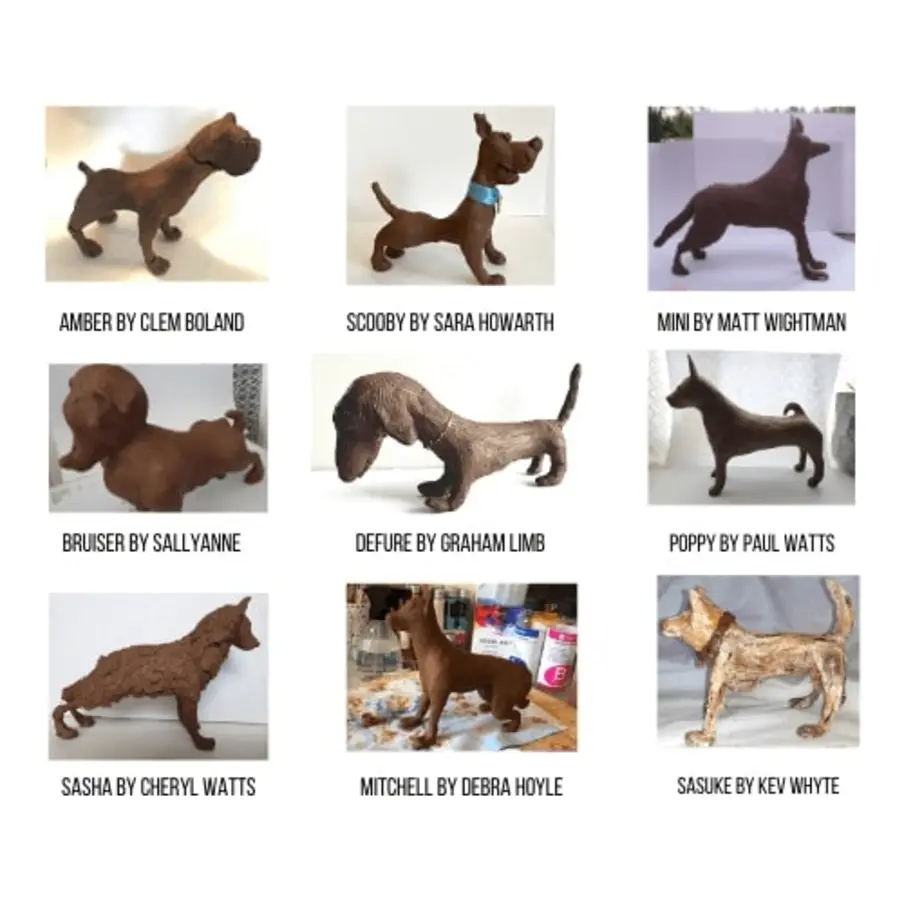 4 / 12
Clay dogs workshop that took place on Zoom.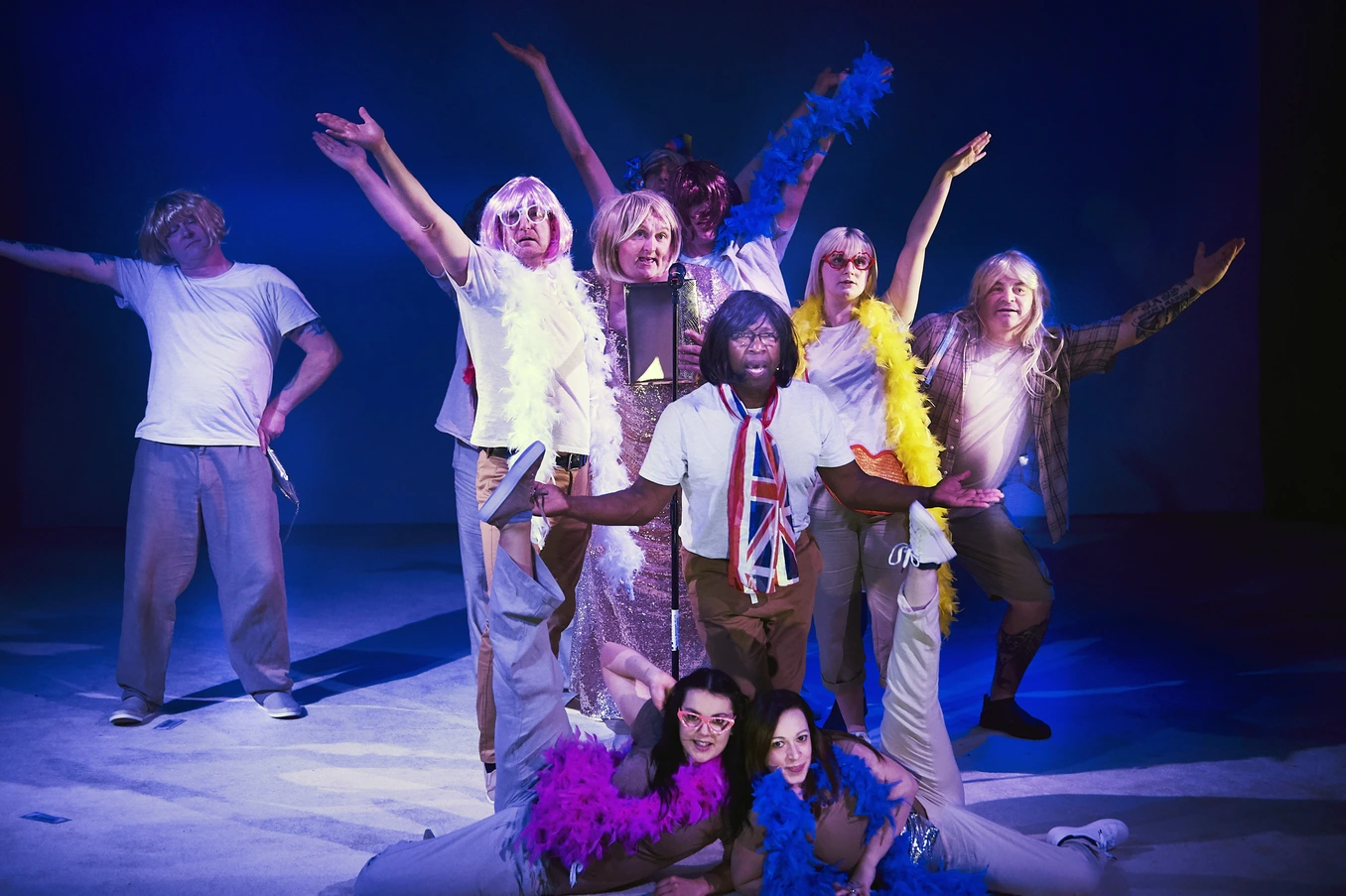 5 / 12
Reparation Island production at the Birmingham theatre - credit to Geraint Lewis.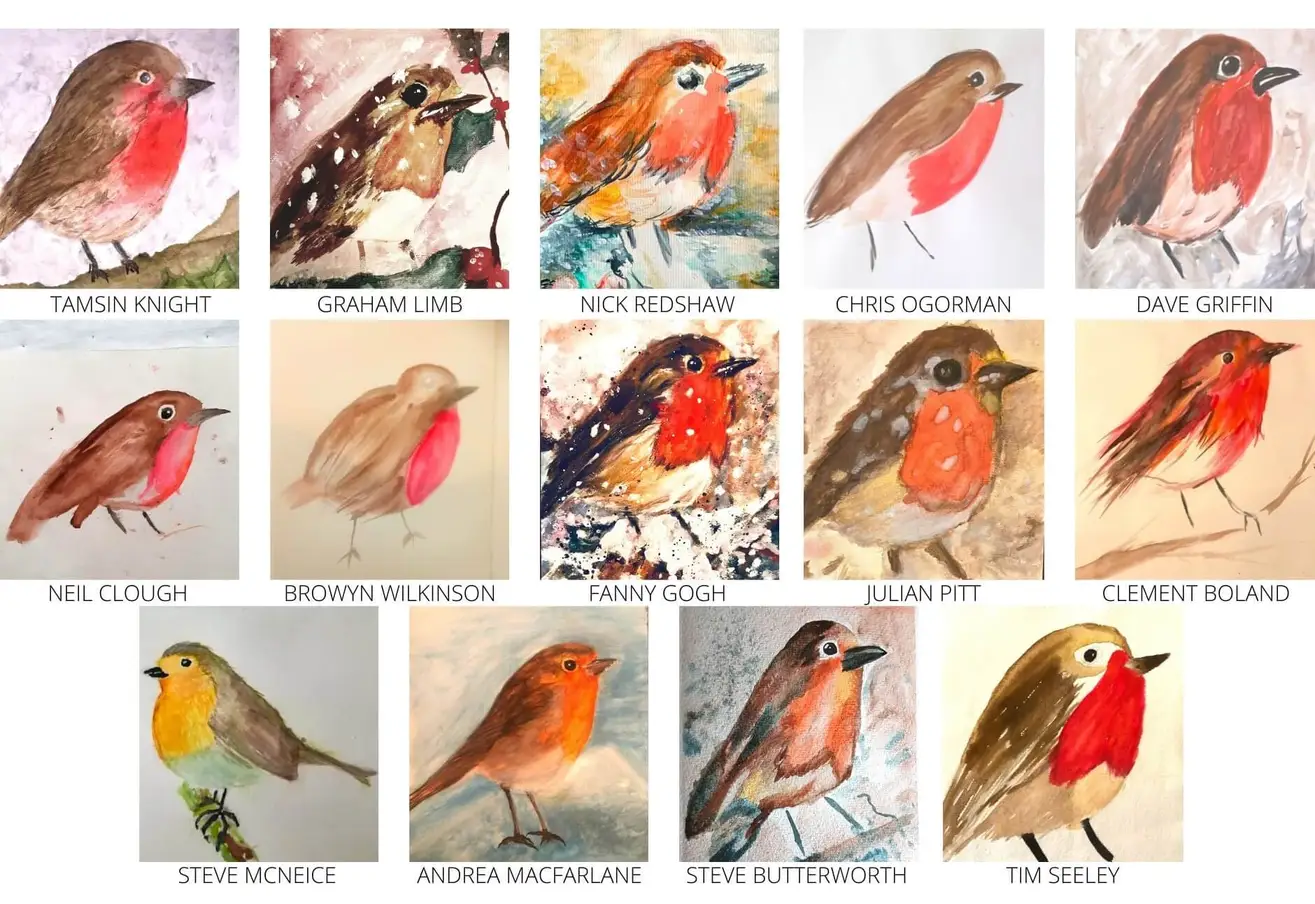 6 / 12
Winter watercolour robins workshop.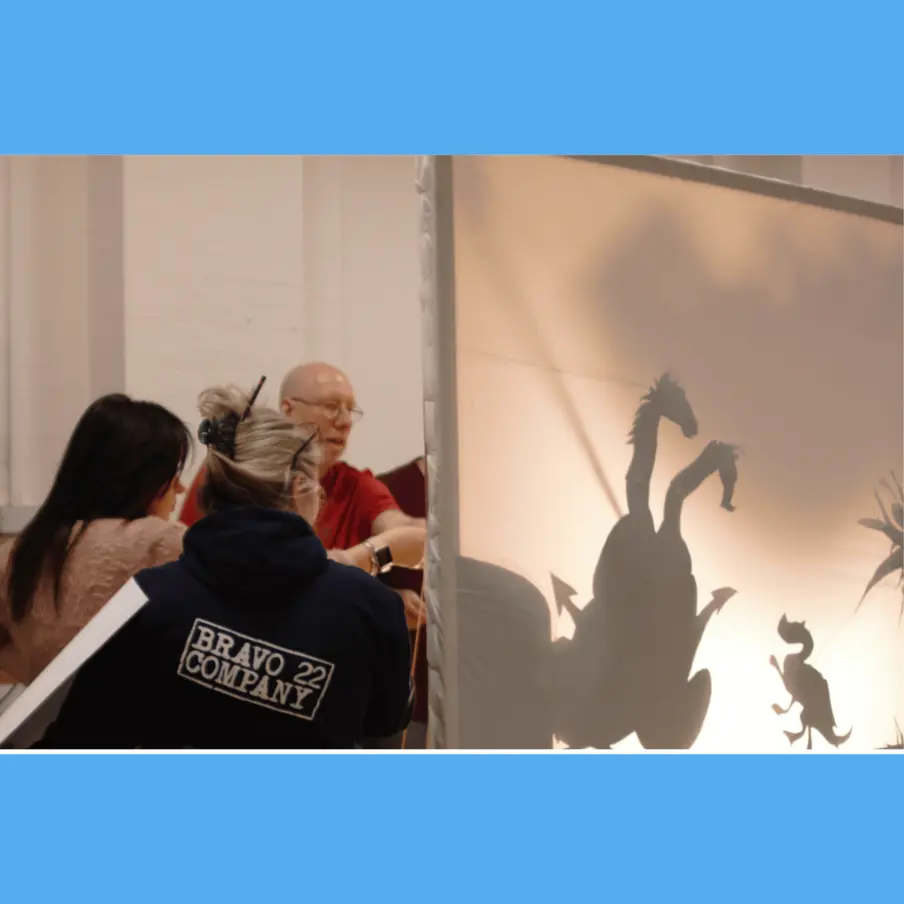 7 / 12
Shadow puppetry workshop in London.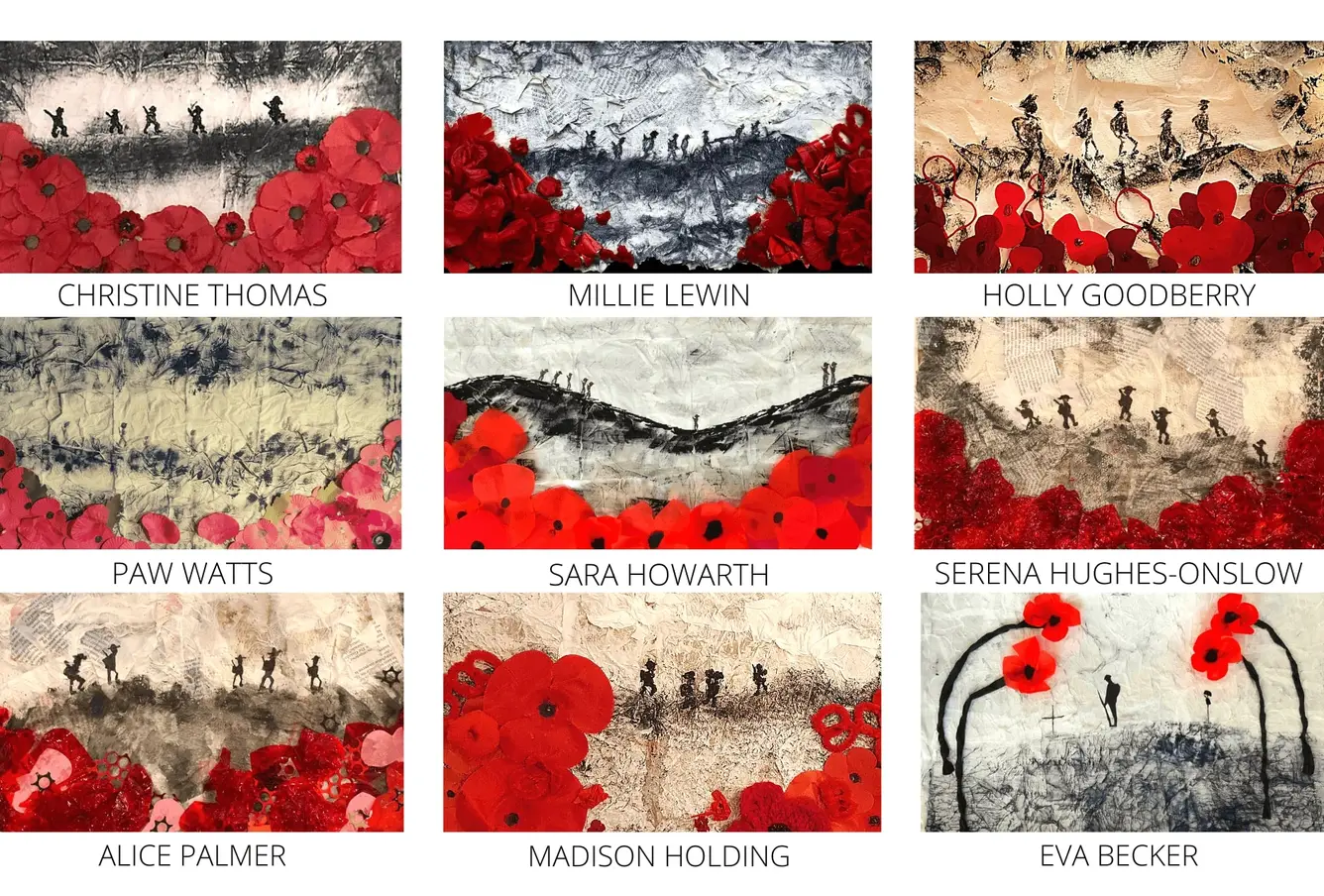 8 / 12
Live YouTube workshop learning to create Remembrance collages.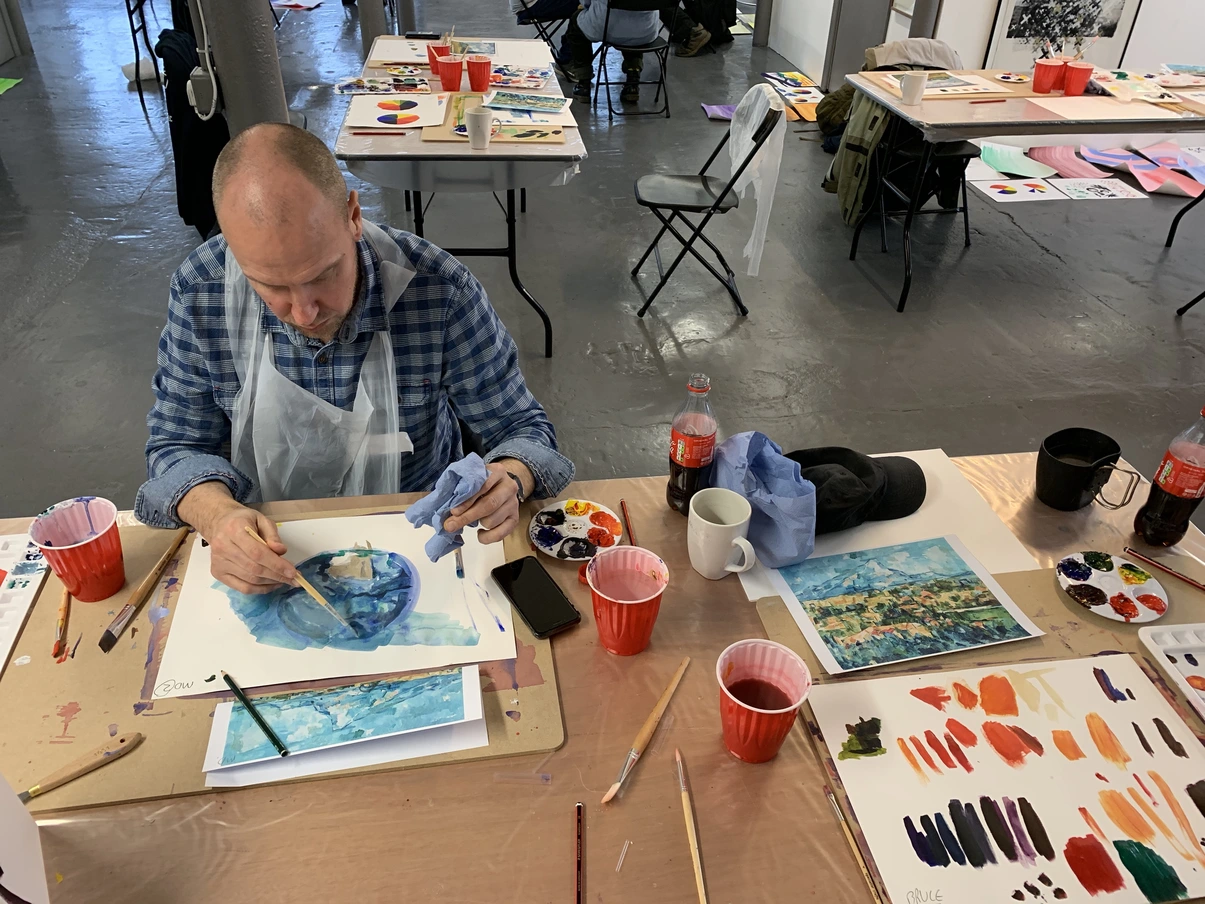 9 / 12
Acrylic painting workshop in Manchester.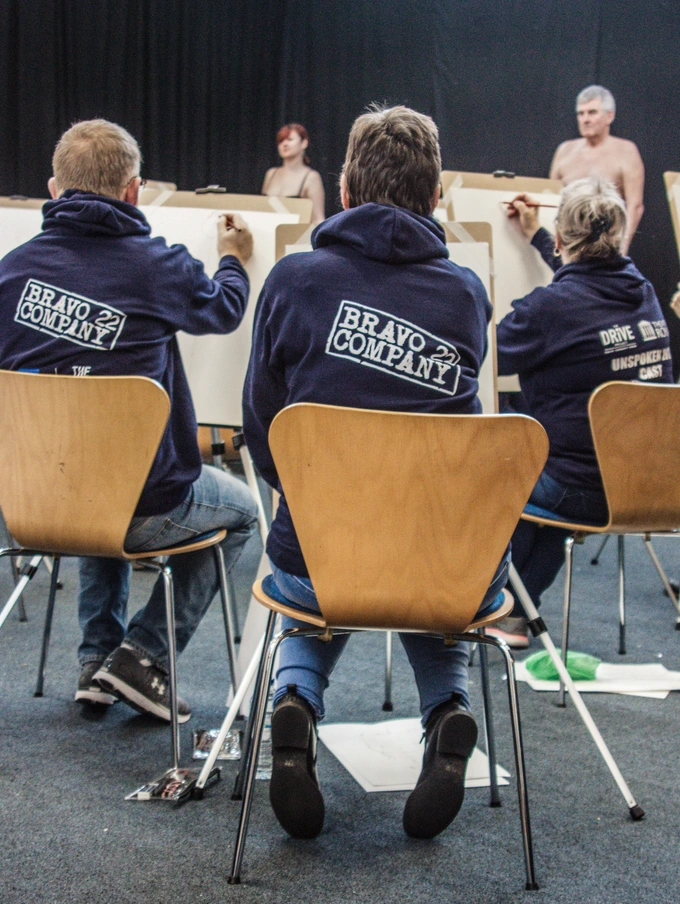 10 / 12
Life drawing workshop in Southport.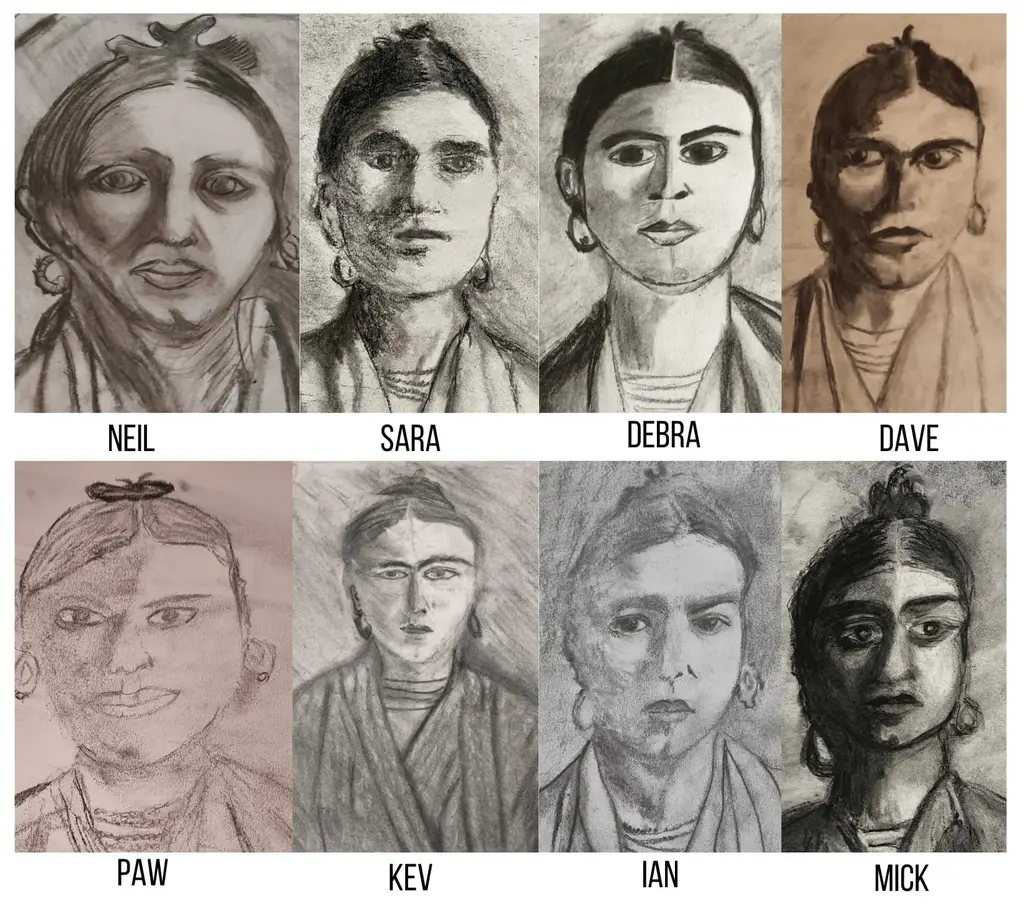 11 / 12
Expressive Portraiture workshop.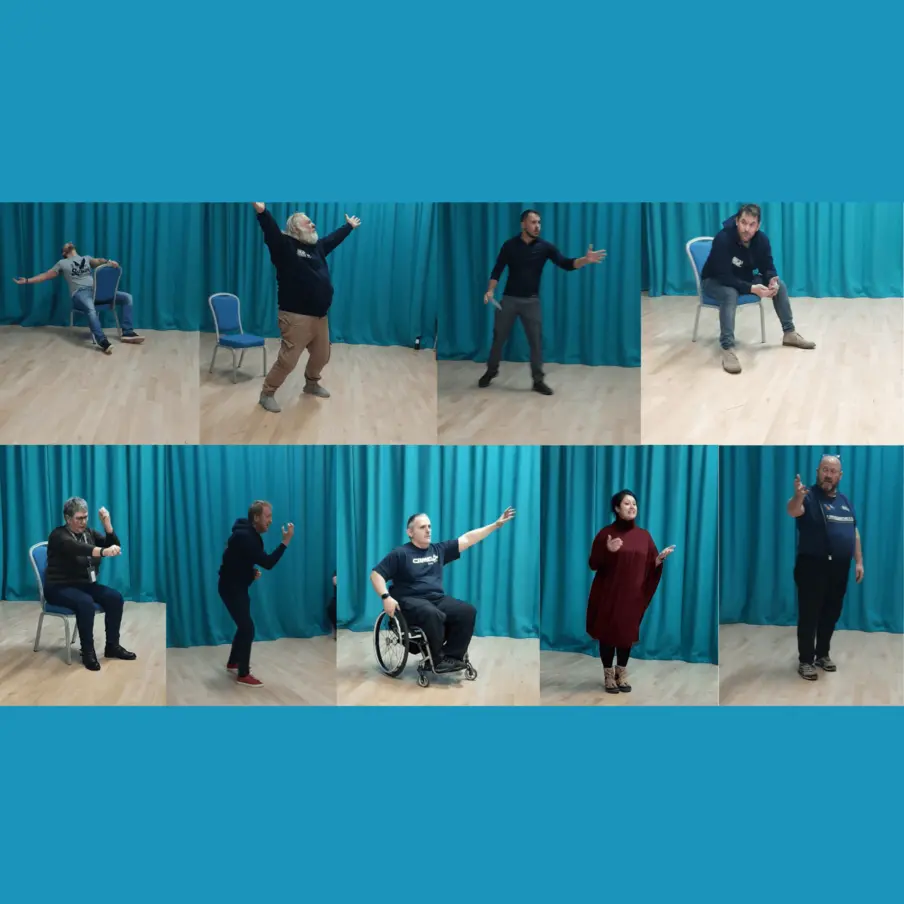 12 / 12
Storytelling workshop held at the Battle Back Centre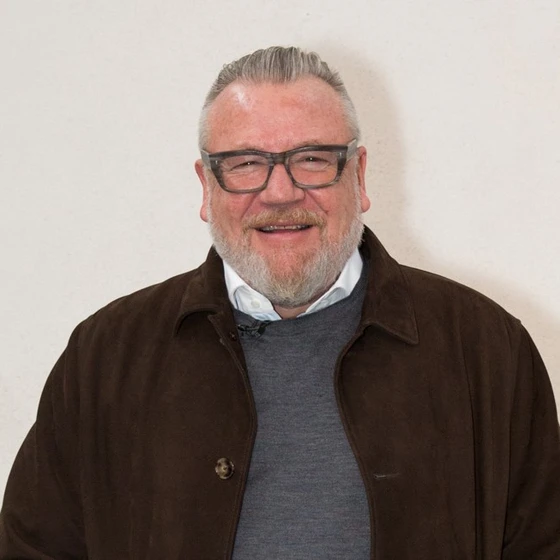 "Bravo 22 is an awesome project, come and get involved."
Ray Winstone, Patron of Bravo 22 Company
Contact us
There are several ways to stay connected and contact the team at Bravo 22.
You can email us at bravo22@thedriveproject.co.uk to sign up to our newsletter or find out more about the programme, you can like our Facebook page, or you can reach out via Twitter or Instagram.
Go to our YouTube channel for some creative inspiration and a host of resources to keep you entertained.
To see what's coming up this season – have a look at our event calendar.