Galanos House offers nursing and personal care as well as respite and day care for the Armed Forces community and their families.
Our dedicated team provide 24-hour expert care and support, including a specialist dementia wing.
Set within beautiful grounds on the edge of Southam, Warwickshire, our purpose built home has been designed to create a warm and welcoming atmosphere for residents and visitors. Galanos House has 101 spacious single rooms, all with en-suite facilities, plus cosy lounge areas to sit and relax or chat with friends.
A new community hub incorporates our day-care services. Other new facilities include a café and rooms which are available for hire. We have also introduced weekly events such as craft groups and other special events.
For more information about Galanos House or to arrange a visit, please call 01926 812185 or send an email and a member of our team will be in touch.
Galanos House key summary
Everything you need to help you decide if Galanos House is the right care home for you, including the care we offer and our fees.
Download now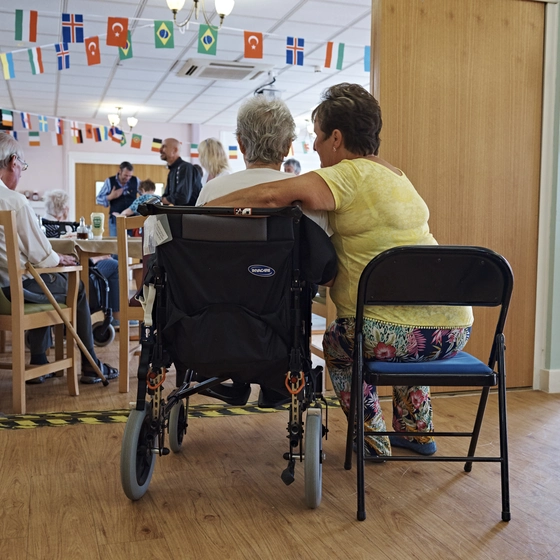 Apply to Galanos House
If you plan to move into our care home immediately or within the next 3 months, please complete our application form.
Fill in the application form
Friendship and camaraderie play a big part in the day-to-day life at Galanos House.
The health and happiness of our residents and visitors is paramount and we're proud to say that our care has been classified as 'outstanding' following a Care Quality Commission inspection in November 2017.
As well as providing a safe and comfortable environment, friendship and camaraderie play a big part in the day-to-day life at Galanos House. Our wellbeing team make sure there's always lots to look forward to, including quizzes, arts and crafts, dancing, singing and concerts.
We also organise regular shopping trips and visits to the nearby historic towns.
Application process
Galanos House is available for ex-service personnel and their families. If you are unsure whether you or someone close to you is eligible, please get in touch on 01926 812 815 or via email.

We know that care home applications can feel daunting, but our team are on hand to support you every step of the way. To register your interest or find out more about Galanos House and the application process, please call 01926 812 815 or send an email.

If you plan to move into our care home immediately or within the next three months, you will need to complete an application form. Once your application has been received, a needs assessment will take place to help us assess your care needs. This may take place at home or we can also visit you in hospital; providing an opportunity for you to ask any further questions. Your application is dependent upon confirmation of eligibility and the outcome of your care needs assessment. If successful, we will confirm in writing and arrange the next steps, including your arrival date with you.
In some circumstances, we are also able to provide support for those under the age of 65 years seeking care or rehabilitation support. However, we recommend contacting your chosen care home for further information.
Key summary
There are many things to consider when deciding to move yourself, or a family member, into a care home. We've recently put together a key summary document of Galanos House to help you consider whether it's the right care home for you.
The document provides useful details of the following and more:
Type of care
Funding options and fees
Admission requirements
Trial period
Services, including Day Care services
Staffing
Download our Galanos House key summary
Home features
Furnished room including bed, bedding, wardrobe, chest of drawers, chair, carpet, TV socket and landline phone socket
En-suite facility including wash basin, toilet, shower and towels
Passenger lift
Wheelchair access
Minibus and other transport
Licensed bar / café on premises
Resident's kitchenette
Daily social and leisure activities with support to maintain hobbies
Shared computer with internet access for resident general use in the main building
Wifi and Skype facilities are available to all residents
Open visiting hours: family and friends may also join our residents for a meal by booking in advance
Pets are welcome visitors
Our activities
The social side to life at Galanos House is very important. Our wellbeing team make sure there's always lots to look forward to, including quizzes, art and craftwork, dancing, singing and concerts.
Guests are always welcome to join residents for a meal in the dining room. Our in-house cinema and bar add to the residents' enjoyment.
Camaraderie, social interaction and helping our residents pursue their hobbies and interests play a big part in the day-to-day life of our home.
Who can stay?
We open our doors to serving personnel, veterans and their dependents - of all of ages.
We're dedicated to supporting not only serving and ex-serving personnel but the whole of the Armed Forces community, including dependants and carers. This includes serving personnel, or those who have previously served, who have received one day of pay and were aged 16 or over at the time of service.

Prior to admission, we require:
our residents to be fully vaccinated against Covid-19 ("fully vaccinated" as defined in Government regulations and guidance for England) unless they are exempt and
where applicable, for proof of vaccination to be provided. If you cannot comply with this criteria prior to admission, please contact us to discuss your individual circumstances and your options.
Our smaller lounge areas and seating alcoves give our home a cosy, comfortable feeling, where you can sit and relax with a good book, enjoy a board game or chat with friends over a coffee. Our air-conditioned conservatory gives our space an outdoor feel with an indoor temperature.
Our care has been classified as 'Outstanding' following a Care Quality Commission inspection in November 2017. Galanos House was also named 'Care Home of the Year 2015' by the National Care Awards, for its high standard of care and dedicated dementia care unit, Poppy Lodge.
Find out more about eligibility.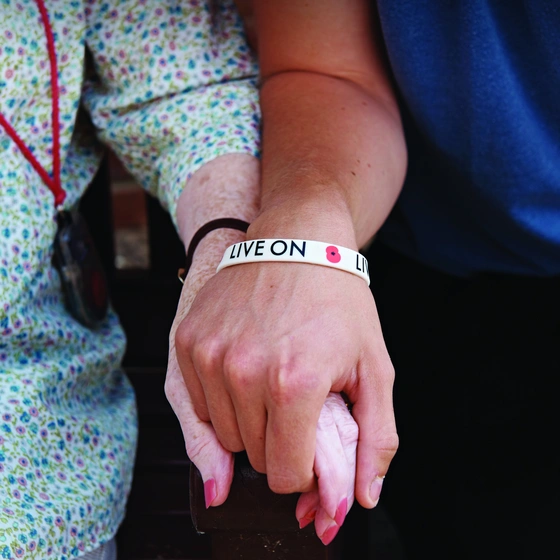 More about Galanos House
Call our team on 01926 812 185 or download our brochure to find out more.
Download the brochure