When Paul Glazebrook lost his comrades in Iraq and Afghanistan, he wanted to honour their memory with a special tribute.
Paul joined the Army in 2000 when he was just 16 years old and served in The Royal Green Jackets after being inspired by his father who served in the same regiment.

"I really enjoyed it [my time in the Army] and miss the comradery among the blokes," Paul said.

"One of the best things you get from the military is being able to deal with anything," he added.

Leaving the Army
After eight years having served in Iraq on Op Telic 10, Paul decided to leave the Army in 2008.
"Iraq was a tough tour for us, we lost a lot of blokes," he said.
When Paul and his friend Tom Keogh left the Army, they decided to work in the security industry.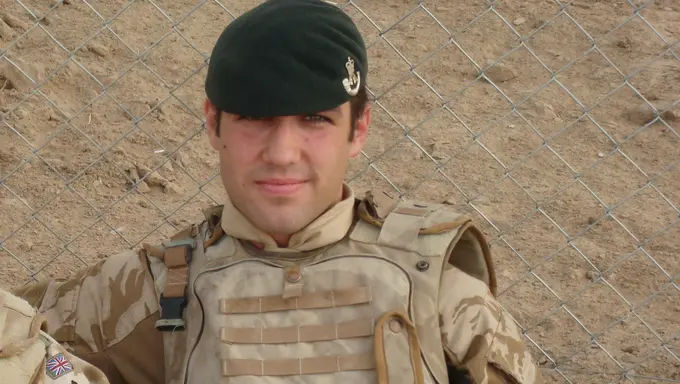 Unfortunately, having initially secured jobs, Paul and Tom were subsequently made redundant, and while Paul managed to find another job, Tom was not so fortunate.
After struggling to find a job, Tom decided to re-join the Army and was sent out to Afghanistan.
It was during his deployment in the Middle East that Tom was tragically killed.

I went into a bit of a hole for a few months over it
Struggling to deal with the loss of Tom, Paul decided to move out to the Caribbean. For the first year he again worked in security and then spent the second year running a bar, which he built out of bamboo in the jungle.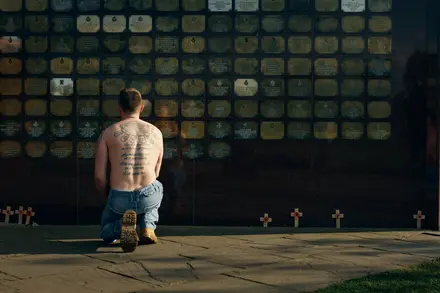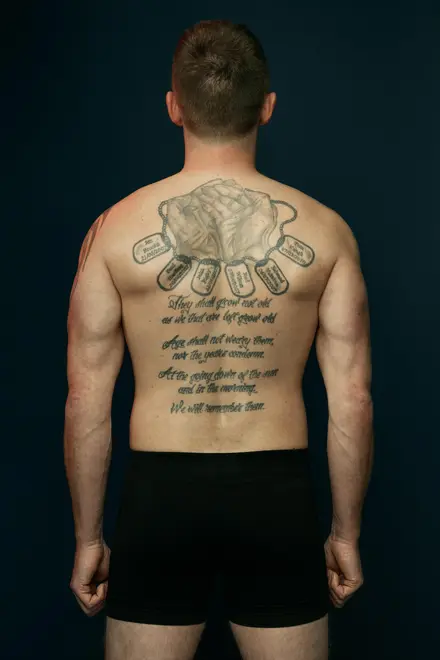 A lasting tribute
Following the loss of Tom, and five other comrades who were killed in Iraq, Paul wanted to get a lasting tribute and decided to get a tattoo to remember them.

The names of Tom Keogh, Jez Brooks, Paul Harding, John Rigby, Rod Wilson and Edward Vakabua are inscribed as ID tags on Paul's back as a living memorial and a sign that each will always have his back, as he will always have theirs.
Below the ID tags there is also an excerpt from the poem For the Fallen, with the famous line 'We will remember them.'

Rethinking Remembrance
"If I had it on my chest, people would be less inclined to read it," says Paul.
His fiancé has noticed people reading it, and he is often asked questions about the tattoo which gives him a great opportunity to tell them of the heroes whose names they read.
Everything I do, there's always some element of the lads in my mind.
"I know people always say, 'I think about them every day' but it's true, I think about the lads all the time."
They would annihilate me for it!
When asked what he thinks his fallen comrades would say about his tattoo, Paul jokes: "They'd take the piss out of me. Absolutely!"