Red poppies have been worn as a show of support for the Armed Forces community since our formation in 1921.
Over 100 years the Poppy has evolved but remains an enduring symbol of Remembrance and hope for a peaceful future. The poppy is at the heart of our annual Poppy Appeal.
London Poppy Day
In 2014 Sir Peter Hendy, then Chairman of Travel for London, offered the Royal British Legion the use of his vintage London Bus on London Poppy Day to drive it around London and encourage donations at various tube stations. It was filled with Service personnel, celebrities, and members of The Royal Family and was a wonderful way to manoeuvre the whole team around together.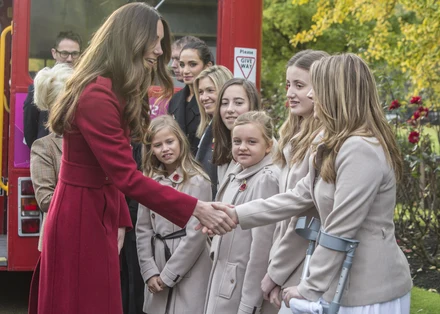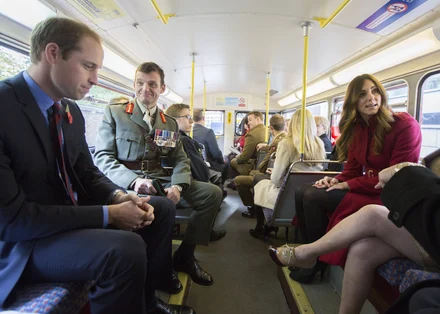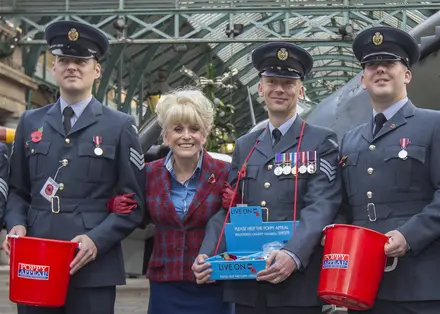 Getting celebrities Alastair Stewart and Barbara Windsor on board with the day was a fantastic start, but then the Duke and Duchess of Cambridge confirmed that they would be delighted to jump on the bus at Kensington Palace and help with some collecting.
Once onboard, Barbara and Alastair began singing a chorus of 'Maybe it's because I'm a Londoner' on the way down Kensington High Street. Everyone joined in enthusiastically. At Kensington tube, everyone burst into action and sold a lot of poppies. RBL is lucky to have the help of so many high-profile supporters, but in 2014, the RBL made the most any charity had made in a 24-hour fundraising marathon.
More about London Poppy Day
Poppy Collecting for over 60 years in Suffolk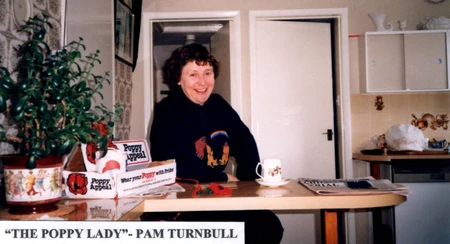 When Pam took over as Poppy Appeal Organiser, aged 19 in 1960, the total amount collected was £6.15.2d with most donations ranging from 'coppers' up to a shilling. After marrying and having two children, Pam would use her evenings to collect, carrying her trusty torch, knocking on doors and being invited in for far too many cups of tea.
The Early Days
In the late 1950s, Pam Turnball was approached by the Poppy Appeal Organiser for Gosbeck, Suffolk, asking if she would take over from her; the only reason given was that she was younger. Over 60 years later, she never thought she would still be doing this role to support the Royal British Legion.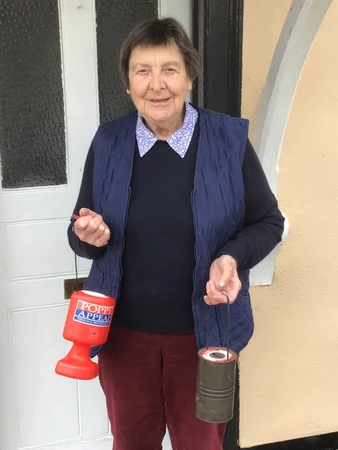 The old collection tins have got lighter over the years too with people carrying less cash and wanting to donate by card or online. Being one of the RBL's longest-serving collectors, Pam has seen donations for Gosbeck increase from £6.15.2d to over £500 in 2019. She says,
"I have found the experience rewarding and enjoyable and would recommend it to anyone who is able to give a few hours of their time to a very worthy cause".
Poppy Collecting Today
Today Pam has a wonderful team of three to assist her in poppy collecting and has seen the process change so much in this time. From emptying the collection tin on the kitchen table to count the proceeds, to paying the donations in at the Post Office with a plastic card.

Miss Royal British Legion
Miss Royal British Legion During the 1970's, the Royal British Legion struggled to recruit the numbers of Poppy Collectors needed to sustain the ever-increasing Poppy Appeal donations. At the same time, the world was entering an era of fascination with pageantry, with the Miss World contest attracting millions of viewers across the globe. RBL, in a bid to appeal to younger audiences, introduced the Miss Royal British Legion pageant in 1972, crowning Eve Holden as the first winner.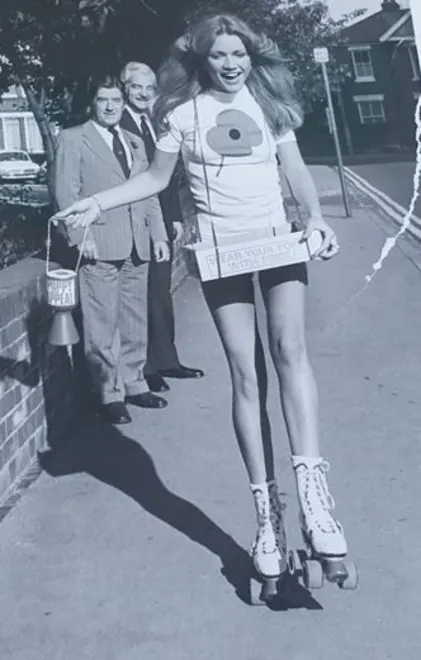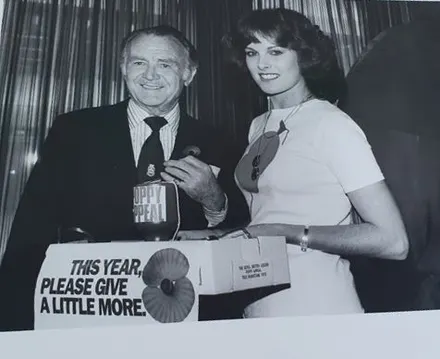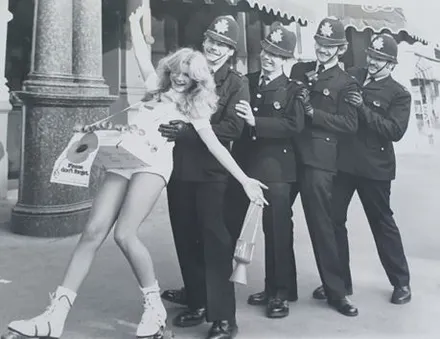 The majority of contestants were Women's Section members and each contestant was judged on their looks and knowledge of the RBL, and their activities within it. The winner was rewarded with a float in the Lord Mayors Show and a ticket to the Festival of Remembrance.
Although the RBL would question the use of pageantry today, the contests helped attract a new generation into the organisation. Many of the young women, affectionately known as Poppy Popsies, were icons of Poppy Appeal collections with Miss Poppy often launching London Poppy Day. However, with the return of Servicemen from The Falklands in the early 1980's, a new sense of respect was generated for the Armed Forces community which ended the glamour days and returned the RBL to its primary focus.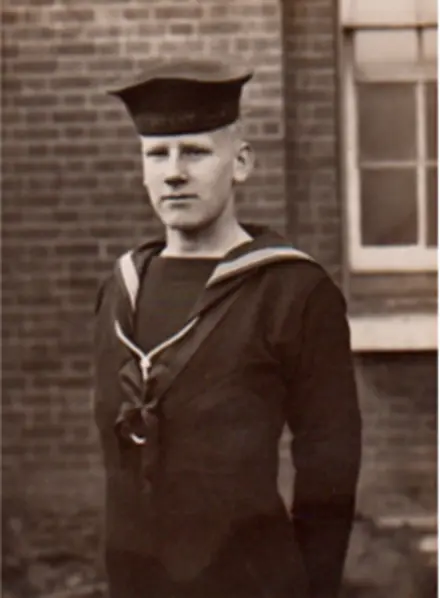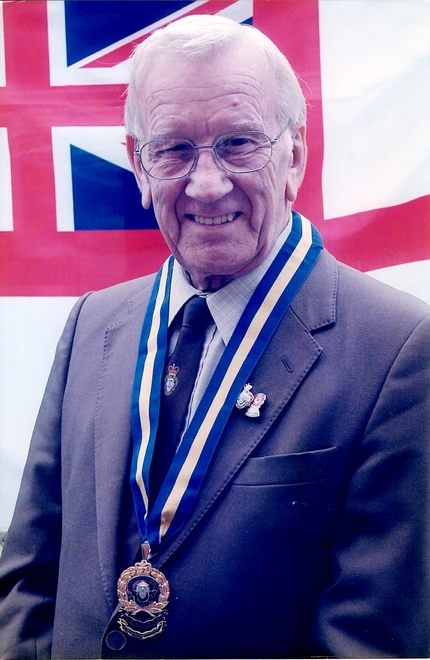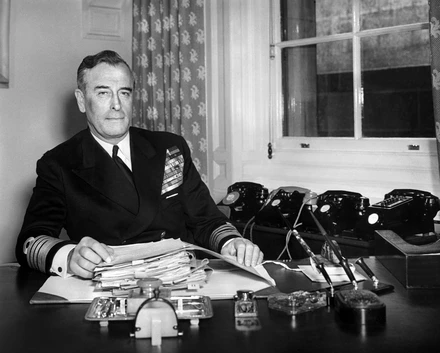 Jeff King
Jeff King, Worcester County Branch Chairman, unwittingly began his Royal British Legion career, aged 16, on 10 November 1949 as a Messenger Boy in the Royal Navy on board HMS Liverpool.
"I was called to the Master-at-Arm's office who told me that because I had nothing to do, I could sell poppies to the Ship's Company. I took the tin and the tray to the Admiral's cabin and sat down on the narrow seat outside of his door. I got bored and took out a comic (The Dandy) when the door opened and out came Admiral Lord Mountbatten himself. He gave me a dressing down saying the only thing I could read while on duty was the Seamanship Manual, followed by "Oh, so you've got the poppies then?" He went back into his cabin and returned with a big old £5 note. I gave him a poppy but he even asked me to pin it on for him!"
*Images of Jeff King then and now | Admiral Lord Mountbatten
Three Generations of Poppy Collectors
Jo Ticehurst is the Regional Fundraising Manager for the East of England. She served for 22 years in the Royal Air Force before beginning her career at the Royal British Legion.
Jo's family has had a longstanding connection to the Armed Forces with her father also serving in the RAF, his father serving in the Ministry of Defence during in the war, and his father serving in the First World War. Her mother became a volunteer for the RBL in the 1960's and is the County President of the Women's Section. From an early age Jo and her sister would help with Poppy Appeal collections each year so have always stayed involved.
During her last few months with the RAF, Jo worked as a volunteer with the Royal British Legion community fundraiser for Lincolnshire who was soon to be leaving the position. When the job became available Jo was quick to apply and has now been working for the RBL for almost 11 years.
Today, Jo has managed to rope her daughter into her fundraising events too, making the full family set. At aged 4 she would help to stick labels on collection tins and by aged 10 she was taking part in a 9-mile bike ride before joining the Officer Training Corps at university.
"The Royal British Legion is in my blood and has been passed down from generation to generation. My mother, sister, daughter and I continue to this day… I am passionate about our cause and those we support."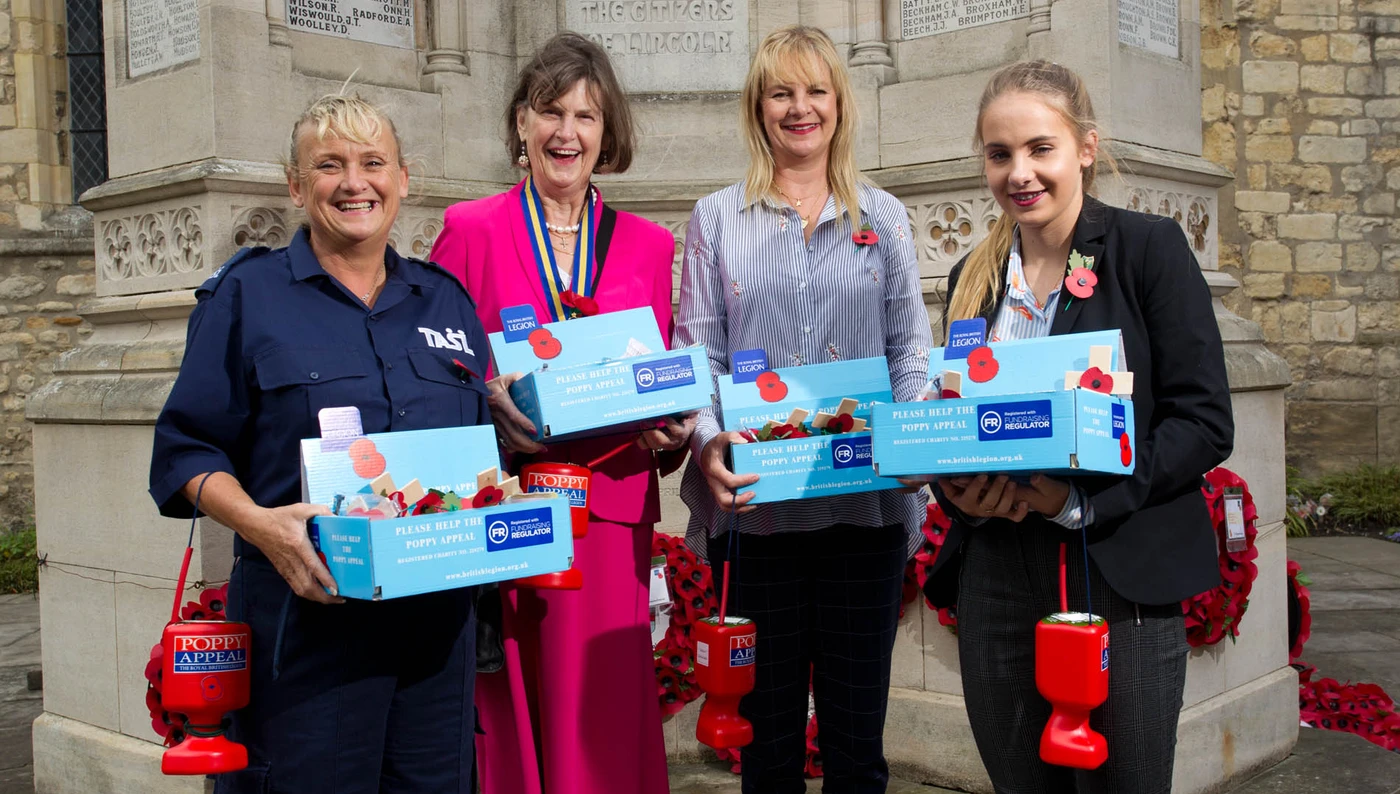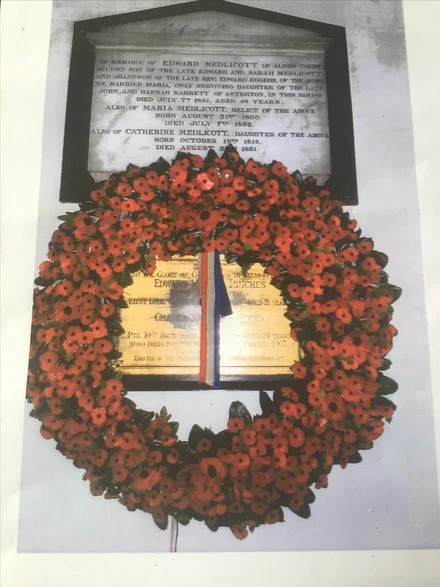 Three generations of the Norbury Armistice wreath
In the early 1920s a poppy wreath was made by three local Norbury women from a 34 inch wooden hoop, composed of one piece of wooden lath spiralled and tacked together. Onto the hoop were tied bunches of fresh laurel along with poppies which were saved from previous years. Two red, white and blue ribbons were then attached.
It is believed the hoop was made by the local blacksmith who was married to one of the wreath makers. Today, this same wreath continues to be made by Marion Rose, granddaughter to the original wreath makers, and her mother did the same before her. Each generation has placed it in All Saints Church in Norbury in memory of those who gave their lives - a tradition as old as the RBL itself.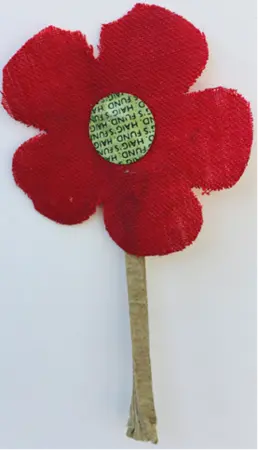 Frank Underhill's grandfather served in the North Staffordshire Regiment during the First World War. He was one of the fortunate men who survived and returned to the UK where he found work in a foundry in Leamington Spa. When his grandfather died, Frank went with his mother to empty his house, when he came across an old John Player & Son's tobacco tin along with his campaign medals. Inside the tin lay a delicate poppy with the words "Haig's Fund" stamped across its middle button. Having never seen another like it, Frank made enquiries and found that neither the Poppy Factory, the Army Museum nor the Imperial War Museum appears to have one similar in their collections. It is not clear, therefore, where it came from, but Frank has treasured it ever since.
Today, Frank is the Standard Bearer for the Eastcote branch and has had the honour of showing his 'one-of-a-kind poppy' to Their Royal Highnesses Prince Philip and Prince Harry, along with other high-ranking Officers in the military and the Royal British Legion. During Remembrance, the special poppy accompanies Frank on parade before being returned to safekeeping.
A 'One-of-a-Kind' Poppy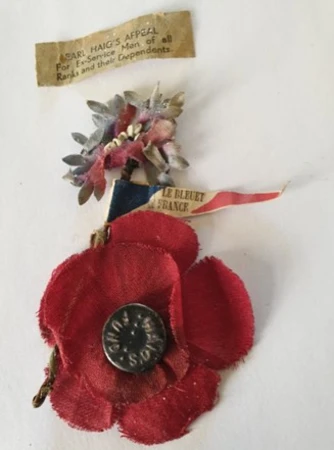 The origins of the Poppy Appeal date back to 1921 when Anna Guérin persuaded the Royal British Legion founders to adopt the poppy as our emblem in the UK.
Back then the poppies were made from a cloth material, rather than paper.
One of these poppies recently surfaced in Liverpool when it was handed in to a local collector in a supermarket during the Poppy Appeal.
Early Haig Fund Cloth Poppy
Henry Okello cheers on Poppy Runners
In 2018, the Royal British Legion organised 10 Poppy Run fundraising events to support recovery and rehabilitation programmes that help the Armed Forces community - a series of 5km runs across the UK leading up to Remembrance Day.
Our amazing fundraisers rely on the time and effort from volunteers to make Poppy Runs successful. To show his support, Henry gave up part of his weekend to become a volunteer at a Poppy Run event in London's Victoria Park.
He was assigned the job of cheering on runners at our cheer points dressed in a full poppy costume! The cheer points made the day a brilliant experience for runners, who had been tirelessly training and fundraising for several months. The event marked a moment that they would remember forever, and Henry played a big part in their day. "My energy gave our runners a massive lift and helped get them round the 5km course."
Poppy Runs
The Poppy Runs were a great success, thanks to all the amazing volunteers. The support they gave made a real difference to the participants and their families. Together they helped to contribute to an amazing fundraising total of over £94,000.
Sign up to My Poppy Run
1963 Poppy leaflet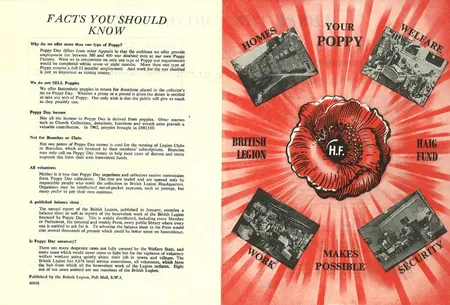 This 1963 leaflet about the Royal British Legion's expenditure is the 60s version of today's RBL FAQs and our annual report.
The leaflet not only details why funds are necessary for our welfare work but explains how all the money that was raised was spent that year.
"Your poppy makes possible"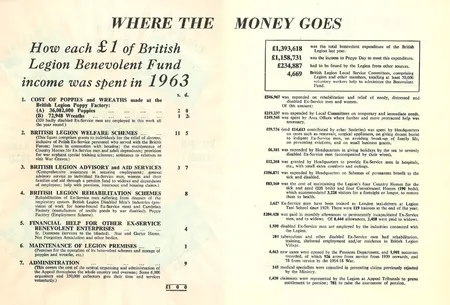 It has since become a legal requirement for charities to publish records of their income and expenditure.
Leaflets like this have today been replaced by our online reports, now helpfully available to the public via our website.
"Where the money goes"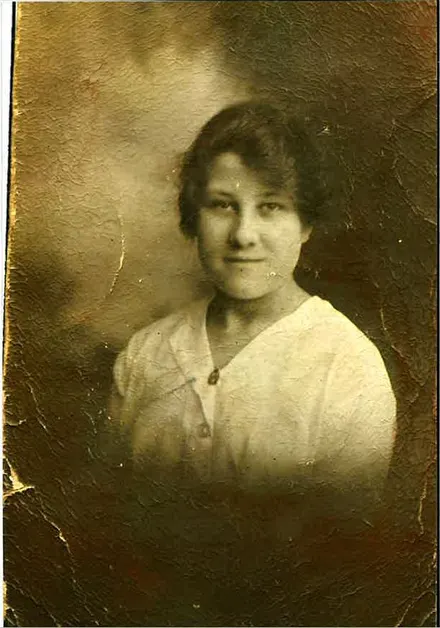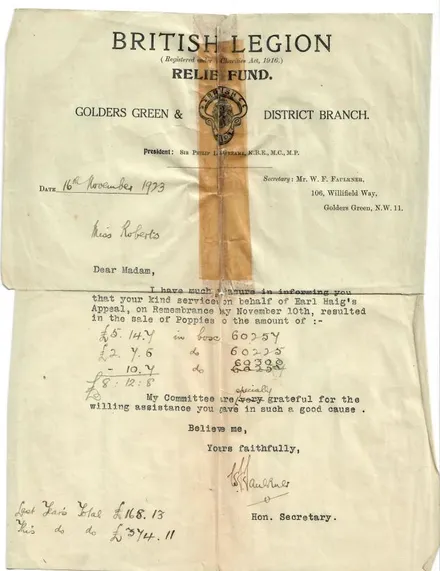 Personal testimony of Jane Ayers, RBL Community Fundraising Manager
"My Mum gave me a delicate piece of brown paper which turned out to be a Thank You letter from the Golders Green and District Branch in 1923. Aged 25, Miss Roberts (my Great Grandmother) collected for the Earl Haig Fund raising £8, 12 shillings and 8 pence (equivalent to £450 today)."
"I never knew this and as a Community Fundraising Manager, I am pleased to know that I have RBL lineage through my family history and appear to have inherited her passion for volunteering and helping others."
Rodney Scott's Modern War Poetry

Rodney Scott, a member of the Holt and District Branch and author of Modern War Poetry, gave an impromptu poetry reading at the Holt 1940s weekend.
Supported by the D-Day Darlings, Rodney recited his Poppy poem that is based on a conversation he had with his late father-in-law, who organised the local Poppy Appeal.
One day, during the unpacking of the poppies they pondered, 'why a poppy and not a rose?'
Donations arising from the poetry book during the 1940s weekend helped to raise £201 for the branch.
Rodney with his son and the D-Day Darlings
In his 2015 poem titled "Poppy" Rodney wrote: "So, wear your poppy and wear with pride, but wear for the living, not only for those who died, for those who came home missing a limb and others with mind full of torment and sin, where nightmares return in the still of the night, visions of past battles and another soul's plight. So, wear your poppy as a beacon, and as a light, to show you support those still willing to stand and to fight."
Help us celebrate our centenary
This May, we're celebrating our 100th anniversary and find out how you can get involved in our centenary.
RBL 100