Each year thousands of wonderful volunteers descend on high streets, train stations and local supermarkets across the country to help raise vital funds during the Poppy Appeal.
We spoke to a few of our amazing Poppy Appeal Organisers who give up their own time to make sure the appeal runs like clockwork each year.
Sian Cameron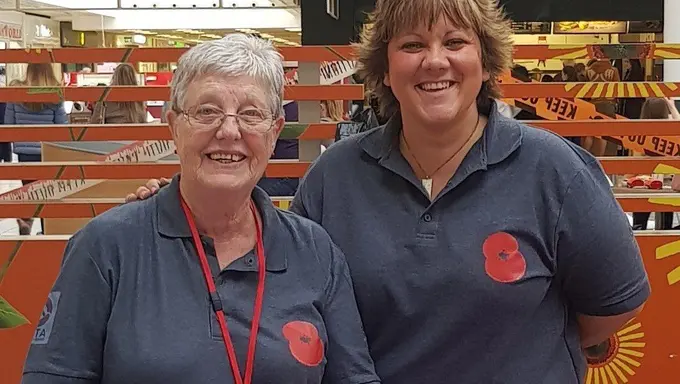 Sian Cameron will give up two weeks of her own free time to raise money during this year's Poppy Appeal.

Sian has been the Poppy Appeal Organiser for Hartlepool in the north east of England for the past 10 years after taking over from her father Ian who sadly suddenly passed away in 2010.

"The Poppy Appeal was something my dad was very proud of," Sian says.

"He had a business in Hartlepool for a number of years and even though he had that business I like to think that his lasting legacy was his work with the Poppy Appeal."

This year, Sian says she is on a mission to raise even more money and hopes to raise £63,000 across her region building on the incredible total her area raised last year.

"When my dad died his final total was £43,000, so it's a bit of a long standing joke that I was adamant that I was beating him that first year. I was going all out to make sure, and we did and its steadily increased year-on-year. Last year we got it up to £62,000."
Alicia Beaty
Alicia Beaty, from Royton, Oldham, has supported the Poppy Appeal since she was 10 years old selling poppies for seven years before becoming the Secretary and a Poppy Appeal Organiser for our Branch in Royton.
She has helped to raise almost £12,000 as she distributes poppies at her local church and holds an annual family fun day on Remembrance Sunday.

"I got involved with the Poppy Appeal when I was Rose Queen at church," Alicia says.

"I found it really interesting and our Remembrance event always raises lots of money as we have a DJ, face painting and food stalls. I love helping the Armed Forces community as they have given so much for us."

"As a Poppy Appeal Organiser I order all the poppies, get all the poppies ready for delivery, I then help deliver the poppies with some others from our branch. I also organise our remembrance event at our local cricket club which is also a family fun day."

Alicia said that running up to Remembrance Sunday and their family fun day they have stalls selling poppies all over area, including in local supermarkets.

Alicia will be supporting the Poppy Appeal alongside her studies at college, where she is studying early years and teaching.
Rob Groom
Rob Groom, 27, has been the Poppy Appeal Organiser for Upton by Chester for over five years.

The father-of-two manages 15 volunteers and together they deliver poppy tins to local businesses and schools and collect at supermarkets and on high streets.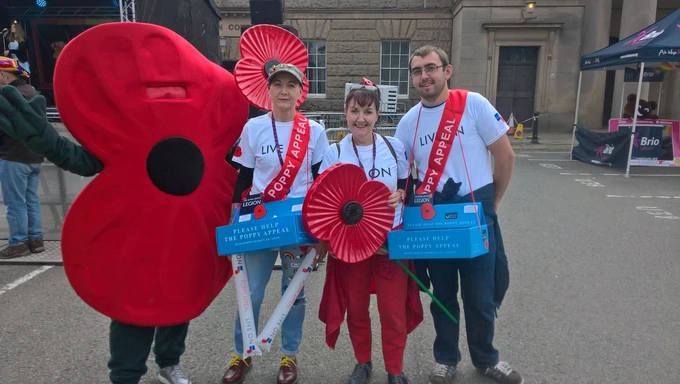 I have been involved with the Poppy Appeal for as long as I can remember Rob Groom

Poppy Appeal Organiser for Upton by Chester
"I don't have a Forces background but my grandfather served in the Second World War and was held as a Prisoner of War in the Middle East for three years, so I do this for him and for all those who served."

Rob says: "It's just nice to think that you're giving something back, especially when you talk to beneficiaries at RBL. You see how they have benefited and how their lives have changed and improved because of the support of the Poppy Appeal.