After a collision with a milk van while cycling to work left a former Submariner badly brain damaged, we teamed up with the Royal Navy to help.

Paul Reynolds was cycling to his naval base in Cumbria in February 2013 when he was hit by a van. The accident left Paul with severe head injuries, requiring surgeons to remove parts of his skull to save his life.

"Paul was in such a bad way that the police told my wife and I that he probably wouldn't survive," said Paul's Dad, John.

After the accident Paul was unable to walk or talk. The hospital transferred him to St Cyril's Rehabilitation Unit in Chester, where he has been receiving round-the-clock care ever since.
Bespoke wheelchair
"For the first few years, Paul was in a comatose state on lots of medication but gradually the doctors have reduced his meds," says John.
One of my ex-Army friends told me to contact RBL as they might be able to help fund the chair. John Reynolds

Paul's Dad
"Now he's much more alert and aware of things around him. Although he can't speak, he can communicate with us by pointing at letters to spell out different words. He can't walk but with continued therapy, the staff are encouraging him to stand up.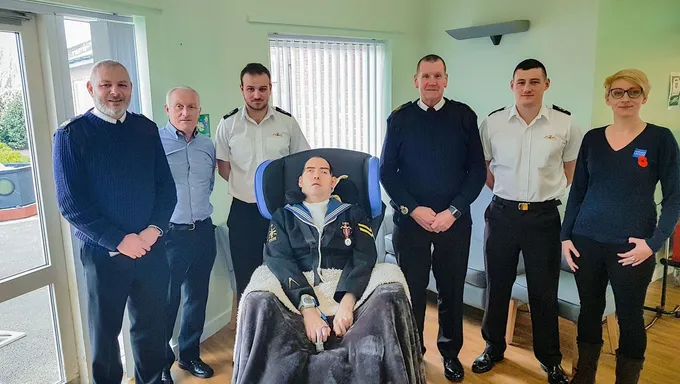 "Everyone he served with has been left devastated by the accident. His ex-comrades and former CPO Coxswain Tim Clifton have been to see him. They've even raised money to help fund his rehabilitation. I'm thrilled that so many people care for my son and want him to get better."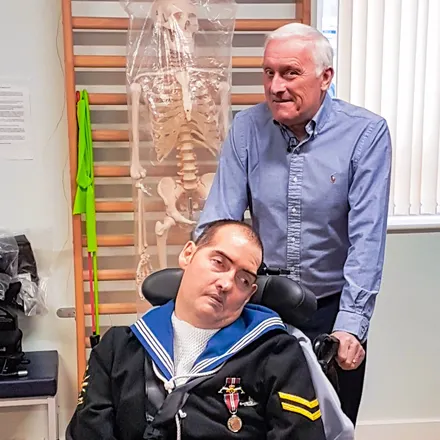 Paul's occupational therapist suggested that a bespoke wheelchair that supports his posture would improve his quality of life. However, the cost of wheelchair was £10,000, so John started looking for ways to raise the money.
"I've been a member of The Royal British Legion for years and I chatted to one of my ex-Army friends about the situation," said John.
"He told me to contact RBL as they might be able to help fund the chair. So I contacted Tim and he got the ball rolling."
As a result, we teamed up with Paul's former comrades raised the £10,000 needed to fund the chair.
"I'm delighted that RBL and the Navy have paid for this new chair. It's hopefully going to make a big difference to Paul as it's designed specifically to support his pelvis," said John.

"I'm just so grateful to RBL for being there to support him."
"The hospital has said that Paul won't fully recover from his injuries as he suffered a high level of brain damage, but we can only try and make him as comfortable as possible. I'm just so grateful to RBL for being there to support him. I really can't thank them enough.

"The last five years have been horrendous and it's a miracle Paul survived the collision. But it just shows how strong and determined he is – just like he was in the Navy."