When Chris Dodd left the Army, he felt lost and struggled to find direction and purpose in the civilian world.

Life on Civvy Street
"I mean civilian life is about as polar opposite as you can get to serving in the Armed Forces. There is definitely that feeling of 'square peg round hole' at times, you don't really know where you fit and what you're supposed to do or what your purpose is," Chris says.
"The Army is quite predefined. You know your job role, you know what your responsibilities are and you know where you're supposed to be at a given time.
"Feeling lost is the best way to explain it. You just feel like you are wandering around in the dark not too sure where you're going or what you're doing.
"Whereas everybody else around you has been doing this since they left school or university or college.
"It would be like taking them and putting them in the Army. They'd be like 'well this is completely alien to me' and that's how I felt."
Chris joined the Army straight out of school at 16. He hadn't ever seen himself doing anything else.
After completing his basic training, he joined the 2nd Battalion the Princess of Wales Royal regiment and saw tours of Northern Ireland, Iraq and Afghanistan.
But in 2012 after 11 years of service Chris was medically discharged.
I didn't leave through choice. I was medically discharged because of my hearing.
"At the time I didn't like it and still don't really like it now," he says.
The Army had been such a big part of his life and being forced to leave compounded Chris' struggles to adapt to civilian life.
"I struggled a lot. Obviously not wanting to do it [transition] anyway and not having that decision in my hands probably made things worse," Chris says.
"I just didn't adjust to civilian life at all because I didn't want to adjust. I didn't want to be there."
Finding purpose in life after living such a structured life in the Army was also difficult for Chris.
"In the Army there's a lot of purpose. You're all working together as a team towards a singular aim or task or whatever you're doing and there's immense pride in it.
"That's one of the things I struggled with, finding a job that I took a lot of pride in which was bigger and more important than my own issues and wants.
Finding direction and purpose after the Army
"In the Forces, especially the Army, it's very much a selfless commitment and working for the greater good and the bigger cause as it were. So not knowing your place, direction, purpose, goal, target or whatever was also one of the things I really struggled with."
"Also not being able to necessarily communicate with everybody in a room because of shared experiences and all that sort of stuff which is a big part of it too."
As he tried to adjust to his new life Chris' mental health was affected.
"I had mental health issues, nothing to do with the Army in terms of service and what I've seen and done. But because I couldn't get my head around the fact that I wasn't doing it anymore and I didn't want to be there [on civvy street].
"It took me seven years to properly get my head round it."
Having felt disconnected from his new life for so long Chris' fianceé finally helped him seek the support he needed.
"It can be incredibly difficult to reach out for support," he says.
"Accepting that I needed help in the first place was the hardest thing.
"It was actually having an episode with my fiancée and her realising 'actually something's not quite right here' and her taking a step on my behalf to say, 'I found you some help', that made me go and do it."
His fianceé pointed him towards his local NHS mental health team where he received 1-2-1 sessions.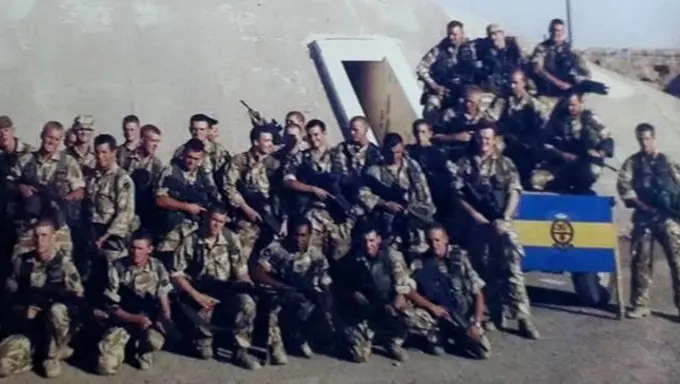 Chris has a great support network of family and friends and keeps in close contact with those he served with.

"Keeping that connection going is important and I think it becomes more important after you leave the Army than maybe as much as when you're in," he says.
"If you haven't got that around you it can be difficult because you don't necessarily believe that you need help.
"But if you do and you've accepted that you do need help, you don't necessarily know where you need to go.
"And there's a lot of organizations out there that can suggest they'd be the right place to go.
"But I'd definitely say the Royal British Legion would be the right first step for anyone that is serving or has served, or their friends and family, because they can put you in touch with the right people or they can deliver that help themselves first hand."