2020 marks 75 years since the end of the Second World War.
Although the fighting was over, millions of lives had been lost, nations had to rebuild, and people all over Europe had to find their way home.
Alec Penstone
Alec Penstone was 15 years old and working in a factory when war broke out in 1939.
"As the Blitz started in London, I volunteered as a part time (Air Raid Precautions) messenger and served all the way throughout the Blitz in 1940- 41 as a messenger.
"The moments at 15 years of age, pulling bodies out of bombed buildings you grow up very quickly."
"My mates are all going up, joining up, and I've decided that I don't want to stay there any longer. I went and joined the Royal Navy, joined as a HO (Hydrographic Officer) and that was the start of it.
"I was offered the job of either radar or S-Techs - submarine detecting and as the submarine detecting paid nine pence more, I naturally went for the higher rate."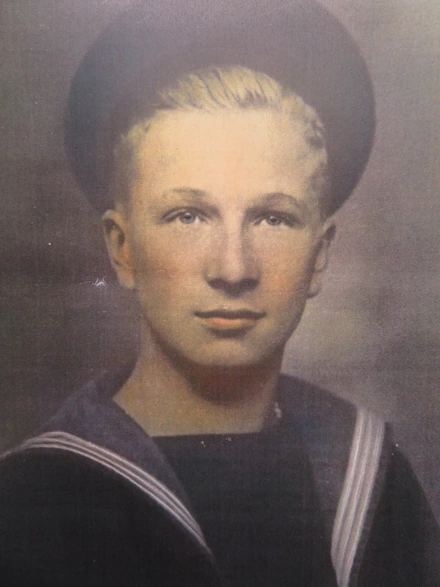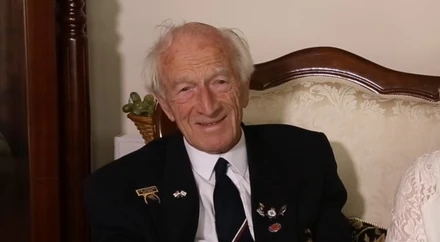 Alec joined the Royal Navy after he promised his father, he would not serve in the trenches because of the horrors he witnessed in World War one.
He finished his training in December 1943 and was quickly drafted and assigned on board a submarine much to his surprise. Alec served on submarines before being moved to HMS Campania, an escort aircraft carrier, and took part in the Arctic Convoys to Russia.
The ship played a vital role in the D-Day landings as it was used to sweep for mines and search for U Boats. Alec spent his time three decks down on constant action station and on-watch listening out for torpedoes, mines and U Boats.
After a week in the Normandy area, Alec and HMS Campania returned to their duties in the Arctic Convoy and made a total of 10 crossings.
"Between convoys we used to poke into all the Norwegian fjords, did what we called shipping strikes with the swordfish torpedo planes.
"We were off doing that, we had no inkling at all that the war was finishing."

It was only when it came on the news, on the radio, and I couldn't believe it.
"As a matter of fact, it got a bit naughty because somebody got the ship's bell and was playing football with it on the flight deck, which didn't go down very well with the skipper."
After VE Day Alec returned to the UK to his fiancé Gladys. But it wasn't long before he was drafted to help in the war effort still waging in the Far East.
Finding love
Alec had met Gladys on Christmas Eve 1943 whilst on unexpected leave from the Arctic Convoys. The couple decided to marry before Alec returned to the sea in the Far East.
After securing a few extra days leave, the couple married on 21 July 1945 and then two days later Alec returned to duty.
"We got married on the Saturday at 2 o'clock, and at 7 o'clock on the Monday morning I said goodbye to her."
Alec served for a further 14 months after the war ended before he was finally demobbed in September 1946.
When he returned home much had changed including his relationship with his wife. But despite some initial setbacks Alec and Gladys have been happily married for 75 years.
VE Day 75 livestream highlights
Grab a cup of tea and watch the highlights of our special VE Day 75 livestream.
Watch now