The Legion's Challenge Cup was back once again on 28 May, bigger and better than ever.
For the third year running, 15 teams of company employees, Her Majesty's Household Cavalry Mounted Regiment and those supported by the Battle Back Centre battled it out under the floodlights of Chelsea FC's Stamford Bridge.
After a nail-biting three hours, only the M&S team left victorious.

Raising money to support injured Service personnel and veterans
The funds raised will go directly to the Legion's Battle Back Centre, an Army-led initiative which supports wounded, injured and sick Service personnel.
Battle Back Centre
Led by world-class coaching staff, the centre exists to help people achieve their best possible recovery and either return to Service duty or make a smooth transition into civilian life.
The evening kicked off with Legion Jutexpo goody bags for every player, containing their own poppy team kit alongside other Legion freebies. Speeches from Legion staff and people the charity has supported followed, giving all those in attendance an understanding of the work their participation will make possible.
After tense group and knockout stages, the M&S and Schroder's teams made it to final. As they walked out of the tunnel behind referee Kevin Friend, with the UEFA Champion's League anthem blasting, the audience waited with bated breath. A fierce match ensued, ending in a hard-won 2-1 victory for M&S.
Other than prizes for placing in the tournament, teams were also judged for best goal celebration, best team goal and best dressed manager (of which there were many).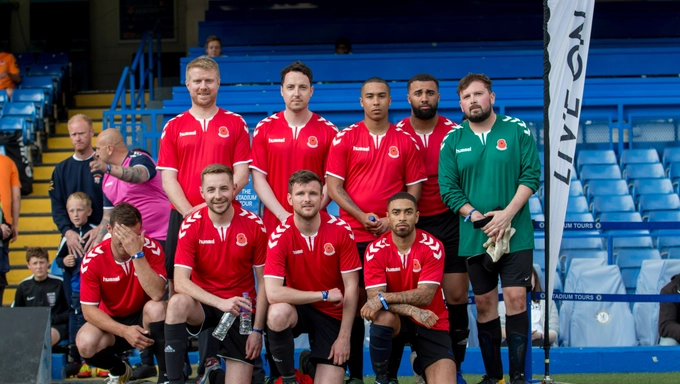 Ben France from The Royal British Legion said: "This year's Legion Challenge Cup has proved to be the most successful to date, with 15 teams competing from across the business world and the Armed Forces community.
"Since 2017, the event has raised over £100,000 for the charity. All of the money from the tournament funds our Battle Back Centre, which helps injured, wounded and sick current and ex-service personnel achieve their best possible recovery."
Want your company to take part next year?
Email corporatepartnerships@britishlegion.org.uk today to enter your team.
Challenge Cup 2018
In May 2018, 12 teams from M&S, Cadbury, Rolls Royce, Osborne, The Household Cavalry Mounted Regiment, The Royal British Legion and the Battle Back Centre went head-to-head at Chelsea's Stamford Bridge. The tournament raised over £40,000 for the Legion's Battle Back Centre.

After tense qualifiers and semi-finals, M&S and Osborne found themselves walking out of the tunnel behind Premier League referee, Kevin Friend, to face off in the final. Osborne managed to chip one in, ending the match at 1-0. They went home with the trophy, along with a year's worth of chocolate and their height in beer, as donated by Cadbury and Greene King.
Other prizes included Best Dressed Manager, for which there was stiff competition, Best Goal Celebration and Best Team Goal.

My boyhood dream of being a Premier League footballer came true... thanks to the Legion. Alastair McIntosh, playing for Cadbury FC