Join us as we honour and remember those who sadly lost their lives while serving in our Armed Forces.
The official opening of the 2021 Belfast Field of Remembrance takes place on Monday 1 November at 10.45 am. The Field will close on Sunday 14 November. Opening times are 9.00am to 4.00pm.
Please be aware that regional and/or national Covid-19 restrictions may affect the Belfast Field of Remembrance. Please check this page for the latest opening information before travelling to the Field.
Visiting the field
Address: Donegall Square, Belfast BT1 5JJ
The Belfast Field of Remembrance is situated on Donegall Square on the west side of Belfast City Hall, adjacent to the Cenotaph.
Directions by train:

Belfast Central Station and Great Victoria Street Station are both a 10-minute walk away.
Directions by car:
Unfortunately parking is not available within the City Hall grounds. Public paid parking is available nearby, though we would recommend travel by train or bus where possible.
Map: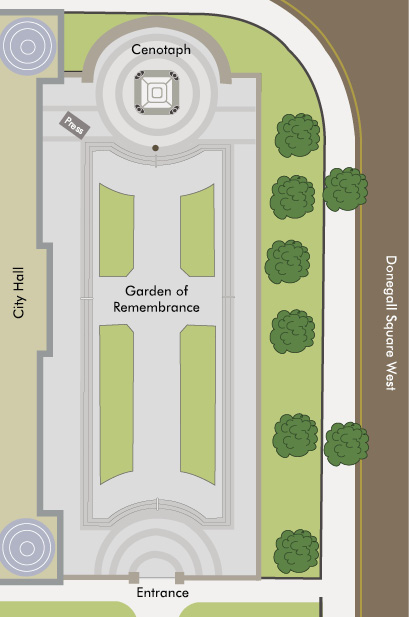 Your Remembrance Tribute
Have your own tribute and message planted in Belfast Field of Remembrance.
Create your Tribute now
Field of Remembrance 2020
The planting of the Tributes and the Opening Services of the Fields of Remembrance in 2020 were held before the national lockdown in November and we captured these moments for you to view.