After Nepal was hit by two earthquakes in 2015, we donated £50,000 to The Gurkha Welfare Trust's Earthquake Response Fund to help Gurkha veterans.
2015 earthquakes
In April and May 2015 massive earthquakes caused terrible destruction in Nepal, flattening entire villages in isolated rural areas of the Himalayan foothills.
Thousands were killed and millions of people were left homeless, including around 1,200 Gurkha veterans and widows.

In the immediate aftermath of the quakes The Gurkha Welfare Trust (GWT) was able to react quickly, providing medical care, distributing emergency supplies and constructing temporary shelters for those left without anywhere to stay.
Following this we donated a £50,000 grant to help the Trust turn its attention towards rebuilding the lives of Gurkha veterans and widows.

They put together an earthquake-resistant design for new homes and to date, over 1,000 of these have been built for brave veterans like Rifleman Baldhan Ghale and his wife Budhini.
Baldhan and Budhini
Baldhan served in the 2nd Gurkha Rifles from 1960-68, including several years of action during the Borneo Confrontation. After his service, Baldhan returned to a life of subsistence farming in his home village of Barpak with Budhini.
The couple, both in their 70s, have lived alone since their daughters married and moved away, and were in their home when the earthquake struck.

"We were right here [by the house]. We'd just had our food, and I didn't even have time to put on my shawl," explains Budhini.

"We were both chatting. And then everything shook from side to side."
We couldn't stand because of the shaking and everyone ran here and there in panic.
Tucked away in a side street, the couple's house was completely destroyed. Fortunately, the GWT was able to provide them with various means of support over the following months.

"We were given a lot of help," says Baldhan.

"Firstly, we were given blankets and cooking utensils and 3,000 rupees in cash.

"Later, we were also given hardware items to construct a temporary shelter, where we were still living until very recently."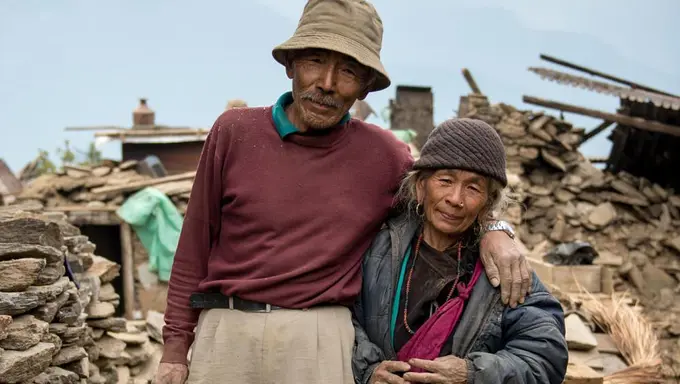 Baldhan and Budhini were among the first recipients of a new quake-resistant home.

"We would like to thank you from the bottom of our hearts," adds Baldhan.

"To build a house like this for people like us, who wouldn't even be able to build a small hut, is no small matter.

"We have been visited by doctors who are coming on a regular basis and we have been given medicine when we visit the Welfare Centre. The support we've been given is fantastic."