Katie Newlands is a Surgeon Lieutenant in the Royal Navy and works as a GP Registrar at a surgery in Southampton.
When the COVID-19 pandemic hit in 2020, like many others, Katie's surgery had to take swift action to reduce the risk of exposure for her and her patients.
"My background as a Medical Officer in the Royal Navy has taught me to adapt to different circumstances and think flexibly around problems to generate solutions," Katie says.

"Urgent changes were implemented such as switching from face-to-face consultations to remote consultations, communicating with patients via telephone, video or online methods, so that patients were only seen in person where absolutely necessary in order to reduce their risk of exposure.
"I have had to practise and work around a variety of issues, such as instructing patients in taking their pulses, doing some basic examinations, and examining through videos and photos.
"We have also examined patients in a much wider range of environments such as the surgery, patient's own homes, care homes and even patient vehicles, all whilst wearing scrubs and PPE. This has proved difficult at times, especially with the warmer weather!

"Overall COVID-19 has presented many challenges and it has certainly been an interesting time to be working in the NHS."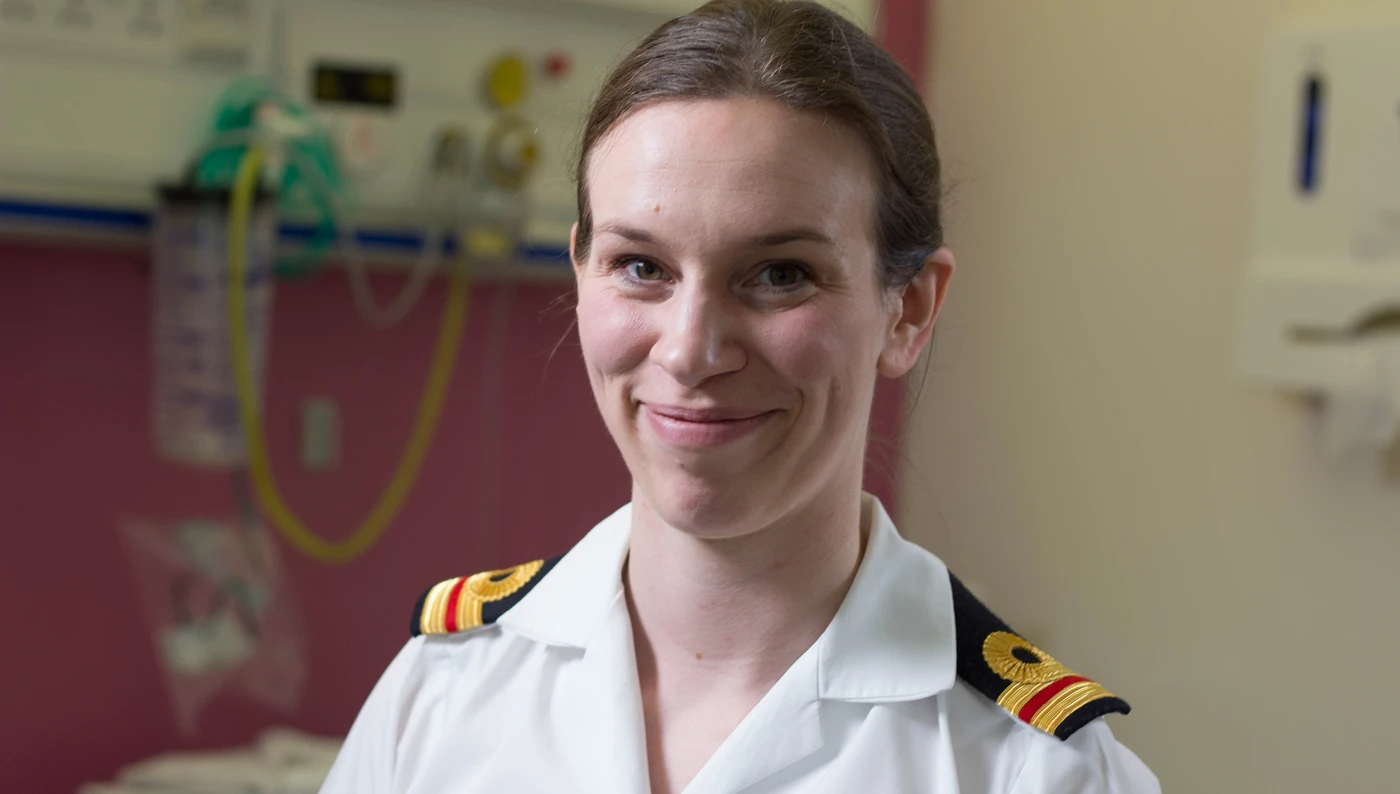 Katie was inspired to join the Royal Navy whilst studying medicine at University.
"I joined something called the University Royal Naval Unit whilst I was a medical student and just really enjoyed it," she says.
"I liked a lot of the opportunities and different things I could get involved with, a lot of the camaraderie and working with different like-minded people.
"Then it was realising I could have all these additional things I enjoyed about military life whilst also doing my job and being a doctor."
Surprising the public
"I think civilians who don't necessarily have a military connection can be surprised to see somebody in uniform in the NHS."
Before working at a surgery in Southamption, Katie was based at Queen Alexandra Hospital in Portsmouth.
"I spent 4 months in obstetrics and gynaecology, and then the last 4 months in paediatrics."
As a serving member of the military Katie is often in uniform whilst on shift, which sometimes surprises patients.
"I don't think that everybody realises that there are military people working within the hospital here," she says.
Military in the NHS
"I think military people make up about 5% of the workforce in this hospital."
"I remember doing ward rounds and sometimes it would take me slightly longer to do because people wanted to discuss when they were in the military or people that they knew in the military.
"It's nice that they can relate to you as a doctor and see beyond the stethoscope.
"They see you as a person and an individual that they can then have a conversation with and disclose things to you that they might not to other people."
Working in the NHS has allowed Katie to see a huge range of patients and acquire new skills for her future career in the Navy.
"From working in the hospital I've got lots of skills that I can now take back to military life, and increased knowledge in particular areas that I hadn't necessarily encountered in my military career," she says.
"I've seen a lot more pregnant women and children than I have done to date in my military career so I've got more comfortable with managing those patients.
"I love helping people - it's one of the reasons I wanted to be a doctor - and I love the fact that can be in the NHS, but also in the Navy and in my future career on board various ships.
"I take a lot of pride in being able to fulfill my role as a medical officer and a doctor looking after my naval colleagues."