For any mother it can be hard when your child decides to sign up and join the military.
But for Anita it was more difficult when all three of her children signed up to join the Army in their late teens.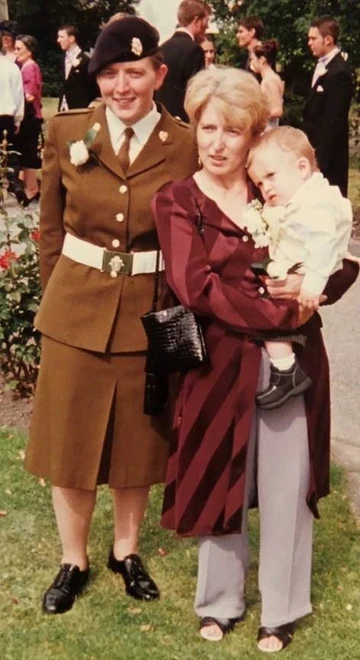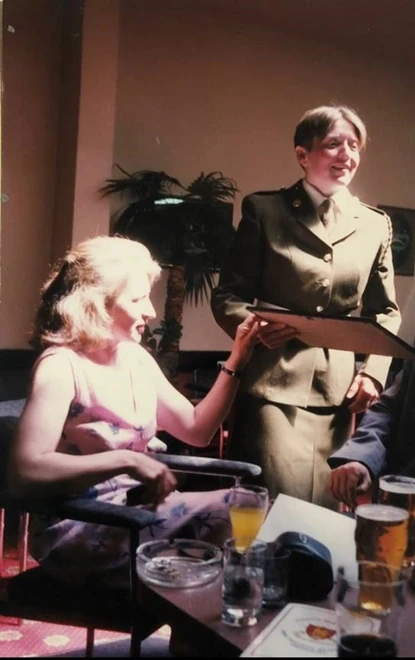 Three children in the Army
Anita's eldest son Mark signed up as an Army reservist, whilst her other son Tom and daughter Becky joined the Army as Regulars.
Becky was just 19 when she signed up in 1999 after she was inspired by her brother's passing out parade.
"I went to his pass out parade and I felt quite proud. And that's when I got my urge to join," Becky says.
Which came as a surprise to her mum Anita.
"It was a shock because signing up is quite a big thing," Anita says.
"I was proud that she'd found something that she wanted to do. But I was also very anxious because I know what going into the Army can mean.
"I didn't want to discourage her, I wanted to be there for her. It's important that whatever all three of my children have done, they know they have my support.
"Particularly with Becky, I've really wanted to be supportive because I could see issues that could come for her in the long term, the fact that she's a woman going into a man's world, what she's signing up to is a whole new world that I've never been involved with," Anita adds.
"You ask yourself, should I let them go? But at the same time, they're doing what they want to do and so my support is needed, and my encouragement, and just being there for them.
"But it is difficult because you want to be in contact with them, but you know that wherever they go, it's not as easy as picking up the phone or popping round to see them, it's a case of waiting to hear from them, especially in the first few weeks of going into the military.

Support the Armed Forces community
Our support is a lifeline for many serving and ex-serving personnel and their families.
Donate now
"You don't know what's happening to them, you just have periodic conversations with them, but all the time you really have to hold on to your emotions and support them in what they're doing."
Becky was sent to Germany, the Falkland Islands and Oman before being deployed to Iraq in 2003. He brother Tom was also deployed at the same time with his unit.
"I was absolutely worried sick [about her going]," says Anita.
"The only comfort I had really was that Tom was going to be out with her. But that's a double-edged sword because he's going to be with her, but at the same time they're both out there.
"It was worrying but actually I was proud.
"But it was the lack of knowledge of what they were going into, even though there was lots of media of what was happening out there, you never really heard what was happening to them on the camp, which is quite understandable as it's a military site so there's got to be secrecy.
"But it can be very difficult for those people left at home, worrying about what is happening to them and how they're coping with it, because being on a camp in the UK is very different to being in a camp in a warzone, and what they're going to be asked to do.
"Part of me wants to know and part of me thinks that I don't. But all the time I want to be there if anything happens."
On deployment
Whilst in Iraq Becky worked as an ambulance driver, which Anita said added an extra element of worry for her. "She was an ambulance driver, and as I say she was in a vehicle that had a big red cross on it," Anita says.
"Which in some ways is supposed to comfort you, but in other ways it can make them more of a target.
"I was very conscious of some of the things she might see, like children or colleagues, and how she would react to that, because it's very difficult.
"I can only imagine what it's like, to go out to an area where you have to pick up wounded soldiers and even wounded children or residents of that particular area. It can't be easy, and it's bound to have an impact on you, so I was conscious of that."
But it was when Becky returned to the UK that things took a turn for the worse and she began to struggle with her mental health.
"I'd been suffering on and off with what we now know is recurrent depression," Becky says.
"I've had quite a few episodes, and for some reason this was a different kind of episode."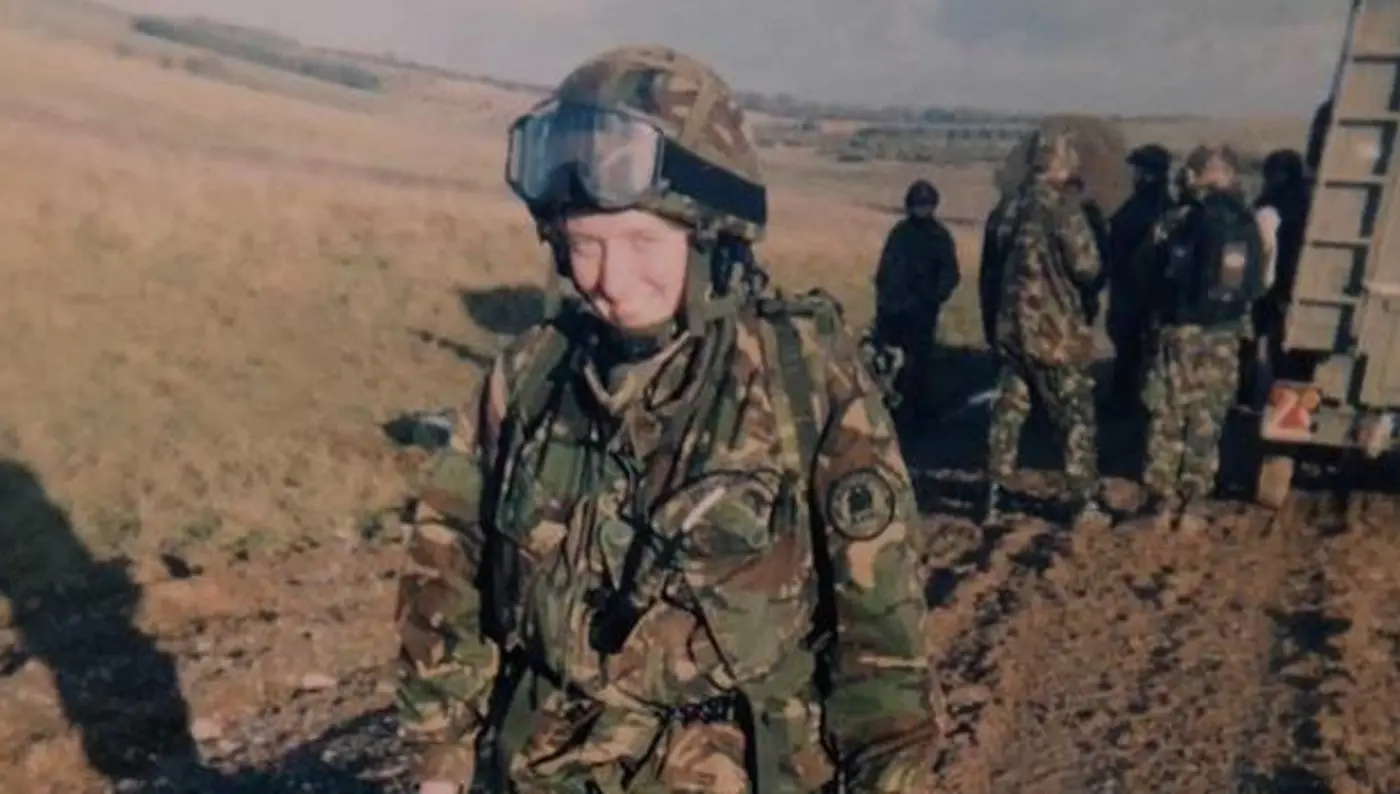 Becky had a mental breakdown in 2017 and spent time in Peterborough mental health hospital.
It was hard for Becky's mum to see her going through such a difficult time and she felt somewhat powerless to help.
"Well I've worried about certain things throughout her Army career," Anita explains.
"I do know that she's had struggles, but this last one was quite a big one. And there were a lot of things that happened all at the same time.
"It's difficult because it's easy to be a mother and comfort her but that's not what she needs. She needs the right support and people to gently but firmly direct her in the right direction.
"And to step back and let somebody else do that can be quite difficult to take.
"But at the same time, it's a relief knowing that she's got positive things coming up in her life and directing her," she added.
A turning point
As part of her recovery Becky attended a course at the Battle Back Centre, our leading centre for the recovery and physical and mental wellbeing of both serving personnel and veterans.
Read Becky's story
It was here that she was picked to take part in a ground-breaking expedition to the Himalayas which saw her climb to a height of 5,300 metres, something which she never thought she would do.
"At 5,300 metres it became very physically and mentally challenging," says Becky.
"I didn't end up summiting the peak. I just ended up getting to High Camp, which was my summit and I'm at peace with that.
"The feeling of relief was overwhelming coming back down, because not only were we coming down from altitude, so it was easier to breathe, but the exhilaration of what we'd just done and completed."
Having left the Army in January 2019 Becky is now setting up her own business and credits the challenge with helping her manage her mental wellbeing.
For Anita she is extremely proud of how far her daughter has come and what she has achieved.
"I admire her because it takes a lot of courage to actually admit you need to do something positive.
"And thankfully she had the strength to do that because there are so many other avenues that you can go down like drinking or violence or all sorts of things.
"But she's chosen to make sure that she gets herself better again.
"And to identify that when you're in the middle of a personal crisis is something to be proud of, I think."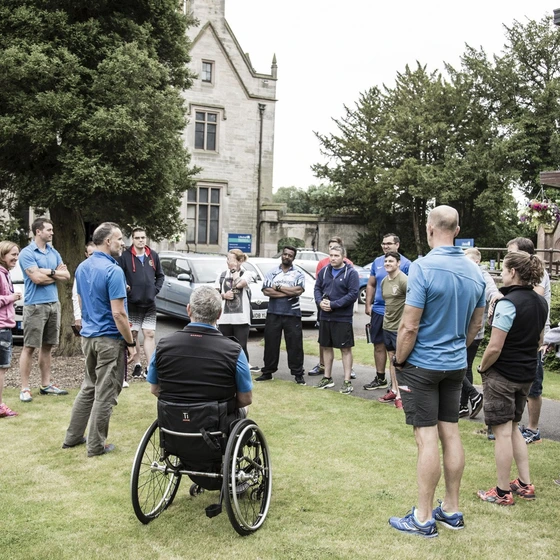 Every day our Armed Forces community make sacrifices at home and abroad.
We assist them in their physical and mental rehabilitation into civilian life.
Find out how