20 years after the lifting of the LGBT military ban, veteran Kate Green reflects on her time in the Royal Military Police where part of her job was to do the very thing she feared most; investigate those suspected of hiding their sexuality from the Army.
LGBTQ+ & Allies Branch
Join the RBL family and take pride in supporting the Armed Forces community.
Join RBL
"I'd grown up on the Isle of Wight, hearing my father tell stories about how my Aunt, who was dismissed from the Royal Navy for being with another woman.
I was both in awe of her and utterly terrified that I might suffer the same fate or indeed be a complete disappointment to my family.

In an unforgiving society – as it was in the pre-2000s – having to admit that you are gay was a really big thing. It was still such a stigma that nobody would agree to it.

When I was very little, our primary school took us to a farm for the day. The farmer let us all sit on the tractor and we had to tell him what we wanted to be when we grew up.
The girls all said "nurses", the boys all said "farmers" and "firemen", and I said I wanted to be a soldier. I vividly remember it. I was around five or six at the time.
In high school I was a member of the Combined Cadet Force. For a little while I toyed with the thought of joining the RAF, but there was only one recruiting office on the Island and it was for the Army (and green is my favourite colour!).
I joined the Army when I was 20.
I don't remember being aware of my sexuality at school, but by the time I was going through Army training in 1994, I knew that I was gay.
I don't remember the Army drumming anything about the ban into us at this point.
But at the Royal Military Police Training Centre while studying Army law, it was apparent that homosexuality in the Armed Forces was a most heinous crime.
I passed out of training and become an RMP soldier. My first posting was in Germany and I quickly became aware of there being (alleged) lesbians on camp.
There was a particular Corps that seemed to be quite relaxed about gay women, although we did have some investigated in our Police Station every now and again.
Gay men, however, were a different story altogether.
If you admitted to homosexuality, you were out – that was the end of your military career.
I remember a gay pornographic magazine being found and the whole barracks was put on lock down whilst searches were made for similar material.
Can you imagine what it is like to suppress who you really are?
Whilst other Corps and Regiments may have been relaxed about sexuality, I was in a difficult position. In order to suppress my newfound feelings for women, I would have fleeting relationships with men – anything to avoid suspicion.
For a while I was the only single female RMP on camp, and even when I was back home on leave I certainly didn't know any gay women, so there was no opportunity to explore this part of me.
In 1998, with still no lifting of the ban in sight, I had to make a decision.
I had been warned by someone senior that I was at risk of being found out.
It was such a shock, and I didn't know what to do for the best.
If I was discharged, I would be such a disappointment to my father. I thought I had fooled everyone into thinking I was a 'normal' heterosexual soldier.
But in truth, I had led a double life.
It felt sordid and wrong and yet it was the only way I could be myself – sneaking out of the barracks to meet women – and keep the career I'd dreamed of since primary school.
I was ashamed. And now it had been made very clear to me that I either continued to live a lie or be myself but lose everything.
In order to leave the Army of your own accord, you must give one year's notice, so that's what I did.
I can remember walking into the Chief Clerk's office and requesting Premature Voluntary Release.
I felt there was nothing voluntary about it.
The cruel irony was the announcement that the military's LGBT ban was to be lifted on 12 January 2000 – just after my Army career ended.
I thought I was going to have a career in the Army – I had it all mapped out. I felt so lost when I first left service. I didn't know what to do with myself.
When people asked me why I came out of the Army, I always replied, "for love" but I don't think anyone fully realised the impact of my answer.
It took years for me to be brave enough to 'come out'.
I know of women who are still very secretive about their relationships as a result of serving. However, I also know of women who are out and proud and still serving.
They are incredibly lucky. It affected us in so many different ways.
A hidden burden – constantly thinking about what I was saying, sticking to the same stories so that in the end they almost became the truth.
Eventually I found a job with The Royal British Legion. It felt like I was keeping a connection with the Army even though I was no longer serving.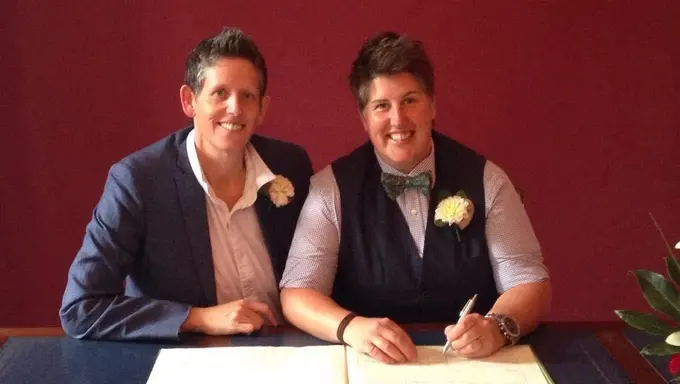 It still took a long time for me to feel secure and comfortable with myself to announce to the world that I was in love. And then to get married – the best day ever!
On the 20th anniversary of the lifting of the ban, it's really important to remember what it was like.
We need to keep telling stories about how far we've come, but also how much there is left to do to be truly equal.
Until everybody is accepted for who they are regardless of who they're in love with, then there is work to be done.