It can be difficult for people to relate to the struggles faced by military families.
The months away from loved ones, the worry of those left behind. Unless you've been there, it can be hard to fully understand.
Life as a military wife
Linda Kiff's first experience of life in the military was when she married her husband Mike after they met while he was on leave in her hometown of Bournemouth. The couple married in 2006 and have two children.
"My first encounter of the military was through Mike and being his wife. It was definitely a different experience to what I ever thought it would be," Linda says. "I suppose I didn't really know what to expect."
"I'd never had a military background, I knew nothing. Mike came from a military background with his father being in the services.
"I had no idea how quick changing it is, how you can have a friend one minute, someone that you would happily talk to for hours and then that persons gone… because they've moved to somewhere and you can't get hold of them."
Mike's time in the Army saw him deployed to the Balkans, Iraq and Afghanistan and for a time the family were based in Germany. It was there that reality hit for Linda, that life as a military family abroad would be very different.
"I think it really hit home when we got to Germany. When he went away for months on end with all his training for Afghanistan. He'd been away before, but it was never a month away then back home for a day then another month away," Linda says.
"The community for the children I could never say anything bad about. But I think for women, for the mums and of course some dads left behind, I think it can be tricky because you just don't know what to do.
"You just wait. As much as the day continues, every day you go to bed wondering, am I going to get a message? Am I going to get a phone call? Is someone going to knock on my door?
"There's a lot of questions going through your head whilst you're thinking that you just want your loved one home."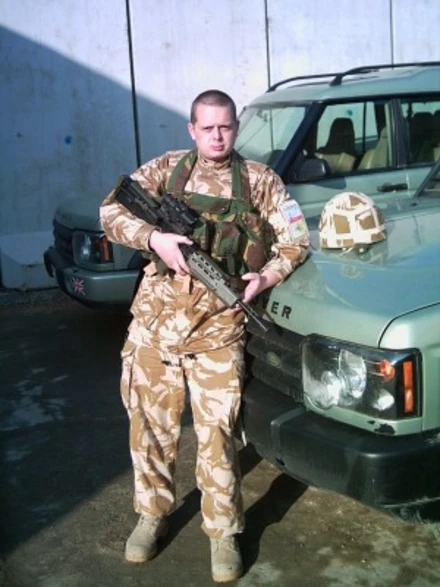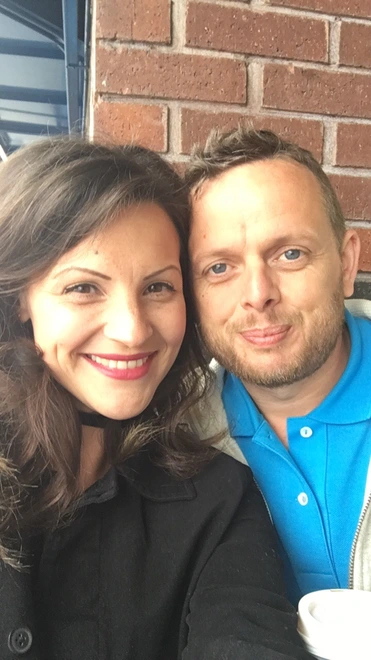 On deployment
In 2014 on his last tour of Afghanistan Mike began to struggle with a recurring shoulder injury. In 2005 he fell from a ladder while working in a roof space and badly dislocated his shoulder while on active duty but after treatment his was able to carry on with his career in the Forces.
Whilst serving in Kabul Mike reached for his rifle and felt a blinding pain in the same shoulder. The pins that were holding it together had been ripped out, tearing tendons and fracturing the bone.
"In my mind I knew it was all over then, the pain was so severe I couldn't breathe," Mike recalls of the incident. "I knew how bad it was. I knew my career was over."
Mike began to struggle living in constant pain and faced having his military career cut short.
"I was suffering from fairly bad depression and suicidal episodes. I didn't really know what was going on with my life and what was going to happen going forward," he says.
As part of his recovery Mike was sent to stay at one of our personal recovery centres, Brydon House, where he had physiotherapy, received specialist counselling and found people who were prepared to listen to his problems.
After a lengthy process, Mike was medically discharged in 2015 and the family returned to Bournemouth.
Support the Armed Forces community
Our support is a lifeline for many serving and ex-serving personnel and their families.
Donate now
"I wasn't worried about the transition back to civilian life," Linda says. "Nothing about coming back home to Bournemouth scared me as I knew the area. It's where I'd always lived.
"I was just petrified of what was going to happen to Mike. I didn't know whether he would be happy here."
Unfortunately, their problems got worse when they returned to the UK. They found themselves homeless and had to move in with Linda's parents. Meanwhile Mike was still in severe pain, on antidepressants and had yet to find a job, whilst Linda took a job working nights.
"My issues had begun to affect our relationship and we were struggling," Mike says.
"I'm Mike's support system of course, so I took the brunt of it," says Linda.
"He was jobless for a year and I was working full time. Our roles changed completely, which only added to the stress. It wasn't a healthy situation, but I discovered I could also get support from the Legion. Until then I thought they were just fundraisers.
"They advised me to adapt my thought process towards him. I talked to them on a number of occasions and they were always a huge help. We had hit a wall in our marriage and their support was crucial to us getting through it."
Rebuilding their lives
Slowly, with our support, the couple rebuilt their lives and whilst Mike says he still has ups and downs with his mental and physical health he is in a much better place.
Mike now works as a civilian instructor teaching fibre optics to military personnel and Linda has a job in retail.
"I'm still on medication for various sort of aches and depression, but it's certainly a hundred times better than it was," he says.
As a military family they have overcome all the obstacles they have faced and have come out the other side stronger thanks to their support network.
"If he hadn't been sent to Brydon House, I know he wouldn't still be with us. It is simple as that," Linda says.
"I just think of all the things we've done since that moment he was helped. We've had so many amazing things happen to us in our lives since then.
"But to think that they may never have happened… I know that's a very negative thought, but my kids would have been without a Dad. I would've been without a husband."
In 2017 the couple ran the London Marathon to raise funds for us as a thank you for all the support the family received.
"I would do anything to get the Legion the support and funds they need be able to help another family," Linda says.
"I don't know where my life would be if Mike hadn't got help. We wouldn't be where we are now. I'm just so unbelievably thankful to the Legion, they saved our family."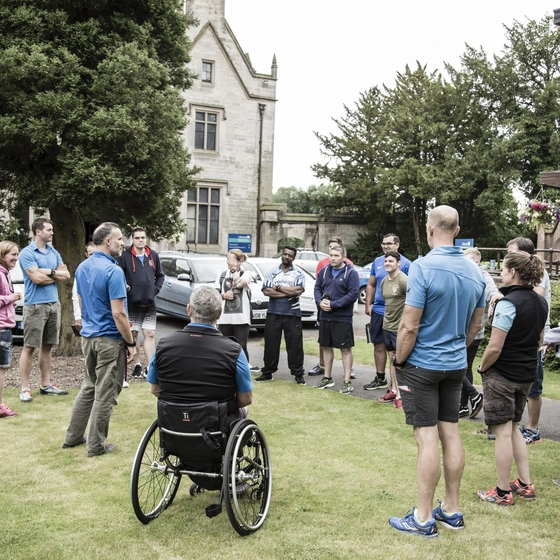 Every day our Armed Forces community make sacrifices at home and abroad.
We assist them in their physical and mental rehabilitation into civilian life.
Find out how