Join us as we honour and remember those who sadly lost their lives while serving in our Armed Forces.
The official opening of the 2020 Field of Remembrance at the National Memorial Arboretum will be closed to the public, due to the current restrictions around COVID-19. The Field will be open to the public at 1.00pm on Monday 2 November 2020.
The Field will close on Sunday 22 November. Opening times are 9.00am to 4.00pm.
Address: Croxall Rd, Burton-on-Trent DE13 7AR
Directions by car: The National Memorial Arboretum, DE13 7AR, is signposted from Alrewas on the A38. Parking charges apply.
Directions by train: Nearest train stations are Lichfield City or Lichfield Trent Valley (5–6 miles).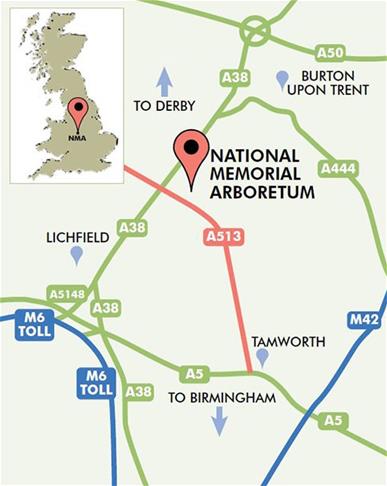 Your Remembrance Tribute
Have your own Tribute and message planted in National Memorial Arboretum Field of Remembrance.
Create your Tribute now