The Tributes planted in National Memorial Arboretum Field of Remembrance each carry a personal message to someone who lost their life in Service for our country.
Every year we take great care and attention in planting thousands of personal Tributes made by members of the public throughout the UK.
You can still leave an online Tribute on our virtual field in memory of a loved one and support the Armed Forces community today.
Visiting the field
Please be aware that regional and/or national Covid-19 restrictions may affect the National Memorial Arboretum Field of Remembrance. Find out more about planning your visit to the National Memorial Arboretum on their website.
Address: Croxall Rd, Burton-on-Trent DE13 7AR
Directions by car: The National Memorial Arboretum, DE13 7AR, is signposted from Alrewas on the A38. Parking charges apply.
Directions by train: Nearest train stations are Lichfield City or Lichfield Trent Valley (5–6 miles).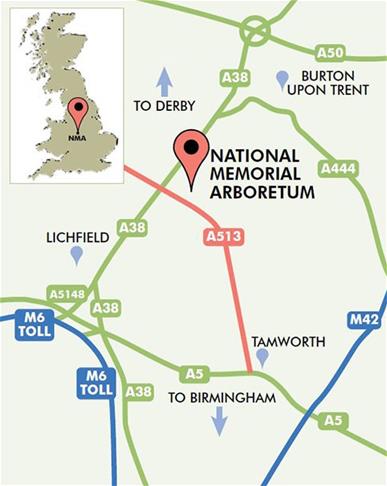 Your Remembrance Tribute
Virtual tributes have now passed but you can still make a donation in the memory of a loved one.
Make a donation
Field of Remembrance 2021
The planting of Tributes and the Opening Services of the Fields of Remembrance 2021 have taken place. We captured these moments for you to view.